Startup Weekend is a 54-hour event that brings together designers, developers, entrepreneurs, and experts to take ideas from sheer concept to amazing new products.
Anyone is welcome to attend and pitch their startup business idea. Participants receive feedback from their peers, and teams are formed around the top-voted ideas. These teams of generally three or more people, then embark on a three-day frenzy of business model creation, coding, designing, and market validation. The weekend culminates with presentations in front of local entrepreneurial leaders, competition judges, and peers.
With over 1,500 events hosted to date, spanning 726 international cities, the program has yielded over 13,000 startups created by over 123,000 entrepreneurs.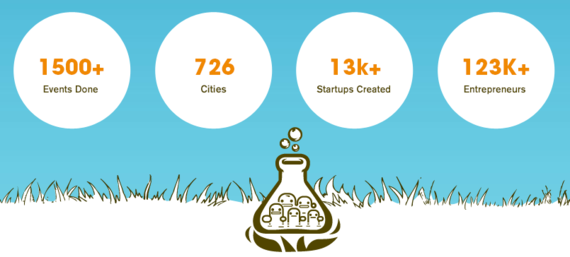 "MVP" in the vernacular of startups stands for minimally viable product. And that's what each team hopes to build in a given weekend. In each city, the format is the same:
Pitch an idea, vote for your favorites, and form your team (or join someone else's).
Build: Put your talents to work and build a minimally viable product, team, and brand for execution in the real world or even just your portfolio.
Launch: Put final touches on your presentation and state your case to the Judges.
Orange County, California
Five teams competed in Orange County this past weekend. Particularly notable in this Southern California version of a San Francisco hackathon, is a focus on product viability. These teams were here to build a product to sell, not merely to produce an idea without a market.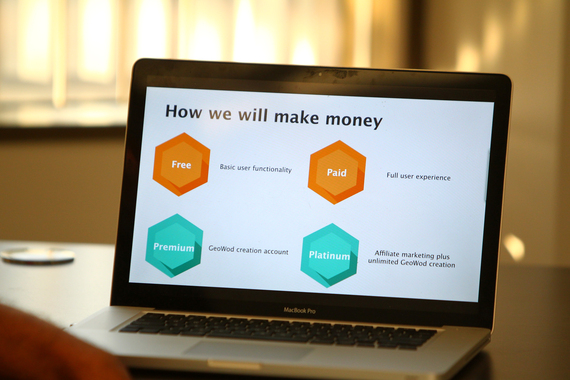 The End of Ums
By the 54th hour, one team walked away with top awards, having built a notification system to help public speakers, orators, and everyday conversationalists recognize and correct verbal pauses.
Startup, Illuminate, aims to serve as your personal speech coach. Inspired by the CEO's experience cringing as he reviewed a video introduction of himself and noticed is pronounced speech delays, the system pings the user every time he/she uses verbal pauses (um, ah, okay, and the like). With consistent conditioning via mobile notifications at each offense, user speech patterns can be replaced with more useful communication.
Illuminate team presenting at #SWOC15 pic.twitter.com/4U89yvZNuh

— K5 (@k5launch) March 30, 2015
GeoWoding: Geocaching meets fitness. Imagine picking up and trying a new, professionally developed urban workout at the beach. Trying the regimen, recording your time, leaving your feedback, and having your results listed on a leader board. That's what GeoWoding has built. The concept has a functional web app, with ambitions to launch a Kickstarter campaign and develop the fully functional mobile app and embark on a go-to-market strategy.
What if you could #geocache a daily workout? love #WOD, take this quick survey for #SWOC15 http://t.co/Cg3TtcoMYP pic.twitter.com/n5pB4nySgp

— Andre F Bourque ♕ (@SocialMktgFella) March 29, 2015
Stay @ Home: Pairing flex schedule employers with skilled talent seeking part-time, and telecommuting professionals. There's an unserviced need here, particularly for men. While similar (although not entirely equivalent) services exist for women (think Mom Corps), they preclude 49 percent of the population. With integrated coaching, professional training, and plans to build a robust social network, Stay @ Home aims to fill this service need.
@SWOrangeCounty pitch night is on! #startupweekend #SWOC15 pic.twitter.com/af9p6JtOuP

— LA SW EDU (@LAswedu) March 30, 2015
Dapper: On demand barbers. Think Uber meets barbers. Again, a concept not entirely foreign to the female population where a variety of mobile hair dresser services exist, a structured network of this for men does not exist. With Dapper, barber profiles are established, Yelp-like rating and feedback mechanisms put in place, and men can summon on-demand hair care.
Dapper (uber for barbers) getting down to brass tacks at #swoc15 pic.twitter.com/KgwoQ802dh

— Andy Keil (@alwaysunday) March 28, 2015
Horizon Dash: Financial planning in five minutes. Somewhere between the financially savvy, and the too young to care is a population of 20-30 somethings seeking financial advice without the high fees, high learning curve, and sophisticated results. That's the market here: Light on time, heavy on results working professionals, and Horizon Dash aims to service them.
1st pitch of the night is from #HorizonDash – a free & simple #retirement planning software. #SWOC15 Take a peek: http://t.co/If7oUyhZoU

— The VineOC (@thevineoc) March 30, 2015
Source: Huff Post