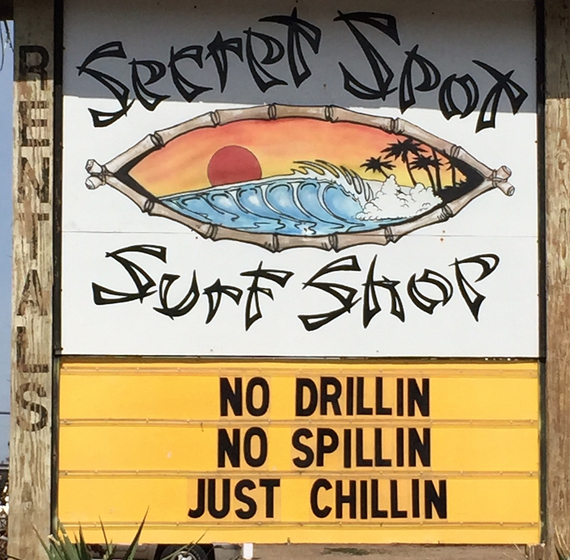 Staff photo of a surf shop in Nags Head
Earlier this week, hoteliers, anglers, surfers, mayors and others crowded into a small meeting room in Kill Devil Hills, N.C., to weigh in on the specter of oil rigs off the southern Atlantic Coast. Local businesses changed their marquees for the occasion. During the off-season in this Outer Banks town, 670 attendees — the vast majority opposed to drilling — shattered attendance records.
Monday's meeting was one of dozens planned along the southeastern coast, to give federal officials a chance to vet their proposal to allow oil and gas drilling leases across a large swath of the Atlantic Ocean, from Virginia to Georgia. The meetings aren't over yet, but a clear message has emerged: don't drill, for the sake of our coast and everything we love about it, from surfing, to fishing, to watching baby sea turtles hatch and march to the sea. Don't drill, because we need clean energy instead.
The case against drilling off the Atlantic Coast can be pretty well summed up, in fact, by the signs participants created at the meeting last month in Wilmington, N.C. (You can see them for yourself here.)
"We want to keep our shores beautiful and our ocean clean." The Obama administration's drilling plan risks our most prized pieces of southern coastline, from the sand dunes in Jekyll Island, Ga., to the Outer Banks, to the Chesapeake Bay. But it also puts the entire Atlantic Coast in danger; after all, the BP disaster was felt for 16,000 miles, eight times the length of shoreline from the Florida Keys to the tip of Maine.
Threatening our beaches threatens the economy that thrives on them. Surf shops, restaurants, hotels, and more depend on a clean coast to draw tourists by the millions every year, pumping tens of billions into local economies.
"I oppose offshore drilling because I like the wild ocean life." "Save the whales."
Each stage of offshore drilling will endanger precious Atlantic marine life. From the very beginning stages of oil exploration, to routine drilling and spilling, to a catastrophe the scale of the BP disaster, drilling is simply tragic for sea animals.
Oil exploration alone can be devastating. As many as 138,000 Atlantic whales and dolphins could be injured or killed by the use of seismic air guns, which create bursts of sound as loud as a jet engine audible for thousands of miles.
"Red drum, not oil drums." "I want my son to be able to fish like I do." While the BP disaster killed untold numbers of fish and shellfish, oil and gas rigs also pose routine risks. One example: roughly 200,000 migratory birds, lured by light and the prospect of food, are burned, poisoned by oil or otherwise killed each year near drilling rigs in the Gulf of Mexico. Oil and related chemicals may also damage the immune and reproductive systems of exposed birds, fish and shellfish, lowering populations of affected species and denying food to the predators that depend on them.
"Fossil fuels are not the answer." "We need renewable energy like wind and solar, not dirty oil." On top of the risks drilling poses to our beaches and our quality of life in the present, there's also the matter of what global warming could mean for the future. Scientists are quite clear that we must transition to 100 percent clean, renewable energy if we are to avoid devastating climate impacts. We need to be contracting fossil fuel production, not expanding it.
The dangers offshore drilling will bring to our beaches are certain, but the plan to expand drilling to the Atlantic is not. The Obama administration will be taking public comments until the end of the month, so there's still time to make your voice heard. If you're lucky enough to be in Savannah next week, you can even speak up in person. What will your sign say?
Source: Huff Post