Annaleigh Ashford Takes 'Lost In The Stars,' Her Glitzy Solo Cabaret, On The Road
Annaleigh Ashford is honored when friends and fans sum up her new cabaret act, "Lost in the Stars," as "gay magic."
"There are certain performers that the gay community receives and recognizes with love, and my whole life, I've always responded to those same artists," the 29-year-old singer-actress told The Huffington Post in an interview. She pointed out that the first venue she ever performed in was Denver's Theatre on Broadway, which was known for its queer-inclusive shows: "I've always felt very attuned to, and at home in, the gay community."
There's a sassy sensibility in the retro glamour of "Lost in the Stars," which Ashford is taking on the road with her band, The Whiskey 5, after a string of acclaimed performances at New York's 54 Below. The star, best known for her Tony-nominated stint in Broadway's "Kinky Boots" and her portrayal of lesbian prostitute Betty on Showtime's "Masters of Sex," is promising audiences in Chicago, Denver, San Francisco and Las Vegas plenty of sequins, sky-high wigs and classic disco.
Of course, Ashford doesn't limit her material to the late '70s or, more specifically, the confines of Studio 54. She and musical director Will Van Dyke have crafted an eclectic set including songs by Stephen Sondheim, Elton John, Cyndi Lauper and Alanis Morrisette that they hope will have universal appeal. One highlight is a medley that offers vestiges of Ashford's musical theater roles, including "Hair," "Rent," "Wicked," "Legally Blonde" and, of course, "Kinky Boots."
Annaleigh Ashford poses backstage at New York's 54 Below.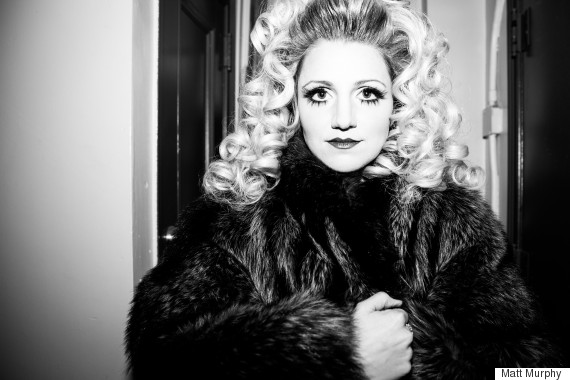 Although her career has taken her down a more thespian path, Ashford sees "Lost in the Stars" as fulfilling her childhood dream of becoming a bonafide cabaret star on the road. Each city on the tour, she says, has special resonance. She was born in Denver, while her husband, actor Joe Tapper, hails from outside Chicago. Meanwhile, she played San Francisco as part of the out-of-town tryout for "Legally Blonde," and participated in dance competitions in Las Vegas each as an adolescent.
"I grew up listening to cabaret. At 7 and 8 years old, I was already singing like a club performer," Ashford, who cites "Patti LuPone at Les Mouches" and Ann Hampton Callaway and Liz Callaway's "Sibling Rivalry" as influences, explained. "One of our goals is to bring this art form to a younger audience. I think our generation isn't as versed on cabaret [as previous generations were], so I think it's important to expose younger audiences to the art form."
She and Van Dyke said they aim to keep the show as organic as possible by refreshing or swapping out musical numbers in each new city and "playing a bit off the cuff" throughout.
"She just flies off the handle sometimes, and it's amazing," Van Dyke said. "It's just so fun to be on that ride."
Ashford would ultimately like to expand the show into a full-scale production of "song, dance and epic storytelling" in the vein of Liza Minnelli's famed "Liza with a 'Z'" act. In the meantime, she and Van Dyke plan to produce an album that compiles the best of their live performances on the tour, which they'd like to release this fall.
She also hopes that "Lost in the Stars" will be the first of many cabaret acts, noting that she's currently listening to a lot of New Orleans jazz, Janet Jackson and '80s era Bonnie Raitt.
"My ambition for the piece is that you walk out the door with your heart having been touched by at least one song," she said. "I think that intention has carried us through."
Annaleigh Ashford and The Whiskey 5 will perform "Lost in the Stars" at Chicago's Broadway Playhouse on March 21. She plays the Denver Center for the Performing Arts on April 11-12, San Francisco's Venetian Room April 19 and the Smith Center for the Performing Arts in Las Vegas on June 27-28.
Source: Huff Post