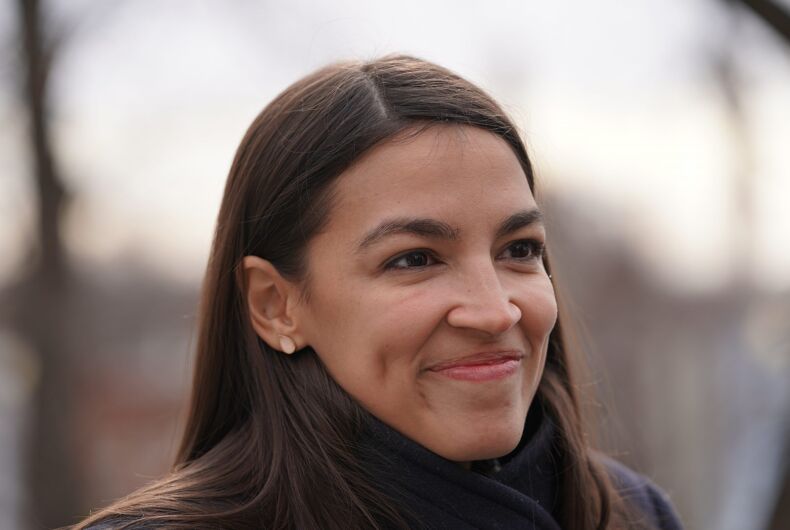 Alexandria Ocasio-Cortez, AOC (D-NY) giving an impromptu interview on the street near the Capitol.Photo: Phil Pasquini / Shutterstock.com
Rep. Alexandria Ocasio-Cortez (D-NY) is known for speaking her mind and refusing to back down from doing the right thing. Sen. Ted Cruz (R-TX) is known for being hated by his fellow senators and his leading role in the insurrectionist attack on the Capitol building.
Ocasio-Cortez has repeatedly called on Cruz to resign for his role in pushing "the big lie" of election fraud that led to the riot by supporters of former-President Donald Trump seeking to overturn the results of the election. So when Cruz tried to slide into AOC's DMs, she wasn't having any of it.
Related: Biden's pro-LGBTQ executive order is his most popular according to new polling
Commenting on Ocasio-Cortez's take on the wild fluctuations in the price of Gamestop stock and the investment app Robinhood's decision to temporarily limit purchases of the stock, Cruz indicated that the two were in agreement that the decision should be investigated by Congress.
"Fully agree," Cruz tweeted with the emoji of a finger pointing down to his retweet of AOC's tweet.
"I am happy to work with Republicans on this issue where there's common ground," Ocasio-Cortez shot back, "but you almost had me murdered 3 weeks ago so you can sit this one out. Happy to work w/ almost any other GOP that aren't trying to get me killed. In the meantime if you want to help, you can resign."
"While you conveniently talk about 'moving on,'" she continued, "a second Capitol police officer lost their life yesterday in the still-raging aftermath of the attacks you had a role in. This isn't a joke. We need accountability and that includes a new Senator from Texas."
"You haven't even apologized for the serious physical + mental harm you contributed to from Capitol Police & custodial workers to your own fellow members of Congress. In the meantime, you can get off my timeline & stop clout-chasing. Thanks. Happy to work with other GOP on this."
I am happy to work with Republicans on this issue where there's common ground, but you almost had me murdered 3 weeks ago so you can sit this one out.

Happy to work w/ almost any other GOP that aren't trying to get me killed.

In the meantime if you want to help, you can resign. https://t.co/4mVREbaqqm

— Alexandria Ocasio-Cortez (@AOC) January 28, 2021
You haven't even apologized for the serious physical + mental harm you contributed to from Capitol Police & custodial workers to your own fellow members of Congress.

In the meantime, you can get off my timeline & stop clout-chasing. Thanks.

Happy to work with other GOP on this.

— Alexandria Ocasio-Cortez (@AOC) January 28, 2021
Rich People: wHy dOn'T tHe pOoR jUsT iNvEsT tHeIr mOnEy
Poor People: Ok.
Rich People: …
Rich People: wait stop

— Justin McDaniel (@JUSTINtime4aLAF) January 28, 2021
Source link
AOC just yanked Ted Cruz up by the collar & shook him in a brutally honest tweet

appeared first on http://gaysharing.com