Applebee's Recasts Itself as Millennials Bar
Applebee's is declaring itself new and improved with advertising breaking this week that proclaims, "We're changing things up and going back to what we do best." In so doing it clearly hopes to lure Millennial diners and drinkers who frequent real bars and upscale burger joints.
"If you haven't been in a while, come on back," exhorts the TV spot from agency Crispin, Porter + Bogusky. "Because starting now, the Bar & Grill is back."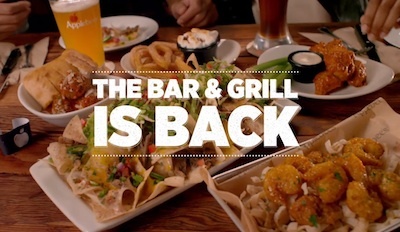 What the brand always has done best is to glom onto culinary trends that already are well established–if not worn out–and its new menu continues that tradition. Brisket nachos? They're at Applebee's now. Sweet potato fries? Got 'em. Something with sriracha? Try new Sriracha Shrimp. Something with the word "pub" in it? Done. Enjoy your Brew Pub Pretzels and Beer-Cheese Dip. There are no local craft beers (just national brands) but there are new cocktails such as the Fireball Whiskey Lemonade. All safely on-trend.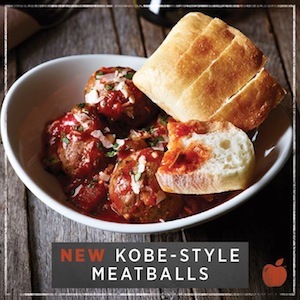 Applebee's has been Millennializing its menu over the past few weeks, adding new bar foods clearly intended to cause young adults to see Applebee's as a hip place to drink and nosh in the evening. Lunch isn't mentioned in the new advertising, nor are families. Most of the new items are small plates divided into three categories: Shareables, Pub Plates and Bar Snacks.
Shareables are items such as potstickers. Pub Plates are larger, including Sweet Chile Brisket Sliders and Kobe-Style Meatballs (since when is "Kobe" a style?). Bar Snacks include Double Crunch Bone-In Wings, the potstickers again, battered and fried Green Bean Crispers, Churro S'mores, soups and salads. What differentiates a Pub Plate from a Bar Snack isn't important because items from all three categories can be mixed and matched in a Build Your Sampler (any 2 for $8; 3 for $11).
The "All-In Burgers" line that Applebee's introduced last August, remains on the menu. These include four burgers with seasoning mixed into the patties. Additionally three holdover "Neighborhood Burgers" (Cowboy Burger, Quesadilla Burger and The Classic) also are on the menu.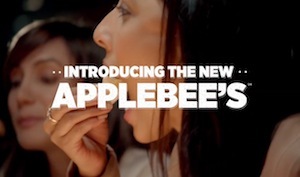 The brand continually reinvents itself. The family-friendlier Applebee's of just a year ago with its non-pushy "See you tomorrow" advertising tagline showed parents and children enjoying dishes such as Shrimp Scampi Linguine, introduced a new kids menu and promoted value meals like the "Take Two Menu." A "Two for $20" menu still is there but new ads are adults-only. Now that the economy is improving, Applebee's wants to promote menu "innovations" like the Salsa Verde Shredded Brisket Nachos. There still are value pitches, however, including "Bar Snacks Start Under $5" and "Late Night Half-Price Apps" after 10 p.m.
Applebee's parent DineEquity (which also owns IHOP) has worked hard to put the brand back on its feet after a rocky 2013, when comp sales were negative in three of four quarters. Comps were positive in the second, third and fourth quarters of 2014, finishing with a 2.8% gain in Q4. Applebee's average per-store sales of $4,517,000 are significantly higher than for competitors Olive Garden ($3,669,000), Chili's ($3,547,000) and Buffalo Wild Wings ($2,784,000) according to a DineEquity management presentation. But luring customers away from real neighborhood drink and burger bars rather than from other casual-dining chains may require more than Sriracha Shrimp and half-price apps.
Source: Huff Post