If you don't know anything about Pedro Fernandez de Unamuno, and most of the world doesn't, look at his hat.
He's wearing it so you'll ask him about it.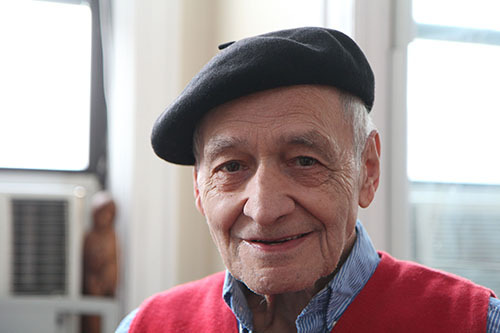 Photo by Nancy A. Ruhling
Ask Pedro about his Boina.
It's a black Boina, a Basque-style beret that he sets rakishly atop of what's left of his wispy white hair.
It, and the Spanish flag unfurled across the living room bookcase like a banquet banner, remind him of the homeland he was forced to flee.
Pedro, an Old World charmer who kisses visitors on each cheek, can tell you the story in your choice of English, Spanish or French.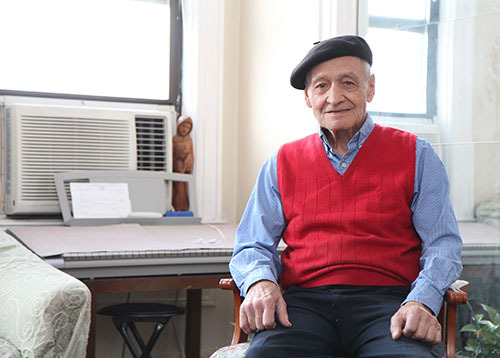 Photo by Nancy A. Ruhling
Pedro is from Santander, Spain.
A student of history and philosophy who plays Beethoven and Chopin on a Yamaha keyboard in his idle hours, Pedro stands tall (officially, he's 5-foot-5, an inch shorter than Napoleon) during his recitation.
"I may be small," he says, adding that age has shaved off a handful of those inches, "but I am great."
It starts with his role, or more accurately, his non-role, in the Spanish Civil War.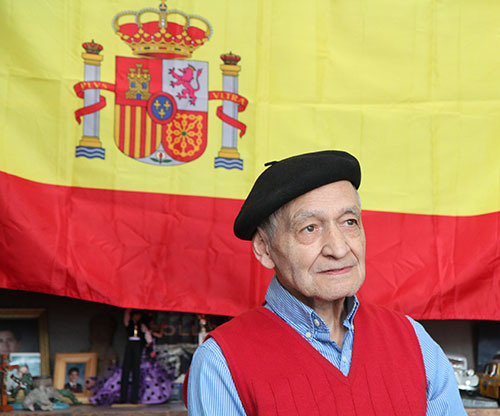 Photo by Nancy A. Ruhling
The flag reminds him of home.
Pedro and his family were living in the Basque Country's city of Santander, which, long before Pedro's time, was the main seaport for the Old Castile in the Bay of Biscay.
In 1938, when la guerra was raging, it was not a safe place to be, especially when your father was fighting for the Republic, the losing side.
His mother was sent to a concentration camp in France, and 5-year-old Pedro, his older brother and two sisters were among thousands of children relocated to various countries by the International Office of Refugees.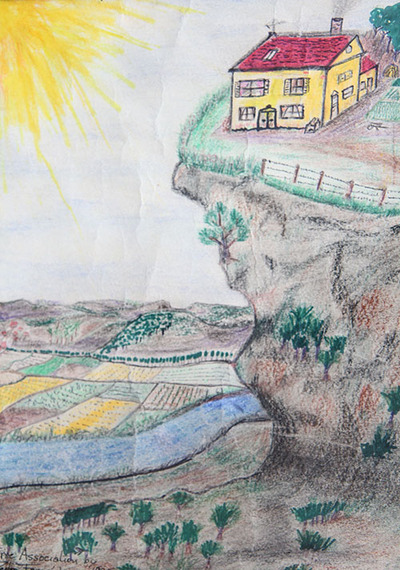 Photo by Nancy A. Ruhling
Pedro likes to draw; this work is from 1966.
Pedro and his siblings were transported by truck to Brussels, Belgium, where they were summarily separated.
"It was traumatic for me because I was so little," Pedro says. "I cried a lot."
Pedro was adopted by Jean Fonteyne, a prominent lawyer, communist politician and resistance fighter.
By the time the Civil War had ended with victory for Francisco Franco's fascists, World War II had begun, and Pedro didn't get an opportunity to return to Spain for a dozen years.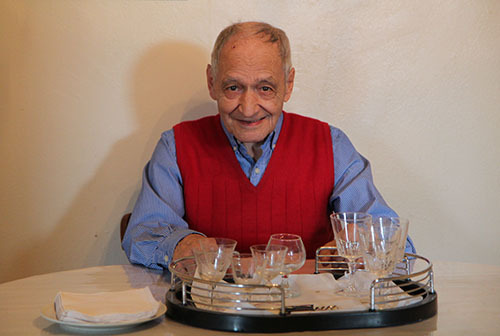 Photo by Nancy A. Ruhling
At 5, he was sent to Belgium as a refugee.
"The country was in terrible shape," he says. "There were hunger, terror, executions and mass jailings. And I couldn't speak Spanish to communicate with my parents; I only knew French."
He returned to Belgium, where his future was just as bleak.
"The government required me to work in a coal mine," he says. "After a couple of months, I decided that it would be better to be alive, in misery, above ground than to die below, so I went back to Spain."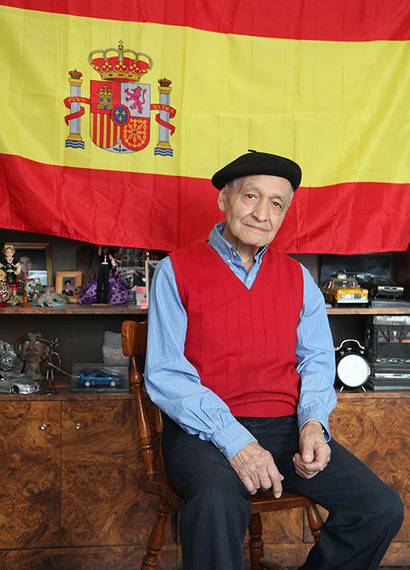 Photo by Nancy A. Ruhling
The Franco government declared him an enemy.
There, because of his relationship with Fonteyne, Pedro was placed under police surveillance.
"They suspected me of having a secret mission because of him," Pedro says. "They followed me for years, and the government issued me the ID number 3939393939, which I found out after I left was the classification for an enemy."
After serving a mandatory stint in the military, Pedro got work in a machine shop.
"Through all of this, I was a survivor," he says. "I used psychology as a weapon."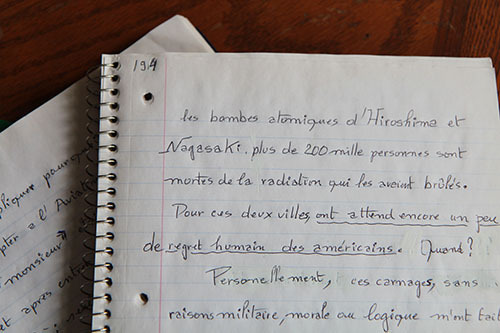 Photo by Nancy A. Ruhling
The manuscript for Mes Trains de Nuit.
A chance encounter on a train brought him to New York City.
"I met a French lady who was a translator for the United Nations," he says. "She then became my wife."
With her help, Pedro got a job with the Tunisian consul.
"But I wanted to work for an American company," he says. "I didn't know any English, so I took a course at Hunter College."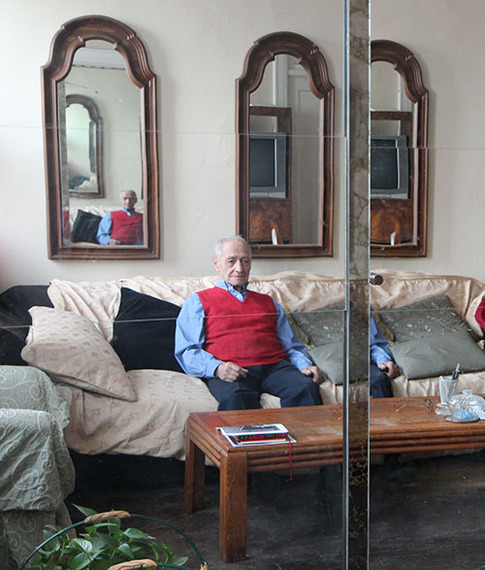 Photo by Nancy A. Ruhling
He came to NYC in his 20s.
It worked: Pedro got a job with Kerns Manufacturing Corp., the Long Island City-based maker of aerospace products.
As the decades unfolded, Pedro became a company supervisor, and his personal life took some unexpected turns.
He would take three more wives (Nos. 1, 2 and 3 succumbed to divorce, and Mrs. No. 4 is 20 years Pedro's junior) and produce four children.
His one constant, his Kerns job, ended a couple of years ago, when he was in his late 70s.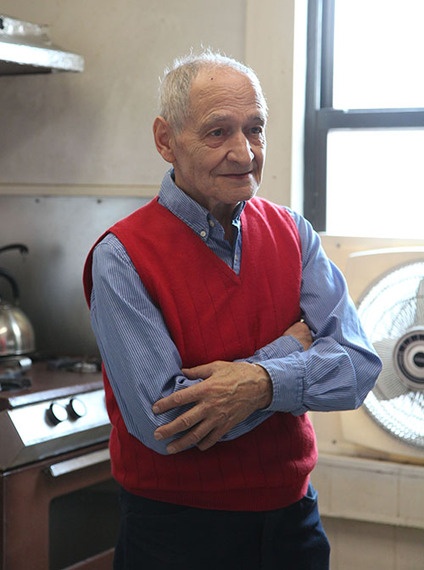 Photo by Nancy A. Ruhling
'I may be small, but I am great.'
"I was laid off because there was not enough money to keep me," the 82-year-old says sadly. "I'm healthy. I could have kept working. I would like to work part time, but nobody will hire a man my age."
Pedro didn't know what he was going to do with all his free time, so he started writing the story of his life.
His autobiography, Mes Trains de Nuit (My Night Trains), ends with Pedro's arrival in New York City at age 24.
The 450 hand-written pages are in French, the language Pedro feels most comfortable with. They fill five large-format spiral notebooks; one of his sons is typing the text for publication.
"It was therapeutic," he says. "I wanted to leave something behind for my children to remember me, and I didn't want what I went through to be lost. I stopped the story at age 24 because I had a good, normal life here."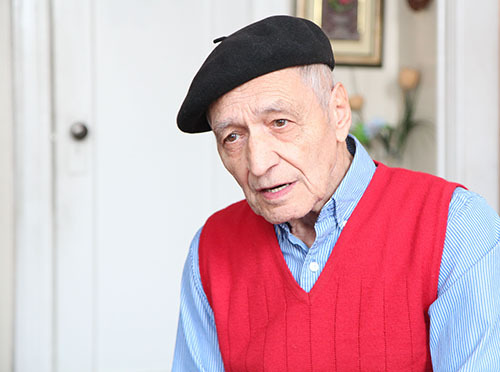 Photo by Nancy A. Ruhling
Pedro, wistful for the life he might have lived.
The life he lived in America is the one he wishes he had had in Spain. It pains him to think of what might have been.
"It would have been better to be united with my family," he says. "We would have suffered, but we would have suffered together."
He used to visit Spain a lot, but he hasn't been in a long time, which is what a couple of years seems like to him.
His Social Security and pension, which are all he has, don't cover the cost.
Pedro sighs and sets the Boina aside.
Nancy A. Ruhling may be reached at [email protected], nruhling on Instagram.
Copyright 2015 by Nancy A. Ruhling

Source: Huff Post