Authors Honoring Artists: A Lesson in Charity and the Power of Women
Have you ever wanted to support a cause dear to you, but didn't know where to start? Authors, Heather Webb (RODIN'S LOVER) and Betsy Franco (NAKED) teamed up filmmaker Jennifer Webb to create an evening dedicated to showcasing female artists and fundraising for the charity, WomenArts. I talked with Heather about what caused her to become involved in a charity event for female artists and her experience as a writer finding ways to give back to the community.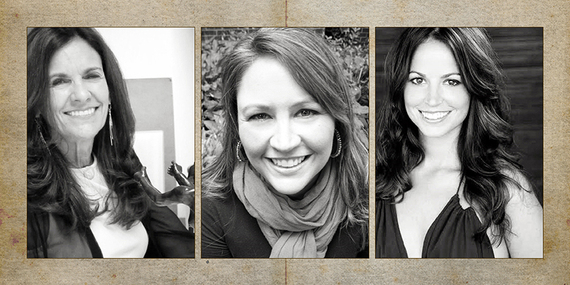 Tell me about the evening Where the Book Ends Meet. Who is this benefitting?
Where the Book Ends Meet is a really special event. I've never participated in anything else like it. Not only will it honor brilliant sculptor Camille Claudel through both my novel, RODIN'S LOVER and Betsy Franco's novel NAKED, but it will also honor all women who are passionate about the arts. In fact, the event will feature ten female artists from all disciplines, including fashion design, acting, photography and the visual arts. In addition to a mini-presentation about our novels, we're so thrilled to include a fashion show put on by designer Camilla Olson, an art auction with a photograph taken and donated by film director Gia Coppola and a print by Rene Romero Schuler, as well as shared inspiration by sculptor Tom Franco, and a short film produced by Jennifer Webb. Director Eleanor Coppola has also generously lent a sculpture she designed herself as part of our display. I can't tell you how thrilled we are to include so many talented people.
Proceeds will benefit the charity, WomenArts. It will take place at the new event space in the Hotel Monaco in San Francisco on April 17th at 6:30 p.m. It's open to the public, and no tickets are necessary.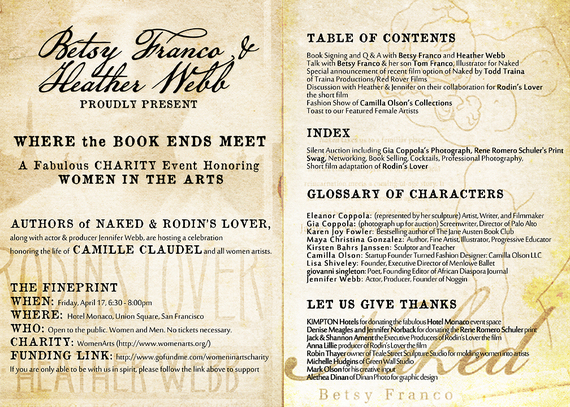 What sparked this collaboration?
You hear a lot about social media being a waste of time, and that it doesn't "work," which is what makes this story so much more fun to tell. An acquaintance and fellow writer introduced me to Betsy via Twitter. We began communicating over email the moment we realized we both shared a love for Claudel's breathtaking sculpture, in addition to novel writing. At some point we decided a joint book event would be a lot of fun and began looking into options. This is when I contacted Jennifer Webb. Not only has Jennifer produced many innovative events, but she's an artist herself — an actor — so she was a perfect fit for our team. Imagine my surprise when I learned she had also performed shows at Scott Haze's theater in Los Angeles, who happens to be a friend of James Franco (Betsy's son). The theory of six degrees of separation holds here. What a small world it is!
When Betsy, Jennifer and I got to talking, we decided to involve a charity and our excitement really escalated. Now, here we are — out to honor and support females artists, and having a wonderful time doing it. Between the three of us, we have so many ideas. That has been one of the most exciting aspects of this project. Collaborating with so much energy and talent is truly inspiring.
Why do you think it is important for writers and artists to be involved with charities?
We are called to helping others, all of us, regardless of our professions and passions. That being said, I do believe writers and artists participate in them more often than your average person. Not only do creatives possess a profound sense of empathy, but they have the natural ability to convey beauty through their specific mediums. It is an artist's great duty and privilege to share this beauty with others, to alleviate the suffering of others and inspire change.
Who are your role models for giving back to others?
There are so many! As a former teacher, I would be remiss not to mention how much educators inspire me. The amount of passion, time and love that goes into what they do on a daily basis is astounding. I was proud to count myself among them for so many years. Also, I'd have to say those who work in creative pursuits, in general, are incredibly giving and go out of their way to help each other grow and achieve success. They possess a "we're in this together" mentality so helping one another comes naturally. I'd also like to commend those celebrities and leaders who use their wealth and their platforms for all sorts of noble causes. I don't think there is enough "air time" highlighting that aspect of our culture. Instead, we are too busy mocking people in the limelight for wearing something edgy or their latest choice of partner, their faults, etc. But so many of them use their platform and wealth to do good. It's difficult to list specific names or groups, honestly. There are so many wonderful, giving people in the world. Thank goodness for that.
What advice do you have for other artists that want to make a difference?
The first thing I'd recommend is to tear down the barriers that prevent us from accessing raw emotion. Tap into those emotions and funnel these truths into your medium. If you want to touch lives, you must "go there", to a place that is uncomfortable. Wallow in it, tease it, expose it. When an artist brings that kind of honesty to their work, it shows. People connect with it and cherish it. Art changes lives.
An artist must also be willing to step up to the plate and lead. Reach out, network with others and offer your help and knowledge. Never assume someone else will do it for you, or that someone can do it better. "Where the Book Ends Meet" is the perfect example of the sort of leadership of which I'm speaking. Betsy, Jennifer and I took a risk by transforming a simple book signing into something bigger than us. Now it has taken on a life of its own because so many people wish to take part. Somehow we have created this exciting, innovative event that we hope will not only inspire others, but will raise money for a cause.
Finally, be flexible about your vision. If something doesn't go the way you expect, breathe into it, and look for alternative ways to achieve your goals. Being creative is what artists are good at, after all. For example, if a sponsor or a commission falls through, reach out to the community. You will be amazed by how generous people are, and how much they'd like to see our art succeed. They need us. Life without art is a monochromatic existence.
You can learn more about this event here.
Source: Huff Post