What is does happiness look like? If Jorge Tirado's latest surf video is any indication, it looks like a baby riding a wave for the very first time.
Tirado, who has posted bodyboarding videos in the past, paddled out with his 9-month-old son and a GoPro to capture the infant's first surfing session.
Story continues below.

As seen in the video above, they both ride tandem through the barrel — the hollow space inside the breaking wave, also known as the "tube" — and the infant emerges with a big smile.
Story continues below.

While taking an infant out into a surf lineup can be dangerous, it's not uncommon for experienced surfers or bodyboarders to introduce their kids to the ocean at a young age. Pro surfer John John Florence, for example, has said that he was only 6 months old when his mom put him in a life vest and sat him on the nose of her surfboard as she paddled into waves.
"I encourage you to safely bring your kids to the ocean," Tirado wrote in the video's description, although Ikaika Kaulukukui, a surf instructor at the Hans Hedemann Surf School in Hawaii, recommends only taking your infant child into the ocean if conditions are safe and you're an expert swimmer, surfer, waterperson or bodyboarder.
"I would say that the parents have to trust their instincts if they're thinking of taking their young kid out into the water and only tandem surf [with the child] when the waves are small," Kaulukukui, who has been surfing ever since he was a toddler, told The Huffington Post. "But if the kid has grown up around the ocean and the parents know what they're doing out there, then it should be okay. It's really up to the parents' discretion."
You don't have to hang ten with your baby for them to fall in love with the ocean, either. Introducing your little one to the sand and shallow waters can improve a baby's motor skills, provide them with a sense of wonder, and give them a healthy dose of Vitamin D.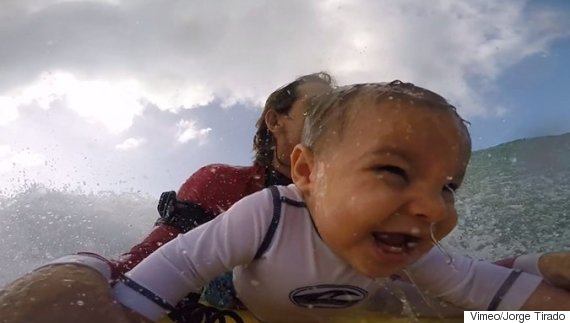 Source: Huff Post