Behind the Mask: My Life as a Transvestite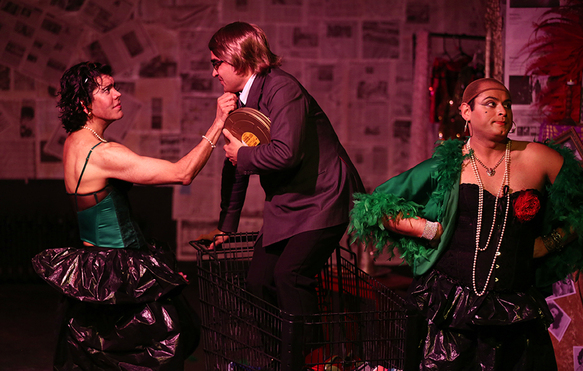 Elio Leturia as Lolita, Marcopolo Soto as the fan and Oliver Aldape as María in Orquídeas a la Luz de la Luna (Orchids in the Moonlight), directed by Sándor Menéndez and produced by Aguijón Theater during its 25th-anniversary season.
It begins on Friday mornings. Green, white and red nail polish to represent the Mexican flag, alternating those colors on each toe. The glaze should be dry and hard to be ready for that night's show.
At the office, nobody notices that the transformation has already begun, because my socks and shoes hide it. But in my mind, garish colors and swaying images are slowly taking over.
The real metamorphosis begins around 7 p.m. in a basement on the west side of Chicago in front of a vanity covered by pencils, eyeliners, eye shadows and other makeup artifices. The table, lit by myriad lights, is reflected on mirrors that surround the theater dressing room.
I am about to become Dolores del Río,, or rather a transvestite who plays a poor Chicana who believes she is Dolores del Río. I'll go from being a 150-pound, 5-foot-11 Peruvian-born actor to a glamorous, exacerbated, exaggerated Mexican movie star.
I'm playing my character in Orchids in the Moonlight, a 1982 play by Carlos Fuentes that tells the story of two Mexican women living in Venice, California, whose delirious minds lead them into believing that their L.A. suburb is Venice, Italy. Their day-to-day lives involve recreating the films of the two most famous movie divas in Mexican history: Dolores del Río and María Félix. The first one — who began her brilliant career as a star of Hollywood's silent films of the 1920s — went from being a mute character to an English-speaking exotic beauty, from sex symbol to a "Comanche Indian," as she is described in the play. The latter, more beautiful than the most unbearable ecstasy, refused to cross her country's northern border and built her career in Mexico, France and Spain, becoming a legend in the process.

Beauty does not necessarily come with birth. It can be created. The challenge lies in making others believe it is real. You must pay close attention to every minute detail, every seductive line, the appropriate color. To create my character, I start with makeup foundation, followed by eyeliner, black and white pencils, brown color for thick eyebrows and fuchsia lip liner to create a full mouth. Then follows rouge, lipstick, brown and gray eye shadow, white and brown hues to hide a prominent chin and to highlight timid cheekbones.
The mask that hides me, a man dressed as a woman who plays a Chicana who believes she is a star, is like the many masks we wear in our daily lives. We wear them for various locations, times and situations: when we are reproaching our children, talking with colleagues, asking our boss for a raise or a favor to our next-door neighbor, making a comment on Facebook, sipping Dom Pérignon at a formal event with diplomats or having a beer with friends at the club. For each scenario, a different mask.
A skirt made of plastic trash bags, a size 36B green bustier from Victoria's Secret and 6-inch black patent leather stilettos bring my Lolita (a.k.a. Dolores) to life. Clip earrings, a pearl necklace and bracelet and a fake diamond ring complete the outfit of the delusional Chicana, who covers her shoulders with a fuchsia shawl with Indian motifs.
Chest hair? Clipped. Hair on legs? Trimmed. Hair? Tousled with gel.
Crossing the threshold and creating the transvestite mask involves drawing on prejudices, generalizations and stereotypes I have regarding obnoxious woman and then taking them to an extreme. My sources of inspiration? Latin American telenovelas, Lupita Ferrer and María Rubio, even Verónica Castro. Bette Davis and Joan Crawford in What Ever Happened to Baby Jane? come to mind as well.
My models for how to walk and sway? Miss Universe, or just watching Naomi Campbell on YouTube. My inspirations for treating everything and everyone with disdain? That's an easy one. I think of the old dismissive ladies I encountered as a child in Peru.
It takes cojones to become, or to pretend to become, a transvestite — and to cover those cojones with tight black undies and leave them to sweat under a plastic skirt for an hour and 40 minutes on a stage.
Orchids in the Moonlight closes in a couple of weeks, so I have little time left to keep exploring this challenging transvestite life. After that, I'll probably cut my hair and let my beard and chest hair grow back. Still, I will continue to wear masks. They're necessary to navigate this society. Simple survival.
Elio Leturia teaches multimedia journalism at Columbia College Chicago and is an Aguijón Theater ensemble member. Orquídeas a la Luz de la Luna by Carlos Fuentes runs until March 29.
Source: Huff Post