Billboards Reflect Push To Prioritize Affordable Housing In London
Living in London is getting more and more expensive, and those most affected by the increasing costs are raising their voices for the whole city to hear.
Rebecca Ross, a communication design lecturer at Central Saint Martins school, helped launch a platform for Britons to speak their mind on the lack of affordable housing in the U.K. capital. The project, London Is Changing, used two electronic billboards in the city to display 175 selected quotes from those affected by rising housing costs, Ross told The Huffington Post in a statement.
"I wanted to put the voices of a cross­-section of people affected onto the streets at a large scale normally reserved for one-way corporate communications," Ross said.
Participants quoted in the project — who were asked to have either moved to, from or around London within the past year, or plan to within the next year — answered questions via online form about their experiences.
The displays ran for a 10-day stretch earlier this year.
"London's housing is no longer for those who need it but for those primarily concerned with accumulating capital," Reni Eddo-Lodge, a London-based freelance journalist, wrote in The Opinion Pages of The New York Times last October. "When bricks are cash and houses are savings accounts, the meaning of the word 'affordable' is warped beyond all recognition."
Scroll to see some of the messages displayed in the project, courtesy of Rebecca Ross and London Is Changing. Story continues below.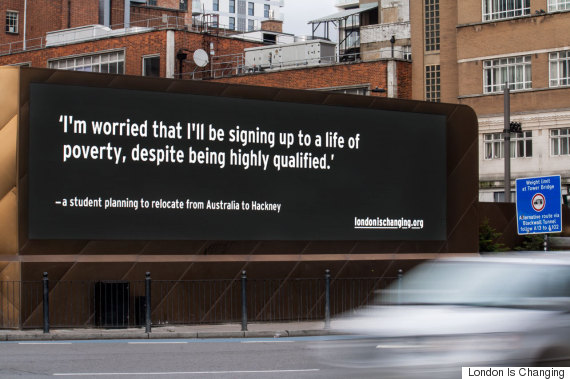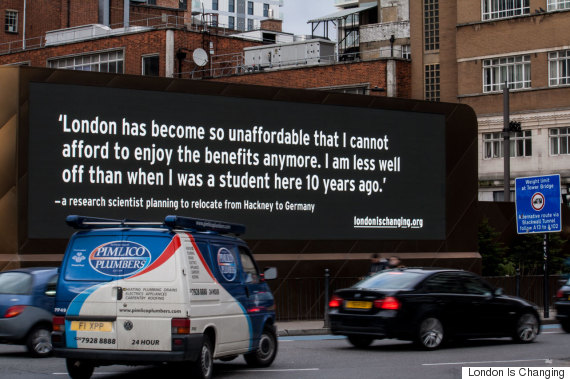 The displays reflect growing discontent among many Londoners who are fighting back against unjust housing costs.
Many low-income residents in the city, for example, have been protesting efforts to replace public housing spaces with luxury housing, CityLab reported.
Although they face an uphill battle against powerful interests within London, their efforts have made a difference — at the very least, in perception — according to the outlet:
"There's still a feeling in the air, a sense that public attitudes as to what is and isn't possible are shifting. If anyone expected the discontents of London's transformation to disperse quietly, they're already being proved wrong."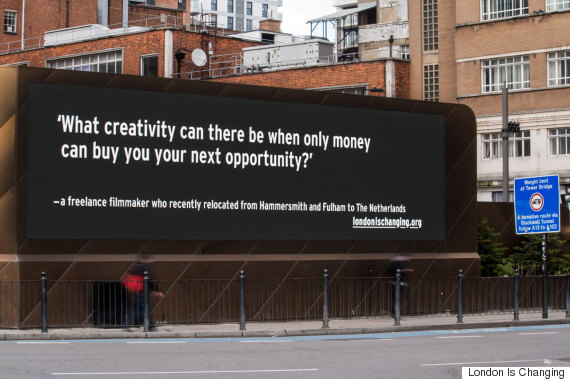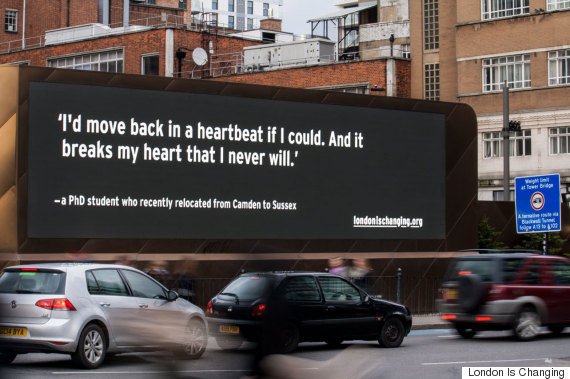 London — where a 2013 study by nonprofit Shelter found a typical family spent up to 59 percent of their income on rent, according to the BBC — is far from the exception when it comes to unaffordable housing. Major cities across the U.S. are grappling with similar increases.
A report released in March from the National Association of Realtors found in all but four of 70 American metro areas analyzed, rents have increased faster than incomes throughout the past five years, CNN Money reported.
Between 2009 and 2014, nationwide household income in the U.S. has risen by 11 percent, while rental costs have increased by 15 percent.
Back in London, Ross told BuzzFeed News that — despite the disappointment expressed among many participants in the project — her intent was not to promote negativity, but to encourage a conversation.
"I don't want to tell people what to think, but do want to create space for dialogue," she said. "London's population is actually increasing, not decreasing, and there are people moving here to take up jobs and careers where there might not be opportunities in their cities of origins. But of course I knew that people who are already here and leaving would be better tuned into this project and that, for them, it would be an opportunity to air frustration and heartbreak."
H/T City Lab
To take action on pressing poverty issues, check out the Global Citizen's widget below.
<a href="https://www.facebook.com/HuffPostImp
act">
Like Us On Facebook

Follow Us On Twitter
Source: Huff Post