Boy Saves Island in a Most Humble Way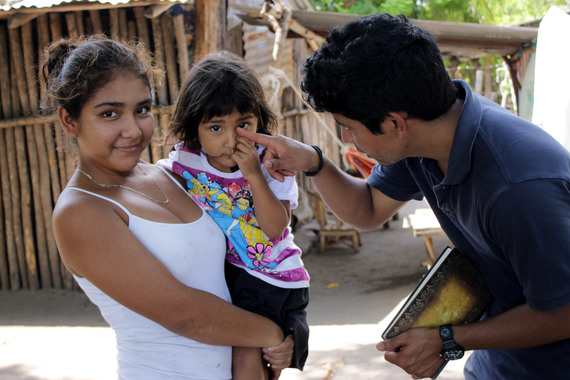 When El Salvadorian Daniel Teodoro visited San Rafael Tasajera island on a high school class project in 2007, he fell in love with its beauty and was appalled at the poverty of its 1800 residents.
"For generations their livelihood was fishing," he says. "Then commercial fishing came in, wiped out the fish population and left the waters polluted. Residents now have no source of income and live at poverty level."
He started doing volunteer work on the island, teaching residents English and computer skills.
"It's heartbreaking, because you see this beautiful place but you see the people there living under the poverty line, dealing with a lot of environmental consequences," Teodoro says. "They are great people. They give you the best they have even when they have so little. These people were neglected and really had no voice against the big companies."
He graduated from high school but couldn't forget the Tasajera residents. As a college student in California, he raised money to go back and helped create an aquaponic farm which uses fish waste and cuts water consumption by 95 percent. That led to creating a system of hydroponics, or growing plants with mineral nutrient solutions in water without soil.
He transferred to Mansfield University of PA and solicited the help of a local church which provided money and people to fly down and continue the work.
A Mansfield University fisheries major accompanied Teodoro on one trip and taught residents how to raise fish. 14 residents are now raising tilapia and 140 people produce food in organic gardens. Another resident donated a small plot of land to build a greenhouse.
"My idea was to help them learn to be more self-sufficient," Teodoro says.
Today, Teodoro is a graduate student in Budapest, Hungary, majoring in Environmental Science and Policy. Each time he returns to the island, he takes guests — mainly college students from Canada, the U.S., the Netherlands, Brazil and Spain.
Early on, he named the ongoing project Emana or "human energy."
"I wondered how I could make a difference and decided the best way is to give of yourself and your talents. If you can help make a community self-sufficient, you can expand this to a region and to a country. You can make a difference just giving of yourself."
While progress has been slow over the past eight years, Teodoro's determination to help the residents has never faltered. He scored a big success last year when Emana partnered with the University of El Salvador which did a study of the island residents' current situation, needs and aspirations. It also developed the 'Artisans of the Sea' project which fosters the development of women as individuals and as artists in the community. "This has been a great experience," Teodoro says. "We have seen real impact in the lives of women in Tasajera."
This year, he's developed a partnership with a university in Spain which will send students to Tasajera for volunteer development work.
Teodoro, now at the ripe old age of 24, manages the projects from several thousand miles away, flying in during summers and college breaks. The work he began as a solitary high school student has become an international effort.
He remains humble about his role. "The 'savior' complex, in which we believe we have the solution to other people's problems, needs to be let go," he says. "The greatest lesson I've learned in all this is that real development starts from within."
The world needs to be understood, not manipulated."
(Author's note: To understand Daniel Teodoro's commitment, sincerity and humility, here's an interview I did with him in 2014.)