Catering to an Audience
While dining at Cosme, my friend told me he thought the food was too good for its clientele. Initially, I thought he sounded a bit obnoxious–did he really think he could appreciate the food more than most people in the restaurant? However, as I sipped my "El Ninja" (one of my favorite cocktails) and sampled one delicious tortilla chip after another, I realized he was right. We went to Cosme during Fashion Week, and squads of Fashion Week bloggers, models, interns, editors, and designers had infiltrated the restaurant. Most were not there for the food. They were there to check another Manhattan Hot Spot off their "Fashion Week Restaurant List." Members of the Fashion Week entourage such as Marie Claire editor Nina Garcia, Intermix and Barneys New York buyers, and bloggers like The Man Repeller ensure these famous dishes accompany their posts of packing lists, street fashion, and haute couture. So, while the customers appreciated the unique flavors of the buratta with salsa verde, hamachi crudo, and husk meringue, I don't think they came for them–they were there for the editorial plating and the geotag.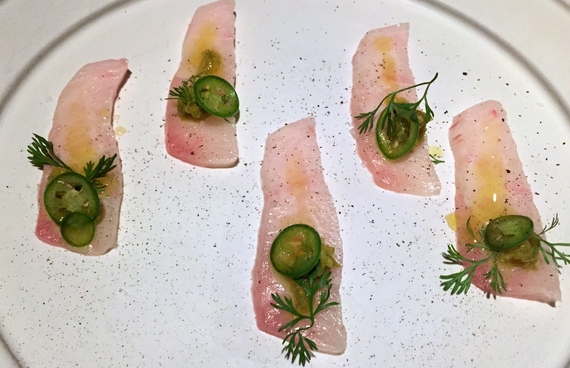 sliced raw hamachi at Cosme
With each foodstagram, bloggers assign dishes and the restaurants that serve them an aura of exclusivity, producing an influx of eager customers. Consequently, restaurants have begun to cater to a different audience. Rather than focusing exclusively on the food, they focus on the dining experience and the associations created with menu layout and dish descriptions, plating, and celebrity clientele. Just to be clear: These restaurants serve delicious food. However, many do not come exclusively for the food. They come for the Instagram the food provides. Food posts are status symbols, especially in Manhattan, where getting a reservation requires almost as much strategizing as finding an apartment.
Instead of catering to people who simply appreciate the food, these restaurants cater to a different audience: bloggers. I get almost all of my restaurant ideas from bloggers and websites such as Goop, The Crunchy Radish, Deliciously Ella, The Londoner, Eater, and Tasting Table. One of my friends recently told me that he always looks at the Zagat guide, and I thought, whoa, how old-fashioned. I think the last time I looked at one was when I was little and used to flip through the free copies at the bank while waiting for my mother.
It seems as if this new breed of American – local – organic – fusion restaurant follows a similar pattern: locally sourced produce, minimalist décor and menu, tapas-style dishes, and artisanal plating. These restaurants also have several common denominators in their respective menus, including kale, Brussels sprouts, sunchokes, a supergrain (quinoa, freekeh, etc.), crudo, and an egg yolk.
Charlie Bird, ABC Kitchen, Fedora, Upland, Little Park, The Smith, and Dirt Candy feature some of my favorite Brussels sprouts dishes. With every variation, I get a new recipe inspiration, and I even tried replicating the parsnip and apple Brussels sprouts at Little Park, some of the best I've ever had.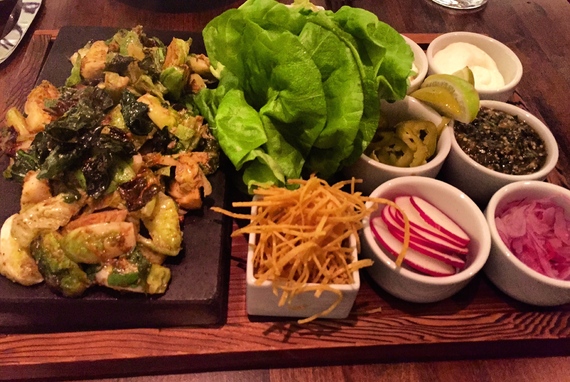 brussels sprout tacos at Dirt Candy
I love the omnipresent egg yolks; chefs use them as a dressing, a protein, a topping, and everything in-between. Fedora incorporates one into a delicious shiitake and oyster mushroom dish, Beauty & Essex adds a yolk to increase flavor dimension in a pesto pasta, ABC Kitchen tops a truffle mushroom pizza with one, Dirt Candy includes a poached egg in its kale matzoh ball soup, and Bluestone Lane Collective Café allows customers to add an egg to anything from an avocado smash (don't get me started on the $12 avocado toast gimmick) to pumpkin fritters.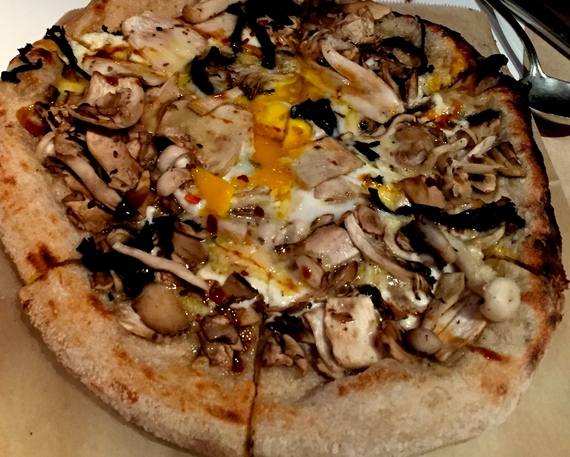 mushroom, Parmesan, oregano and farm egg pizza at ABC Kitchen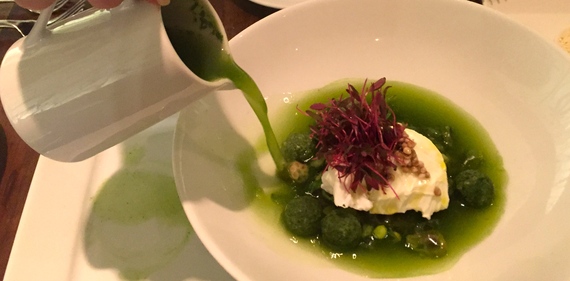 kale matzoh ball soup at Dirt Candy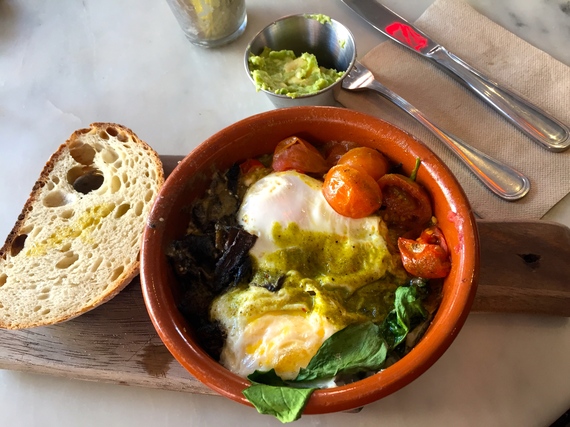 green baked eggs with a side of avocado smash at Bluestone Lane Collective Café
I've had the pleasure of trailing bloggers, tasting delicious combinations that enhance the natural flavors of their components, and crafting meals of my own, inspired by my dining experiences. I've even begun tracking my progress on a food Instagram, @TheThreeBowls.
However, if restaurants continue to cater to bloggers, are they sacrificing flavor for "likes"? Do flavor and editorial potential have a reciprocal or a symbiotic relationship? I guess we'll just have to wait until Instagram gets a flavor filter to find out. Until then, I'll enjoy my own culinary adventure, one beautifully plated dish at a time.
Source: Huff Post