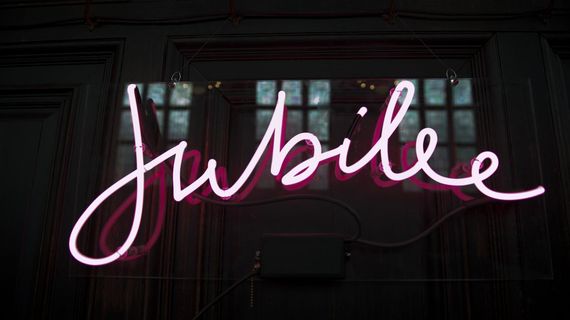 This weekend the biannual magazine Cherry Bombe hosted their annual conference in NYC to celebrate woman in food across the globe and all niches of the food industry. The lineup offered up the sage wisdom of well-known favorites like Ina Garten as well as the new food-it gals making a big difference out there like Jordyn Lexton, running Snowday Food Truck, a program to help young incarcerated adults find footing in the food industry (I'm into second chances). Women got real about food: breaking down Modernist Cuisine 101, dishing on new "healthy soul food," and hashing it out about food activism. The program was one of that spoke of inspiring confidence in their positions.
Padma Lakshmi's seminar, "Listen to Your Deepest Self" touched a few strings close to my heart. Laskhmi admitted she often felt like an impostor on the illustrious Top Chef panel, surrounded by food industry professionals. It took her a long time to understand her potential and accept the idea that she could, in fact, have a career in the food industry. What's it mean for a girl who's grown up loving food, devouring cookbooks, but isn't a chef or restaurant owner and has no professional culinary experience? Her position, I think speaks to a wide audience today of a highly food conscious and educated generation. The "food world" today isn't just a bunch of big boys with knives and swanky hats – we're more eclectic: self taught and unconventional and passionate. Padma's secret to success her palate gave her. She admits that after overhearing Le Bernardin's Eric Ripert divulge that she had one of the most sensitive palates he'd ever encountered, her confidence was made. Something that Lakshmi and myself, never try to forget: the best way to learn about food after all, is to just eat! Preach Padma.
At "Meet the Modernists," Elise Kornack honestly broke down what the heck "Modernist cuisine" really means today beyond just some ambiguous rant on molecular gastronomy whatever. She explained that modernist cuisine is changing the nature of the way we experience food. By breaking down flavors to their essence and showcasing ingredients in new ways, she wants her diners to learn something new and change their relationship to experiencing an ingredient. A good reminder for me that it's not just a pretentious showdown of xanthan gum, transglutamine, and freeze-dryers, but just a fresh look on tradition. Her intimate 12 seat restaurant Takeroot works to accomplish one fundamental mission: break down the barrier between chef and diner. Takeroot sounds like a humbling experience where your hosts are two Michelin starred ladies still behind the stove. They're there to have an honest conversation with you at your table about what they found at the market today, with no employees or wholesale dealers in the middle. Her operation puts an honest name back on that 'farm to table" label we're sick of hearing and speaks of cooking creations almost with the spirit of a culinary teacher. Kornack offers us a frankly warm side to the cold minimalism of the style we've termed "modern cuisine" today.
So for all who didn't get an invitation to the female foodie Oscars, don't worry and just remember to take away one thing from these fierce women: if you love food, don't let convention get you down – these days, there's always a way to take your own original bite into any career in food as long as you're hungry!
Follow Jill Donenfeld on Twitter: https://twitter.com/theculinistas
Source: Huff Post