When toast became a trend, we were perplexed, to say the least. Artisanal toast is now a common feature on restaurant menus. Food publications share toast recipes on the regular, and avocado toast is in danger of ruining itself via over exposure on Instagram.
How did this happen? As Hannah Goldfield points out in The New Yorker, "Artisanal toast, one might posit, represents our intensifying obsession with and fetishization of food. Every meal is special and important, every dish should be elevated, revered, and broadcast — even something as pedestrian as toast."
Leave it to Momofuku Milk Bar chef and co-owner Christina Tosi to remind everyone taking toast too seriously to chill out. In her new cookbook, Milk Bar Life, Tosi offers a recipe for Tang Toast, which is literally margarine and Tang spread on toast. It's the anti-toast-trend recipe, and it's restored some kind of order to the universe.
Tosi's Tang Toast perfectly embodies the simplicity and playfulness that runs through the whole book. With recipes like Ritz Cracker Ice Box Cake, Cake-Mix Coffee Cake and Blue Cheese Pretzels, Milk Bar Life is approachable as it is awesome. While her last book, Momofuku Milk Bar, consisted of elaborate recipes for which the ingredients alone may take days to amass, the latest embraces a "down-home, lowbrow approach." "We long for FLAVOR, not fuss," Tosi explains.
Tang Toast is the epitome of no fuss, and it may have just saved toast from itself. See below for the full recipe including an excerpt from Milk Bar Life, which comes out April 7.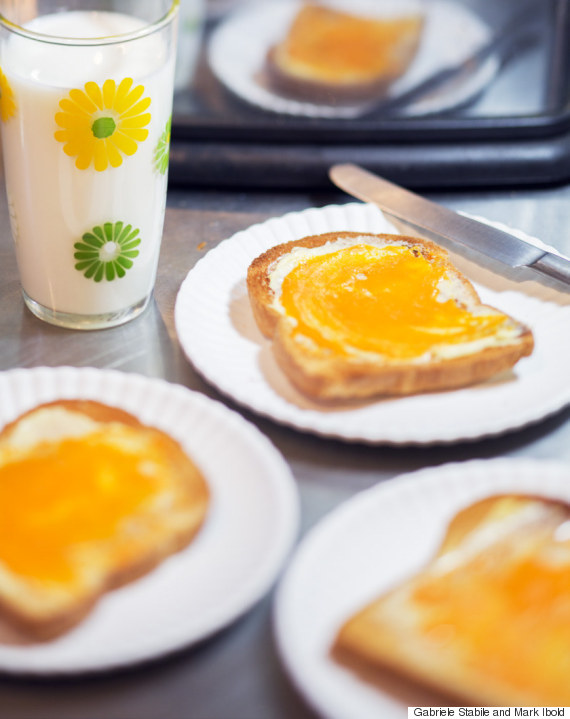 Recipes reprinted from MILK BAR LIFE: Recipes and Stories Copyright © 2015 by Christina Tosi. Photos by Gabriele Stabile and Mark Ibold. Published by Clarkson Potter/Publishers, an imprint of Penguin Random House LLC
Tang Toast
SERVES 1
Did you know Dutch folk eat toasted white bread with butter and sprinkles? Grown-ups eat it on the regular, and no one flinches!
If you can't quite channel your inner Netherlander, and cinnamon and sugar ain't your steez, maybe Tang toast is! This odd combo is big in the Christian church community that I was exposed to growing up in central Ohio. Think about it: what's the only thing left in church kitchens Monday through Saturday?
Some white bread, tainted margarine, and the remnants of some Tang. This recipe is perfect both for churches running low on supplies and for late nights when you're running low on energy.
2 slices white bread
1 tablespoon margarine (not butter)
1⁄2 teaspoon Tang drink mix
1. Toast the bread.
2. Slather each slice of toast with margarine, add a sprinkle of Tang to each one, and eat.
Want to read more from HuffPost Taste? Follow us on Twitter, Facebook, Pinterest and Tumblr.
Source: Huff Post