Converging in McLeod Ganj: Tibet and Taiwan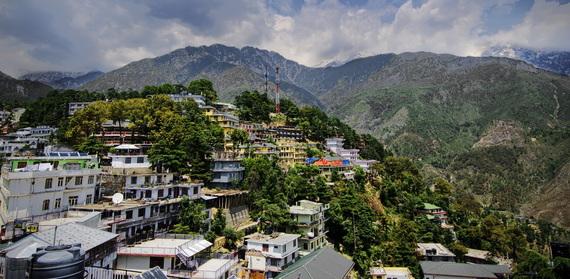 McLeod Ganj, a town in the north of India where the Dalai Lama lives in exiled residency

On a warm October day in McLeod Ganj, a town in Northern India nestled between peaks of the outer-Himalayas, the streets were bustling with life. Among the many languages that wove in and out of the bookstores and between the dumpling stands, the most prominent was Mandarin Chinese.
Every year, His Holiness the Dalai Lama–who has taken exiled residence in McLeod Ganj–gives a three-day teaching for the Taiwanese. His pilgrims travel from Taiwan to study such purely religious topics as the Middle Way Treatises. So committed to the apolitical are these pilgrims that Taiwanese nun and longtime resident of McLeod Ganj, Zhang Yunying, claims that if His Holiness had discussed politics, the Taiwanese would have thought, "What a pity. I am sorry he brought that up."
But among the crowds of Mandarin-speaking visitors are a number of dissident Taiwanese: a woman steps forward, her shaved head a show of solidarity with the Tibetan people; a documentary filmmaker announces she has personally escorted a dying Tibetan woman back to Tibet; and a graduate student praises the collaboration of Students for a Free Tibet (SFT) with Hong Kong and Inner Mongolia residents. These Taiwanese are found in Tibet-China alliance coffee shops, in language schools, and, well, anywhere.
In his autobiography, His Holiness the Dalai Lama stands by his words that "religion and politics do mix," and that he finds no contradiction at all between politics and religion. McLeod Ganj, then, as a cultural melting pot seasoned with the teachings of His Holiness, is appropriately both political and apolitical. His Holiness must carefully measure his every statement in order to protect his pilgrims from association with damaging politics.
One particular incident illustrates the need for caution. In 1997, following Taiwan's terrible typhoon, then Republic of China (ROC) Justice Minister, Ma Ying-jeou, welcomed His Holiness to Taiwan with the hope he could rest the souls of the dead and pray for the well being of survivors. Despite His Holiness' compliance with the conditions of his visit, Taiwan received harsh backlash for what the China Post labeled as "splittist" behavior. Taiwan's then president Lee Teng-hui was accused of building a dictatorship.
Although on the surface a primarily religious leader, His Holiness is actually an expert in dancing the political dance. During his visit to Taiwan, his actions were not unlike those of Qian Liwen, who explained to the twenty journalists interviewing her post head-shaving that her motives were purely religious. Taiwanese, she believes, should not be prevented from visiting McLeod Ganj, a center for Tibetan Buddhism. In the absence of a political statement, however, the forces that necessitate such impartiality become clear. The vocabulary of impartiality is like the negative space around a chalice: a new image is made, two profiles that only draw more attention to what they obscure through optical illusion.
Back on the streets of McLeod Ganj, a kind Tibetan dumpling-seller offers a Taiwanese tourist a free plate of his steamed vegetable delights. Conversing in Mandarin, it becomes clear that the Tibetan dumpling-seller and his Taiwanese customer have much in common. The first has been displaced, possibly for life, and the second is at liberty to travel but is marginalized by Beijing discourses of Chinese-ness. Even so, the two empathize with each other and find solace in their shared concern for the preservation of their national heritages.
Whereas Taiwanese interviewees tend to paint Tibetans as passively perfect–naturally endowed with a divine Buddhist perfection–Tibetans seem to view Taiwanese as active participants toward spiritual success. "Tibetans don't care about other people's material wealth. They just care about a good heart," says Taiwanese citizen Yang Xiuying, a volunteer Chinese language teacher. On the other hand, Taiwanese people are described as clean and devout. Sonam Dolma, a Tibetan woman from McLeod Ganj says, "Taiwanese are down to earth and clean. The Taiwanese feel lucky to be able to meet with His Holiness the Dalai Lama." Like organizing a room, the Taiwanese must seek out the teachings of His Holiness by traveling to India, must convert, and must create the outward appearance of devotion until the day that practice becomes intrinsic fact.
Another apparent difference relates to the directional bent of pity. "We don't have empathy for them, they have empathy forus," says Sonam Dyiki, a Tibetan woman in the homestay business. Indeed, the story of Qiao Peimi's transport of a dying Tibetan woman to Tibet illustrates a perceptible power differential in relations between Taiwanese and Tibetans.
Momo-la was old and alone when Qiao met her. Momo-la wanted to go to Tibet, but she had no money and was incapacitated by a stroke. Qiao took it upon herself to personally transport Momo-la back to Tibet, paying for their flights and accommodations along the way. After successfully reuniting Momo-la with her family in Tibet, Qiao took a secret video recording to a Tibetan woman's house. The Tibetan woman had the chance to see her exiled husband on film. Soon after, mission complete, Qiao returned to her home.
Three days later, Momo-la passed away. "When they hear this, Tibetans always tell me, 'She was so lucky because she could die in Tibet.' When Tibetans ask me if I miss home, I say, 'If I want I can go back, so why should I miss it?' I want to tell the world: 'These people cannot go home. They are suffering.'" There is a perception that Tibetans are in a much worse situation than the Taiwanese.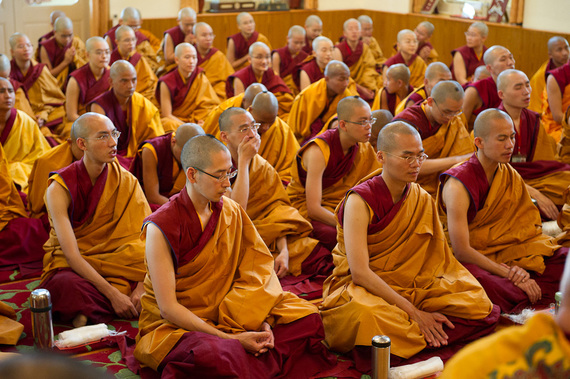 Taiwanese Buddhists in McLeod Ganj in an ordination ceremony

But pity and empathy have not always been the norm in Taiwanese-Tibetan relations. There was a time of more conservative and exclusionary politics. Although today, several Tibetan human rights organizations make note of what Tibet and the other dissident Chinese groups have in common, this is only a recent development.
Just as China creates an enemy from within in the Tibetan people, Tibet in exile has created its own internal enemies. In 1994, wanting to operate with the approval of His Holiness the Dalai Lama's office, one Tibetan welfare organization, Chushi Gangdruk (Chugang), requested official permission to sign an agreement with Taipei's Mongolian and Tibetan Affairs Commission (MTAC). Although Chugang received no response, its leader, Rthur Norbu signed an official agreement with Taiwan.
Rthur Norbu's contact with Taiwan's MTAC was considered criminal, and in defending himself, Norbu made one of the first distinctions between Taiwan and the Mainland. "We are not going to the Chinese Communist Party [CCP] because they destroyed our monasteries," he told the Tibetan Review recently, highlighting his stance that the Guomindang is an ally.
The religious and the political require constant policing–continuous restructuring through language. Today, the CTA's Director of relations with Taiwan is located in the Chinese section, in which structuring emerges the Tibetan conception of relations with Taiwan. To elide the Free Taiwan cause is to make a clear statement. As a free Tibet has officially expired through the adoption of the Middle-Way Approach–a political approach that requests only true autonomy within the Chinese state–a free Taiwan too will expire.
Tibetan Buddhism creates a space for the cultivation of Taiwanese and Tibetan nationalism, even if not to the extent that the two T's will ever pose a substantial threat to Beijing's repression. The actions of Taiwanese and Tibetans, both lay and official, are easily misunderstood as ignorant of or indifferent to a critical political opportunity. These actions are more appropriately understood, however, as valid "apolitical" stances–a religious finish glistening on a durable political form.
_________
Theresa Ceelen is a college student in Rhode Island, and may be contacted at [email protected]
This article also appears in China Hands.
Source: Huff Post