So you're thinking of heading off to Cuba ever since President Obama and Raul Castro jointly announced an easing of more than five decades of travel restrictions.
Well, it's an interesting place–I just returned from there. But not so fast. I had to do it the old-fashioned way, and so will everyone else, for now. Yes, eventually you might be able to fly there from LaGuardia or Newark or JFK.
But now you still need some sort of excuse to get there–perhaps as part of a religious tour, or human-rights mission, or you're a member of an arts organization visiting museums. In fact, there still are more than a dozen different reasons a tourist has to choose from as the reason for going.
Still, it's fairly easy for, say, someone from Brooklyn or Boston or Philadelphia, even without an organization, to travel there. One way, for example, would be to join a religious-oriented group, which I did, leaving from Miami.
Like many others, I had assumed you had to do an end-around to get to Cuba–you know, travel from Canada, or Mexico. Who knew that American Airlines–yes, our American Airlines–runs a daily charter flight to Havana from Miami?
So I signed up with a tour operator named LATOUR, a member of the Isramworld Portfolio of Brands (latour.com). I chose its "Shalom Cuba" tour, themed toward Jewish Cuba. It was quite easy to sign up for the trip. All I needed was a visa, which LATOUR took care of.
We spent the night at an airport hotel in Miami, where I met the rest of our group of 17, and got to know one another. We were briefed by the group leader–every tour of Cuba has to have such an approved person.
One of the caveats we had was about going off on our own–strictly forbidden, according to the terms laid down by our Department of the Treasury, which governs Cuba travel. That restriction struck me as odd. For just about a year ago I had met with a Cuban official at the United Nations, and he told me, "Once you get to Cuba, you can do anything you want on your own. We don't follow you."
Well, perhaps. But our group leader cautioned that we were not to go off the beaten path–until the evening, after all the scheduled visits had been made. Then, we were free to roam. Also, we were told that our U.S. dollars could not be used to buy anything in Cuba–but in fact had to be exchanged for a special Cuban currency which is used only by visitors. Since then, however, American credit-card companies agreed to allow their cards to be used in Cuba.
The LATOUR experience kicked in for real the next day in Havana. On the ride from the airport, we were all watching out for those 1950s cars we had heard so much about–and we were not disappointed. They were ubiquitous–red-and-white '57 Chevvies, a powder-blue1952 DeSoto, occasionally a high-finned Cadillac.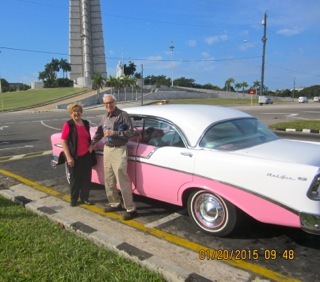 Then we were ensconced at the high-end Hotel Melia, which belongs to the well-regarded Spanish chain of the same name. I didn't expect luxury in Cuba, but we got it at the Melia. Also, everyone we came across at the hotel spoke English quite well. We met our very engaging guide whose fluency in English was of a high order.
The United States had just relaxed rules on bringing back the famed Cuban cigars and rum–we were permitted to bring back up to $100 worth per person. Perhaps because it seems so exotic, my two sons–neither of whom smokes–asked me to bring them back Cuban cigars. I took a tour of the hotel, which had a fully stocked cigar shop, but didn't bother pricing them. I figured that hotel prices are higher than at a store for the same item.
Our tours were quite interesting, beginning with visits to several of Havana's synagogues and meeting with officials, all very proficient in English. But we also saw other cultural sites, such as Revolution Square, with its huge portrait of Castro on one building. There was also the dramatic towering statue of Che Guevara. And at every tourist site, those grand old cars abounded, many of the drivers letting you take pictures in the car or offering a ride. Yes, they took dollars.
We visited super markets and a cigar store, where most of us bought cigars (I paid the equivalent of $17 apiece for the best Cohiba in its own tin). And then, when I returned to our hotel, I found out it was cheaper there. So don't make any assumptions, and take what you hear with a grain of salt.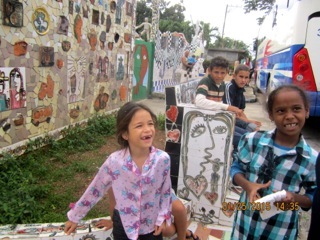 For example, the guide told us medicine was free in Cuba, and it is. But you can't always get your hands on the right medication, even with a prescription. That is why LATOUR suggested we might want to bring medicine to Cuba to give to the synagogues, and that's what many of the people on my tour did. We visited a "pharmacy" at a synagogue–a huge room filled with over-the-counter and prescription drugs that tourists have brought in. Members of the synagogue bring in prescriptions and are able to receive the medications for free.
And American television and our Cuban guide made a big deal of the fact that we could now bring back that $100 worth of rum and cigars. I figured this would be closely monitored. But when we took the charter back to Miami, we didn't have to fill out any forms asking if we've brought in anything–and we weren't even asked if we had any cigars. They just waved us back in, back to America. But we had tasted a bit of the Cuba as it's been during the long freeze with the United States. And now comes the thaw.
Source: Huff Post