This month is Women's History Month. I am thinking about Food and Feminism, a rhythmic alliteration that bears a mash up of the coolest of heroines: the perennial all-stars, Julia, Martha, and Alice Waters. But this month, I focus on a woman who is not only redefining the under-explored genre of the female culinary world, but soon also that of the New York restaurant scene as well. I'm paying homage to ma modèle culinaire, Anne-Sophie Pic as I voraciously read her oeuvre, Le Livre Blanc.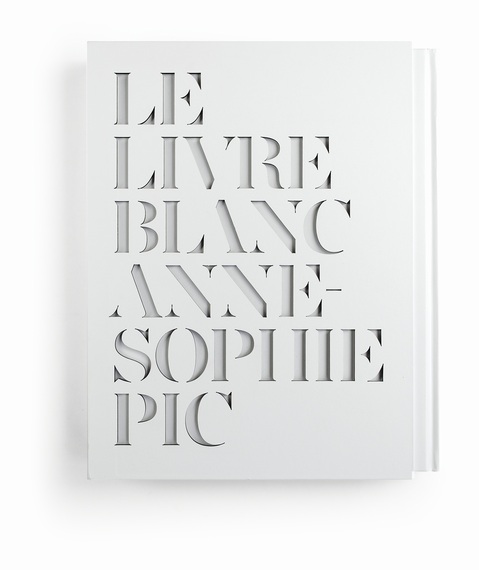 Anne Sophie Pic is the fourth of six women in the world to gain the three star Michelin crown and her story is legendary. Though she hails from a family of French culinary royalty, her path is self-made and unique (you can read the deets on Eater here. Pic's work is a feminine force, sleek and delicate in form as well as bold, brash, and borderless.
Pic, as the book's white page layout suggests, is on a constant culinary quest for originality, discovery, and reinvention. She did not undergo formal culinary training, but rather uses her palate as her palette. Her muse seems to be the pure experience of taste in all its forms. All at once, she encompasses and lets go of any culinary tradition or knowledge. She completely undoes her years of training, and by envisioning purity and simplicity, she creates a new art form of food in more visually stark and originally gustatory ways. Her method is refreshing, as her mind does not conceive of flavors based upon known techniques or spins on conventional pairings. She describes her dreamlike creations like this: "I focus on flavour marriages to create. It is both a sensual and intellectual process daydreaming if you like. I start with the product and I ask myself what would I like with it, without any expectation." It is an unfettered culinary channeling.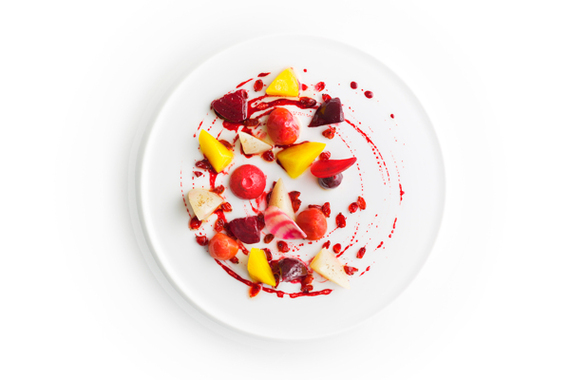 What is most transcendent about this woman is that her influences stem from traditional feminine domains of visual style, fashion, design, and even the vibrant compositions of the French painter Bernard Cathelin. Just google away at "Poitou Leeks and Aquitaine Caviar with Matcha Tea Butter" and watch all your preconceived notions of presentation and traditional flavor association dissipate on this green lily pad plate of culinary curiosity. Her cooking style is delicate, light, balanced, and largely vegetable based in an unabashedly honest and original way. She tackles traditionally "masculine" associated ingredients with a new touch (a deep affinity for beer and uncommon spirits in her cooking) perhaps without even realizing that there's a battle.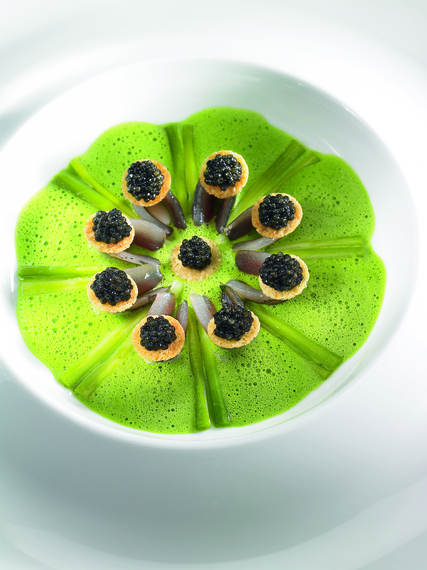 Her book isn't a practical addition to the kitchen novice's collection and it shouldn't be viewed or used as such. It is a glimpse into the musings and realized dreams of a culinary goddess, and rather may serve as a source for anyone's culinary inspiration. It challenges our notions of traditional flavor harmonies and pairing possibilities. Of course we may not have access to all of Sophie's wild abalone or Drôme pigeon with a sous vide and micro-foamer handy, but may these serve as our epicurean Shangri-las.
The photography and overall design of Le Livre Blanc is a meticulously calculated gallery exhibition in a cascading chromatic scale of minimalism. Colors and unimaginable flavor combinations pop off the page and into one's now licorice-eel tinged imagination. Le Livre Blanc reads like a ravishing bibliography of an already canonized woman-saint-chef's culinary art exhibition. But overall, it's the white pages that reverberate her passion for the unobstructed and unplanned "New," and it's those pages that act as the guiding force in this book's effectiveness.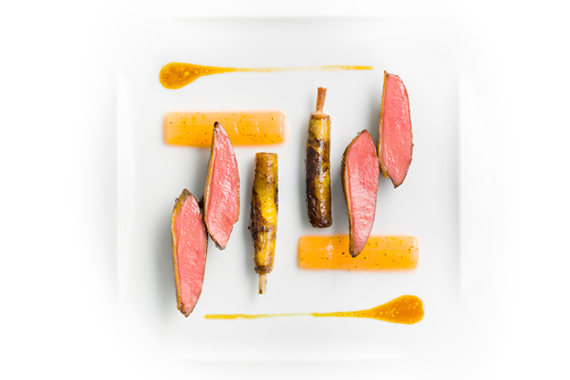 Pic is a woman who learned her art by trusting her own palate rather than her lineage or rote tradition. Thankfully she has had the proper access woman do need and should have today in the kitchen hierarchy. And though that access isn't something she gained the traditional way per-se, her ability to be interested in the family business without attachment to the traditional way, her willingness to forgo any consciously or unconsciously learned teachings, and her confidence to write her own manual for how to wield a knife, grill a fish, or introduce just a tad of Arabica coffee into a turnip purée is testament to an illuminated and expansive mind.
Dining at Dame de Pic in Paris last November was a full sensory experience during which I could feel Pic's untamed, yet wholly disciplined thought process unfurling within every bite. Each deliberation manifests as a whirlwind, which transports the participant into a sensory performance in which scent and honed aesthetics bolster the ultimate siren, taste. However, no matter how seductive this dance, dining at DdP conjured a personal deep tension because I don't generally enjoy the actual eating of heavily manipulated culinary explorations. And though Pic creates art, it's still food and must therefore be ingested to be fully witnessed and experienced. My appreciation and adoration for this woman as a true artist was heightened even more because partaking in her world was a sacrificial act for me that caused me to grapple with my core beliefs about what I eat and, ultimately, give over to a genuine master. When a chef is a true artist and her paint brush is the ephemeral medium of food, and the way to study it, learn from it, and internalize it is to literally put it inside of yourself, who can you trust with this intimate phenomenon?
So, I suggest: Read the book to familiarize yourself with her "flavour marriages", hold your breathe and save your pennies for the opening of her first restaurant on US soil, and celebrate Woman's History Month all at once.
After all, is there anything more "Female" or more empowering than the act of creation? Sure, a woman is just one half in conception but it is only she who carries that creature, nurtures it into its very being, and presents it to the world.
Follow Jill Donenfeld on Twitter: https://twitter.com/theculinistas
Source: Huff Post