Paradigm Shifters is a series of interviews with a select group of women from eclectic walks of life. It will highlight real life insight on how women have been able to turn weakness into strength. Each interview is the naked truth about breakdowns that inspired breakthroughs. These women have experienced internal changes, which make them quintessential Paradigm Shifters.
Everything I have ever done has been focused on this underlying theme of shifting the paradigm because "what we think determines what we feel and what we feel determines what we do." Hence why Seven Bar Foundation and Empowered by You takes lingerie, which has traditionally been seen merely as a tool of seduction, and makes it a tool of empowerment.
I hope after reading these stories you will look at your own situations, struggles and accomplishments through a different lens and, at the very least, be better equipped to change your own paradigm. At the end of the day, we are our own Alchemists turning the silver we were born with into the gold we are destined to become.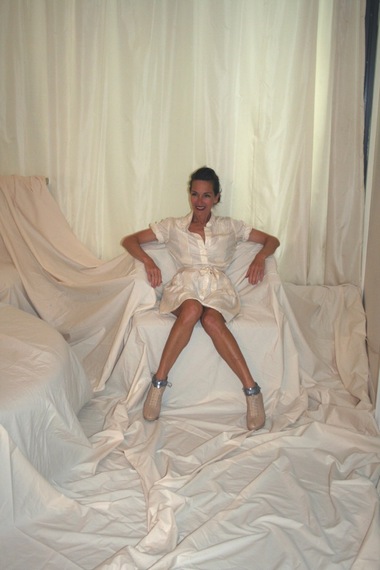 Cynthia Rowley – Critically Acclaimed American Fashion Designer
You originally were at the School of the Art Institute of Chicago studying painting. Then you made a shift into the fashion world, what was that shift like?
Yes. I grew up in a family of artists and it seemed inevitable that that's what I would do. To make art seemed like the natural progression. But, I wanted something a little bit more structured and I naively thought fashion would be that thing.
What's something that you have to consider now that you never thought you would?
At the time I had nothing to lose. When you have nothing to lose, you do what you feel without any outside influence. Now, I have responsibility, but I feel it's still really important to take risks and to be as original and authentic as possible.
How long do you think it took you to finally make it?
I don't know — in many ways I feel very thankful for what I've accomplished, and yet I still feel like I have so far to go and I'm just getting started.
You went from Chicago to New York. Who gave you your first break?
Well, there's a famous story about this woman who stopped me on the train from a department store in Chicago who asked me about this jacket I was wearing. In that "fake it til you make it" mentality, I said, "It's mine, I'm a designer" and she was like, "Be in my office with your collection." I sewed all weekend and made five things, brought it to her office, and she was like, "What's the style number on that one" I said, "One." "What's the style number on that?" "Two." After she had asked me for something — I don't remember what it was — I finally said, "Okay, I have to confess. I've never done it, but if you give me the order I promise I'll stand by it." So, she serendipitously introduced me to the world of being a designer. There've been a lot of people along the way, but it's not that somebody takes you under their wing, it's more the way you see things. For me, it was my own sort of pathological optimism that made little encouragements along the way feel like someone was pushing me.
Was that what kept you going, regardless of all the "no's"?
Definitely. I just think that I would always think everything was going to be okay. I think a lot of people don't realize how many "no's" you're going to get and how many roadblocks there are along the way. You have to steamroll over them and be in a state of mind in which you aren't discouraged. Try to find the good in everything. The "no's" never go away, it's not like there's a yellow brick road of "yes's."
What are the key components in being a successful entrepreneur?
A lot of risk-taking, having a vision and being able to execute it. You have a short-term vision and a long-term vision. You really have to have that scope and be able to execute it over and over and over, every single day. A lot of people imagine that critical success goes hand-in-hand with financial success. You have to be able to sort that out in your head early on so that you're not intoxicated by your social or critical success and forget about the bottom line. Financial success needs to be coupled with happiness, that you're doing something worthwhile. You have to have your head screwed on straight. It's easy in a creative discipline to say, "Wow, they love me," but what does that mean ultimately?

Was there a breakdown to breakthrough moment for you that you can remember?
It never is just going along and then disaster strikes; it's the little things that happen everyday. I'm constantly confronted with a problem and have to find a solution. But, I will say that when I was in school, it seemed like the way it was supposed to be done was you have the creative person and you have the businessperson. I spent a long time thinking I had to find that person. When I moved to New York, I had a breakthrough when a friend of mine in the financial world said, "Why don't you do it yourself? It's your company and you should be able to know what's important on the business side." It was like a frying pan over the head! Every step was a major eye opener. It's taken me a long time; the first ten years I was learning the basics. But still, in that time I was transforming into the person I am.
What advice do you wish to give to your younger self?

Buy stock in Apple Computers.
What kind of legacy do you wish to leave behind?
Try something new. In work. In life. In everything you do. The more frontiers that have been broken, the more challenging it is to find new arenas to explore, but being a little scared all the time is always better than being complacent.
With Cynthia's genuine approach to life and success, it is clear to me why she is a household name. What a testament to tenacity and being true to self. Cynthia is inspiration on legs. We are fortunate to have someone as fierce and humble as her leading in the fashion industry. I have been shifted.
Source: Huff Post