A country music legend just made one of her superfans feel like a star.
Gage Blackwell of Lynnville, Tennessee, who has Down syndrome, is a huge fan of Dolly Parton, and last Saturday, the 12-year-old had the opportunity to spend time with the singer at her Dollywood theme park, Today.com reported. The pair hung out in a restaurant, and sang a few of Parton's hits together.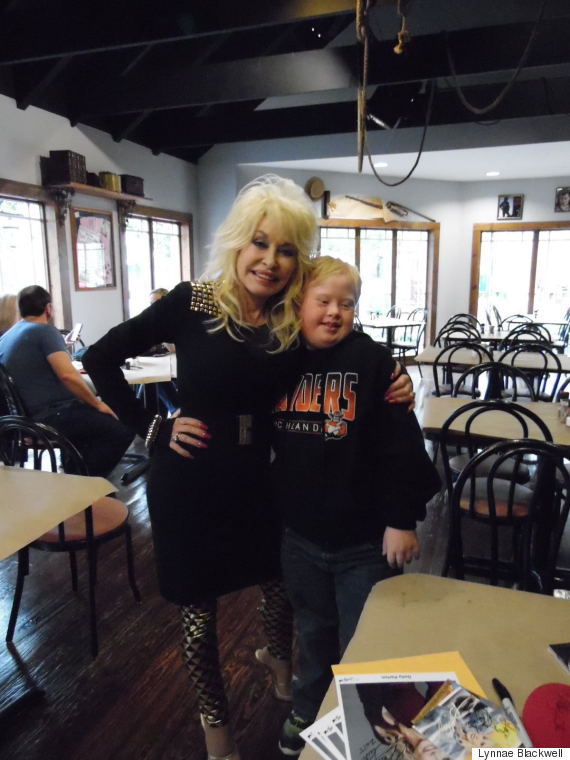 Gage with Dolly Parton.
Gage's mother, Lynnae Blackwell, told The Huffington Post that the meeting highlighted Parton's big heart.
"She's an amazing woman. She made him feel like the most important person in the room, and that is a rarity for someone as famous as [she is]," Blackwell said. "It was overwhelming to see the genuine love she had for him. You could tell there was an instant bond there."
The meeting was arranged after someone at Gage's school saw a video of the fan talking about his dream of meeting Parton, and advised Blackwell to reach out to the singer's camp, according to Today.com. The 12-year-old was soon granted 10 minutes with the star. While at the meeting, the singer and her fan started off by singing Parton's popular duet with Kenny Rogers, "Islands in the Stream." The video of Gage and Parton, has since gone viral with more than 1.7 million views on Facebook as of Thursday morning. The pair also chatted about country music and sang other hits, including "Jolene" and "9 to 5."
While Blackwell said that Gage was blown away by Parton's compassion, the country legend seemed delighted with the 12-year-old, herself. At one point during their meeting, she joked about the two going on tour together.
"We may be going on the road before you know it," she said. "We're gonna have to put your name on the side of my bus: Gage and Dolly. How's that sound?"
Parton left a big impression on her young fan, and Blackwell told HuffPost that Gage can't stop thinking about the musician.
"He just loves her! He is very into watching the videos over and over," Blackwell said. "He can even repeat every word she says, and everything he says back to her."
Like Us On Facebook

Follow Us On Twitter
Source: Huff Post