If you were a little girl in the late '70s and early '80s, there is a great chance right about now you are an "OVER IT" mom. And by "over it," I mean you're over just about every aspect of childhood being hijacked by commercialism and marketing. Halloween merchandise starts appearing in August, Christmas decorations arrive soon thereafter and even birthday parties have gotten insane with the idea that stuff, stuff and more stuff is the norm. Well, thank God Easter is still safe. I mean, it's a holy day. It's kinda, like, sacred. It's special, and yet simple. It's an uncomplicated spring day, with kids skipping around the backyard looking for eggs, then maybe a drive to Grandma's house to eat a spiral sliced ham and eagerly bite the head of that chocolate bunny behind the clear cellophane.
Right?
WRONG.
Easter, like every other holiday, celebration and manageable childhood party, has been hijacked. Taken over by aisles and aisles of things. Big things. Little things. Shiny things. Wireless things. Now, it's not enough to give the kids a little straw basket with jelly beans and cream-filled eggs. According to a TV commercial a large retail giant is currently airing, my kids should wake up on Easter morning to brand new bikes. B-I-K-E-S. And iPads. And baskets overflowing with Lego sets, dolls and DVDs.
What the marshmallow peep is that all about?
I cannot be alone in thinking all of us moms are overwhelmed enough. Are feeling 'guilty' enough. Are feeling 'less than' enough. Are chasing a picture of holiday perfection that for the average family is just unreachable. And then the guilt with it? Don't even get me started. Not gonna go there.
How about we just do Easter like how we were brought up doing it? What is so wrong with that? My parents put nickels, dimes and quarters in plastic eggs and hid them around the house. Finding and then snapping open an egg with three quarters in it was the biggest thrill. And if you got the egg with the one dollar bill in it? Score! As little girls, we wore matching dresses, bonnets and gloves and went to church and stayed after in the hall to eat glazed donuts and drink OJ out of tiny cups. After, we went through our pink (un-monogrammed, GASP!) fake straw baskets, digging under the lime-colored Easter grass looking for chocolate coins, jelly beans and if we were lucky, a chocolate bunny and maybe a plastic bracelet or necklace we could wear for the day. We would head to grandma's house, where we would swim all day with our cousins, between shoving candy in our mouths and waiting on the huge dinner she was preparing. At day's end we were exhausted and content, having had a taste of what our laid-back summer would be like. Our parents did nothing over-the-top special. There were no Pinterest-perfect crafts or pricey gifts. But yet, I can recall a day that took place over 30 years ago with perfect clarity.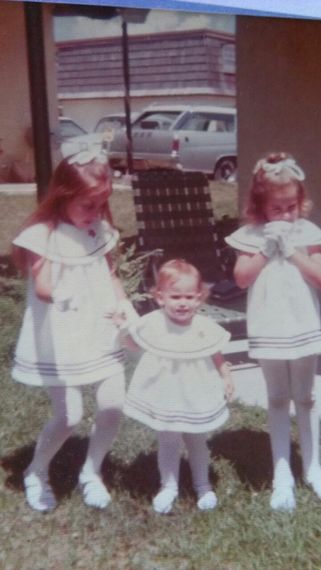 Easter Day involved family, not things. It was about being together for brunch, not getting on new bikes. And somehow, we felt loved and special without the excess. What a concept.
This Easter, I will not buy into the "buy everything" culture. We will do our own simple thing — hide some eggs, open some candy, go to mass. We will visit Nana, have dinner together and let the kids play with their cousins. And we will leave the TV off, because I'm sure there is a car company airing a commercial where the Easter Bunny leaves a $65K luxury vehicle topped with marshmallow peeps in the driveway Easter morning.
Melissa Fenton is a humor writer. Find her in the laundry room, kitchen, or running through a pasture. And also writing about her four sons at 4boysmother and on Facebook
Source: Huff Post