Easy Breakfast Pizza to Kick Off the Weekend
Easy breakfast pizza you can make in minutes. How great is that?! Top with bacon, sausage, eggs, and ALL the cheese.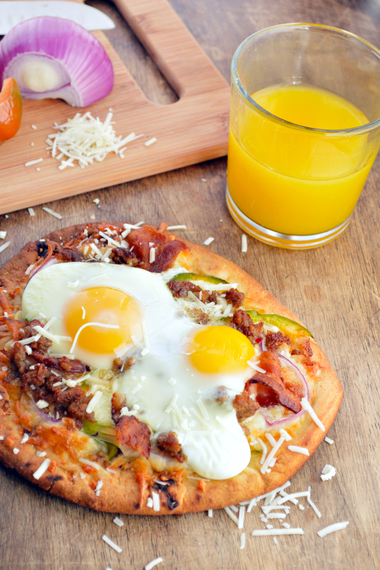 I have never been one to eat cold pizza. I just … can't.
I want to preheat the oven and place my little leftover slices on the hot oven racks and let the crust return to its warm toasty glory. The cheese will never melt quite the same way twice, but it's NOT cold, and in my pizza universe the temperature totally counts.
My other half can eat cold pizza all day long. I think he actually prefers it cold to piping hot, fresh from the oven. We clearly do not see eye to eye on the pizza things.
Having an aversion to cold pizza though DOES NOT count out pizza in the morning. Because Baked Egg Breakfast Pizza is here to save the day.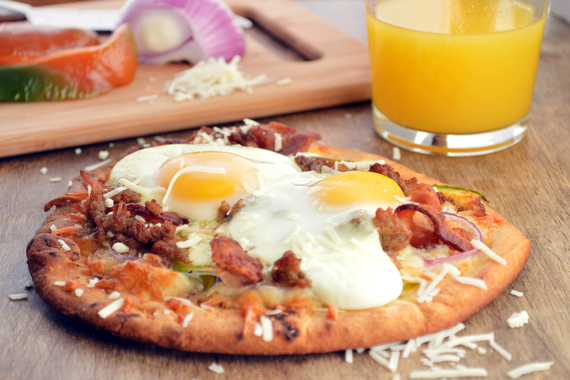 The first time I ever baked my eggs in the oven was with this prosciutto and provolone baked egg breakfast. (It's worth noting that my FAVORITE baked eggs belong in this Christmas morning casserole. It's good for all the mornings. DO IT.) It was kind of life changing for me. I love when I can just shove things in the oven and walk away. Have you ever tried to cook breakfast for more than two people on the stove top? It's annoying. And time consuming. And I always end up with a big ugly grease stain on my shirt. Baking the eggs (and everything else) gets it DONE.
Cue the coffee refill, please.
Baked Egg Breakfast Pizza is easy (and mess-free) on a whole other level. Using naan for the pizza crust is the best shortcut — especially in the morning. Slice a few veggies over the top, sprinkle with cheese, crack a couple of eggs over the top, and bake.
The easiest way to make this pizza is to go vegetarian. A few minutes of chopping and slicing; no pre-cooking necessary. It's GREAT with bacon and/or sausage, though (pictured).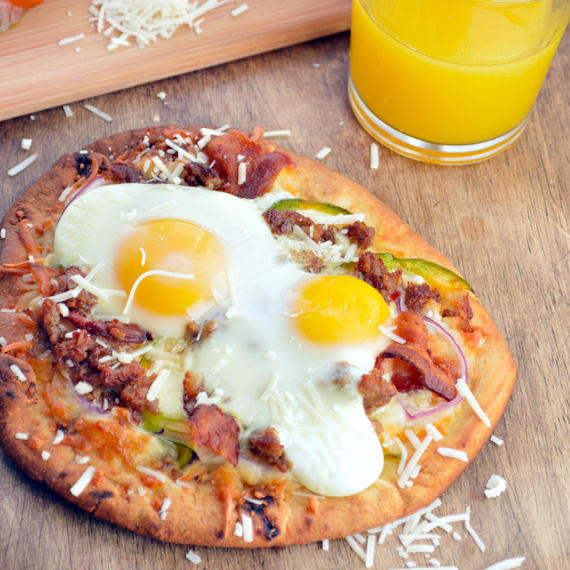 It's also a terrific way to use up leftovers first thing.
A quick naan pizza tip: Since the naan is already cooked and really just needs to be warmed but the eggs actually need to COOK, it is helpful to bake these on aluminum foil so you can lightly fold the foil over the exposed edges of the crust. That way it will nicely crisp without getting too dark.
If you are a lover of savory breakfast foods and eggs on everything, you will also LOVE these breakfast burgers with maple Sriracha aioli. And you should definitely try this sausage and butternut squash breakfast scramble.
—
About Heather
Heather, the author behind the blog Sugar Dish Me, really really really loves waffles. She's our newest Breakfast fanatic, and we're so glad!
Source: Huff Post