By her own admission, Eden Sher lives in an almost perpetual state of hyperbole.
"That's why I always have to try and keep myself in check," this 24 year-old actress admitted during a recent phone interview. "Otherwise — whenever anyone asks me what I'm working on now — my automatic response is that it's ' … THE BEST THING EVER!' "
Mind you, it's easy to understand why this Critics' Choice winner (Sher took home the Television Award for Best Comedy Supporting Actress in 2013) is so upbeat these days, given the year that Sue Heck (i.e., the character that Eden plays on ABC's long-running sitcom, The Middle) has been having. Between the stresses that this college-bound senior has been facing while applying to schools — not to mention being blindsided by a surprise marriage proposal from her boyfriend Darrin — Heck, as a character, has been giving Sher a heck of a lot of fun stuff to play over the past year.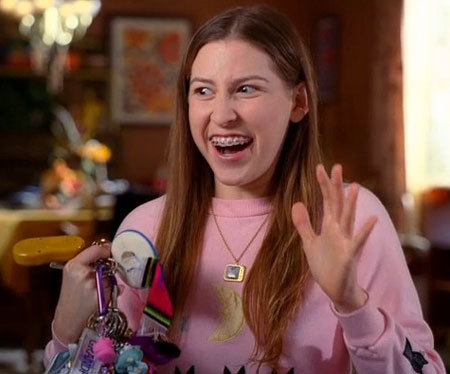 But since The Middle just finished shooting its sixth season this past Friday, Eden is now pouring her over abundance of enthusiasm into her next project, Star vs. the Forces of Evil. Which is this brand-new animated series which will debut on Disney XD tonight at 8 p.m. ET / PT.
"As someone who just loves animation and comic books, I have to say that I have never seen a character like Star Butterfly before. She is Disney's first-ever kick-butt princess. And I am just thrilled beyond words that they chose me to voice this character," Sher said.
Mind you, when Eden originally auditioned for this part back in 2013, she wasn't sure that the show's producers actually did want her to be the voice of Star. Who's this wand-toting teenage princess from another dimension who's been sent to Earth to live with the Diaz family.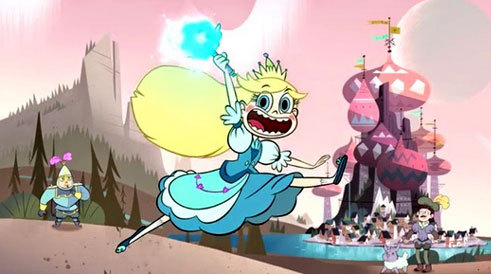 "I come from the live-action world. Where if you audition for a part, you typically find out that day — at the absolute latest, by the end of the week — whether or not you got the part," Sher explained. "So when I went in and auditioned for Star, it kind of killed me that, by the end of that week, they still hadn't called. Because from the very first second that I got the breakdown for this character, I just loved Star. I so wanted to be the voice of this character. But when I didn't hear back from Daron (Nefcy, the creator / producer of Star vs. the Forces of Evil), I just assumed that I didn't get it. So I was like 'Well, that sucks. It wasn't me. I guess that it will be someone else.' And then I just forgot about it."
But then two months later when Eden found that she had in fact been cast as the voice of Star Butterfly, Sher began bouncing off the walls with glee. Which proved to be a bit of a problem once Eden got in the recording booth.
"You have to understand that this was the very first time that I had voiced a character for animation. So since I didn't know what the hell I was doing, I began jumping around the booth while I was recording Star's lines for the pilot. And they actually had to stop this recording session to explain that the mics that they use are so sensitive that they can actually pick up when you're moving around inside the booth. So I had to then teach myself how to stand still while I was recording Star's lines. Which is tougher than you might think because Star Butterfly is such an active and awesome character," Sher enthused.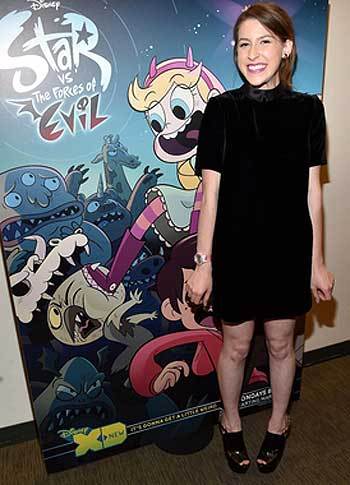 And clearly animation fans agree with Eden. Given that — just based on the title sequence of this new Disney XD series (which was shown once just before a Disney Television Animation panel got underway at Comic-Con last July but wound up being captured on someone's iPhone and then get uploaded to YouTube) — Star vs. the Forces of Evil fan art began popping up all over the Internet last Fall.
"I remember coming in for a recording session about that same time and seeing all of this Star fan art up on the walls at Disney Television Animation. And I asked 'Does stuff like this typically happen before a show officially goes on the air?' And they told me that this almost never happens. That animation fans usually have to see a few episodes before they then decide whether they want to embrace a new show or not. But in Star vs. the Forces of Evil's case, that title sequence was all they needed to see. Once they saw Star & Marco jumping from dimension to dimension, they then realized that this show was going to be something special. Which is when they started sending in all of these drawings of the show's characters," Sher stated.
And it wasn't just animation fans who liked what they saw with Star vs. the Forces of Evil. Disney XD officials were so impressed with the finished episodes of this new animated series that they'd received that they actually renewed Star for Season 2 back on February 12th of this year. Which was a full six weeks before the first episode of Star vs. the Forces of Evil was officially scheduled to air on Disney XD.
"And news like that would have normally freaked me out," Eden admitted. "But I believe so strongly in this show and the character of Star, who's this vaguely aggressive girly princess. Honestly, I've never identified so much with a cartoon character before. I mean, Star is so much like me in that she's always wrong. She's always messing up. But at the same time, this character has such a good heart. Star is fiercely loyal when it comes to her friends and never backs down from a fight. There's so much going on there. And that's what makes this character so much fun to voice," Sher concluded.
"I just wish that — when I was growing up — that there would have been a television show on with a character like Star Butterfly. Because if I were a little girl and had a character like Star that I could have idolized, I would have …," Eden paused and then laughed. "Well, I probably would have turned out exactly the same. But if there's a generation of little girls who actually do wind up being inspired by this character that Daron has created, Disney's first kick-butt princess … Oh boy, I am more than ready for that. I would love to be associated with a project like that. That would be a dream come true for me."
If you want to see if Sher's dream really does come true, do check out tonight's premiere of Star vs. the Forces of Evil. Which airs on Disney XD starting at 8 p.m. ET / PT.
Source: Huff Post