Everybody loves an underdog. I'm no different. It just feels right to root for the long shot.
Happy March Madness, everyone. Tis the season of the bracket buster, the upset story, the Cinderella team. Tis the season when we turn on the TV rooting for no one and, in the final seconds, find ourselves shouting for a team we know nearly nothing about.
The bracket fascinates me. Before a point has been scored in the tournament or a shoe has been laced up, the teams have been ranked. I wonder about the mindset of a one-seed team versus a sixteen-seed team. A two versus a fifteen. What's it like to be told you have a small, if any, chance of succeeding?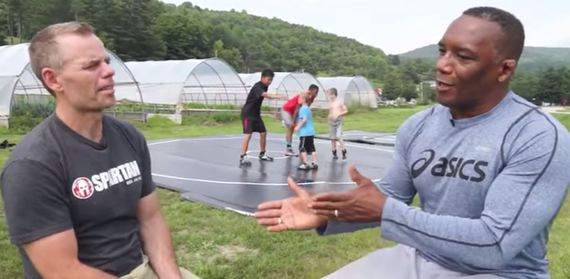 De Sena interviewing Nate Carr, Olympic Wrestler
I'd argue that being an underdog gives you an advantage. I know the sixteen would disagree, but I truly believe it. Our chances of succeeding in life are similar to college basketball rankings. We are given a certain chance to achieve great things in life with obstacles of varying difficulties in our way, and we must decide whether we have what to takes to win.
I did a podcast with Nate Carr. He comes from a massive family with 15 siblings (yes, 15!). He explained that his father couldn't afford weights when he was a kid, so Nate went to the junkyard to find things to work out with. At home, he'd fill up suitcases and curl them. He had five All-American wrestlers in his family, two of whom went to the Olympics — including himself. Having to be mindful of money could have been a disadvantage, but it fueled Nate and his family to succeed.
An underdog has to turn every disadvantage into an advantage in order to be successful. "'No' just means 'next opportunity,'" Nate told me. "Say 'yes' to where you're going and 'no' to anyone going the other way."
Let's consider that Nate was given a low seed to succeed in the game of life. You might also consider that it is one of the reasons he achieved such great heights. "Don't just go through something. Grow through something," he told me. "I had a 'yes' to my goals and a 'no' to everyone trying to pull me in other directions."
Nate's perspective taught me another key to his triumphs: the underdog must know that he or she will win. An underdog with a losing mentality has no chance. An underdog with a winning mentality is dangerous.
As you continue to watch the last few rounds of the tournament, consider this: a sixteen seed has never beaten a one seed (including this year). But I bet a one seed is absolutely terrified to step on the court against the sixteen. The expected victor has everything to lose; a sixteen has only greatness to gain. They will leave it all on the floor, and then some.
There is no feeling like the ability to shock the entire world. It's easy to see ourselves in the underdog. We've all been told we can't do something. We are too short or too young. Unqualified. It's up to us to accept what we are told, or to fight back. Or maybe it's just boring to root for the frontrunner. At the end of the day, maybe it just doesn't matter. What does matter is what the underdog does to overcome all odds.
I'll always consider myself an underdog — even when I'm not. Nothing pushes me more. It makes me work harder, fight longer and do everything to win. I believe the underdog has the advantage. We should all aspire to have the mentality of an underdog: expecting ourselves to win when no one else does.
That way, we have the ability to shock the world but never shock ourselves.
Spartan Up! the Podcast can be found at www.spartanuppodcast.com, on iTunes, Stitcher, and YouTube.
To find a Spartan Race in your area, visit: www.spartan.com.

Source: Huff Post