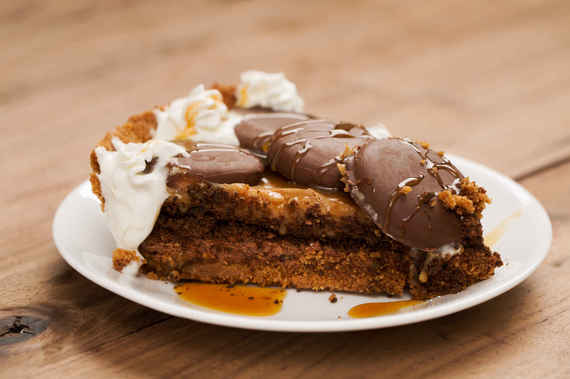 Credit: Drew Swantak/Thrillist
Choosing your favorite Girl Scout Cookie is much harder than picking your favorite child (or so my Mom says). And while I have no offspring of my own, I've never been able to choose between Tagalongs, Do-si-dos, Samoas, and Thin Mints. I may even have room somewhere in my heart for Trefoils.
But my inability to pick a favorite is your gain, as my Girl Scout Cookie cream pie is a Frankenstein-esque beauty consisting of three layers of different cookies between chocolate and peanut butter creams. That's right, ladies, we can have it all.
More: Samoa Donuts are Like Girl Scout Cookies on Steroids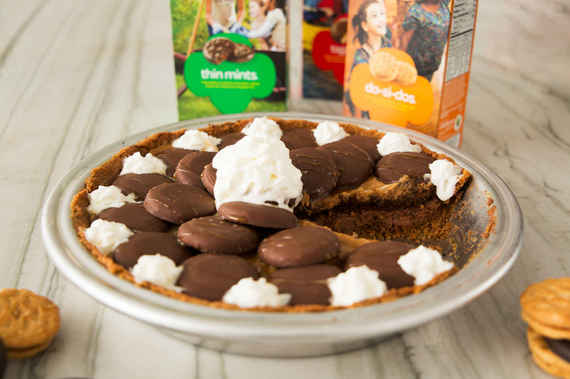 Credit: Drew Swantak/Thrillist
Girl Scout Cookie Cream Pie
Total Time: 1 hour, 30 minutes
Yield: 9-inch pie
Ingredients:
For the crust:
1 box (8 ounces) Do-si-dos
5 tablespoons unsalted butter, melted
1/4 cup sugar
1/8 teaspoon salt
For the chocolate layer:
1/2 cup semisweet chocolate chips
3/4 cup heavy cream
1/4 teaspoon peppermint extract
1/2 box (4 ½ ounces) Thin Mints
For the peanut butter layer:
3/4 cup heavy cream
2 tablespoons sugar
1/2 cup smooth peanut butter
2 boxes (13 ounces) Tagalongs
Whipped cream and caramel sauce for garnish (optional)
Head to Thrillist.com for the full recipe!
More from Thrillist:
These Are the Wines You Need to Pair With Your Girl Scout Cookies
10 Things You Didn't Know About Girl Scout Cookies
Like Thrillist on Facebook: www.facebook.com/Thrillist
Source: Huff Post