Ellen Rubin is CEO & Cofounder of ClearSky Data, which is in stealth mode, and is funded by General Catalyst and Highland Capital Partners. Her experience has been focused on enterprise infrastructure, with expertise in the cloud computing, business intelligence, data warehousing, and data center markets.She has built companies from concept stage through multiple rounds of funding and growth, with successful outcomes through IPO (Netezza) and acquisition (CloudSwitch, acquired by Verizon).
Ellen began her career as a marketing strategy consultant at Booz, Allen & Hamilton, and holds an MBA from Harvard Business School and an undergraduate degree magna cum laude from Harvard College. She speaks regularly at industry events and has been recognized as one of the Top 10 Women in the Cloud by CloudNOW, as a Woman to Watch by Mass High Tech and Rising Star Entrepreneur by the New England Venture Capital Association.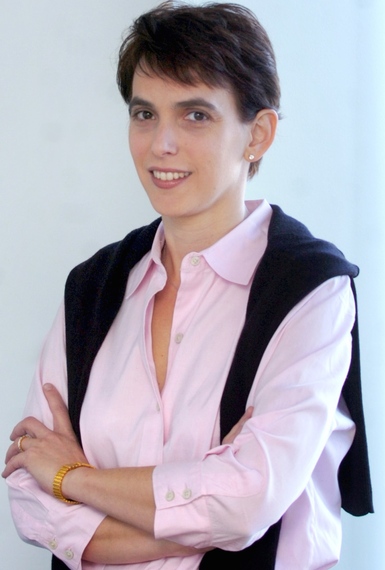 Ellen Rubin, CEO & Cofounder of ClearSky Data (Courtesy of self)
Q: What does entrepreneurship mean to you, and what makes for a successful entrepreneur?
ER: Entrepreneurship is about creating something that gets customers so excited that they just want to tell everyone they know about it. If you can get that right as an entrepreneur, everything else follows. But beyond generating that initial enthusiasm, entrepreneurs need to be ready to wage a long, intensive battle to turn ideas into reality, so that even the most cynical or skeptical people believe in the vision. Enterprise IT guys, for example, have heard every claim out there. When you can get those kinds of customers energized about what you're building, that's a good indicator of future success.
Q: What are you most proud of in your professional career? What are you most proud of in your current role as CEO at ClearSky Data?
ER: I've been at the forefront of two major market disruptions, where I've been part of pioneering teams that led the transformation. The first was at Netezza (2007 IPO, later acquired by IBM), where we created a new category, data warehouse appliances, that dramatically changed the big data landscape. We saw there was an opportunity to deliver huge performance improvements in data analysis in a simple, elegant appliance form factor at a fraction of the cost of the incumbents. The second was at CloudSwitch (acquired by Verizon), where my co-founder and I foresaw the rise of hybrid cloud computing back in 2008 and built an offering to address the extremely complex networking, security and portability challenges with an easy-button approach. Now at ClearSky, we are at the forefront of a new market disruption in enterprise infrastructure, and I'm excited to lead a great team in this new venture.
Q: If you could do something over in your life, what would it be?
ER: I started out as a liberal arts major with an MBA, who ended up in the extremely technical startup world because I just really enjoyed the people and challenges. It took me several years of hanging out with technical co-founders and engineers to get comfortable with the deep technology and product development know-how required to be in the enterprise infrastructure market. If I could start over, I would spend more time earlier in my career diving into engineering and programming classes, rather than learning on the job later.
Q: Tell us about an instance where you had to go against the flow to realize your goal.
ER: Going against the flow has been a constant state of being throughout my career. For example, when I went to business school, 99 percent of my graduating class was heading into consulting or finance. Everyone wanted to work for McKinsey or Goldman Sachs back then, but it didn't interest me. I wanted to be part of a small company, where I could build something meaningful and work closely with a great team and customers. That's what I love doing.
Q: If you were to give advice to your 22-year-old self, what would it be?
ER: When I was 22, I had a great job as a management consultant at Booz Allen, but I knew pretty early on that it was the wrong place for me. I would go into these companies, work with fantastic, smart people and get really excited about what they were doing. But the most successful outcome of that work for me was delivering a PowerPoint presentation to management. It wasn't satisfying to me, and I ended up being more enthusiastic about the people in the company who were the decision makers rather than what I was doing. This led me to go to business school, and from there I quickly found myself in the startup world. Now looking back, I would tell my younger self to trust my instincts more, to know that building something from scratch and taking huge risks early on would be the best thing I could do.
Q: What's one of your core company values that everyone takes to heart?
ER: Nobody is an expert in everything, so we're consistently focused on learning as much as we can, from others within the team, as well as outside the company. There is an incredible pool of talent and experience in the Boston area. To tap into that, I encourage my team to take field trips to other local companies and events, and I invite great people in my network to come into our office and share their ideas and feedback. We've had sessions on core technology, operations, security, and emerging technologies. I want to create an environment where it's cool to ask questions and explore new areas.
Q: Do you have any unique management strategies from your past that you are bringing to the ClearSky Data culture?
ER: There are a couple of things I really care about as a manager. First, I've learned from experience how hard it is to maintain good information flow in fast-growing companies. Things can get complicated surprisingly quickly, with limited sharing across teams or functional areas. It's important to lay a strong foundation early in as many ways as possible. For example, all-company meetings right from the beginning need to be open-forums, where any question asked is OK, and people need to update each other about what's going on. I also like to mix people from different functional areas in the office seating so they get to hear what others are working on and can easily participate in ad-hoc problem solving. The second thing I care about strongly is making decisions based on hard data. Conversations need to revolve around metrics such as, "What does it mean to do X, and what are the implications?" This keeps everyone focused on the real decisions and can help drive consensus when you're making the tough tradeoffs.
Q: What can you tell me about ClearSky Data since the company is in stealth mode?
ER: Well, not much yet but stay tuned this year! Until then, what we can share is that we've raised $12M in funding from great VCs – General Catalyst and Highland Capital, and that our board also includes industry leaders (and personal mentors) Jit Saxena and Paula Long. In this new venture, my co-founder, Laz Vekiarides, and I have combined our backgrounds in enterprise infrastructure in a really cool and exciting way. ClearSky draws on everything Laz and I have learned from our past experiences, and we are taking on some huge technology challenges to solve long-standing problems for enterprises that need to manage vast amounts of data. I'm excited to be working on breakthrough technology with early-adopter customers once again.
Follow Ellen Rubin at @ellen_rubin, and check out the other interviews in Going Against the Flow series at http://www.huffingtonpost.com/charu-sharma/.
Source: Huff Post