It's no surprise the golf world will be obsessed this week with the Masters Tournament. The Green Dinos at Augusta National Golf Club will wine, dine, and brag about how their club is so exclusive the membership roster is secret. Well, mostly secret. If someone shows up at the tourney sporting a new green jacket, that means they've been allowed into the hoariest of old boy's clubs..
Until three years ago, Augusta's ranks were literally all ol' boys. But after 10 years of activism by women's groups and nearly $80 million in legal settlements on behalf female employees whose companies were headed by members of the club, Augusta finally opened the gates a crack in 2012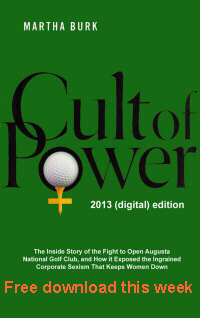 and let two women squeeze through. But it was hardly a breakthrough. The club famously snubbed Virginia Rometty, the new CEO of main tournament sponsor IBM, even though the male CEOs before her at Big Blue had been promptly welcomed into the fold.
Probably convincing themselves they had made the point that they couldn't be pushed around by public pressure or perception, last November the boys relented and let Rometty in. Maybe they feared loss of IBM's big sponsorship bucks. Maybe IBM's board finally found the backbone they couldn't locate when Rometty became CEO, and turned up the heat. Maybe other members were complaining their companies might fall prey to more of those sex discrimination lawsuits abetted by the National Council of Women's Organizations that had already cost their buddies 80 mil.
Women have always known Augusta National membership is not about golf. The membership list is a roster of the top titans of the Fortune 500. Business is done, deals are made, and corporate entertaining is lavish. For it's first 80 years, females (including Rometty who showed up in pink) were denied the green jacket but allowed on the grounds during the tourney to "entertain clients." That sent a powerful message about women's true place — not only in the business hierarchy, but society in general.
Augusta National gave in on the subject of race in 25 years ago 1990, when, according one sports columnist, they were "pistol whipped behind closed doors" by sponsors threatening to pull out. One black man was inducted. As far as anyone knows, that number now stands at — two.
In 25 years, will there still be only three token women?
Listen to the 2 minute radio commentary here:
Source: Huff Post