The 18th annual The Power of Narrative conference took place this past weekend (March 27-29, 2015) at Boston University's College of Communication. The event brought together journalists, writers, editors, radio, film and TV producers, media makers and storytellers from around the world, as far away as China and Australia.
It's often said in the digital world that "content is king." At this weekend's conference, it was clear that in journalism, good stories (even at considerable lengths) still rule, whether in books, newspapers, magazine, web-based publications, podcasts, or on innovative digital narrative platforms.
These are a few of the takeaways from the conference:
– Former New York Times executive editor Jill Abramson discussed her post-Times projects, which include teaching a narrative non-fiction class at Harvard; writing a new, highly-publicized book (for which it had been reported she received a million-dollar advance, although publisher Simon and Schuster has said the report was inaccurate) on the future of media in a rapidly changing world; and a start-up project with Steven Brill that she said will acquire and pay significant money for in-depth articles that are "between New Yorker– and book-length." Brill's recent major story on health that took up most of an issue of TIME magazine is an example of the length they will be looking for (20,000- 40,000 words), and Abramson said they will be announcing a collaboration with a significant partner within a few weeks.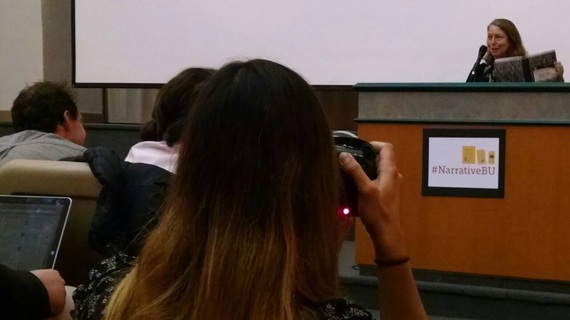 Jill Abramson at The Power of Narrative Conference (Photos: Bill Lichtenstein)
Abramson listed the magazine articles she considers seminal for her narrative non-fiction class at Harvard, among them Gay Talese's "Frank Sinatra has a Cold" (often named as the best magazine profile ever written and the start of the "New Journalism" of the '60s"); David Barboza's Pulitzer Prize-winning investigative report on the massive wealth of former Chinese Premier Wen Jiabao; Isabel Wilkerson's "The Warmth of the Sun", which tells the story of the 6 million African-Americans who moved from the South to the North during the Great Migration of the 20th century, a project that involved interviewing more than 1,200 people over 15 years; and "Snowfall", the interactive New York Times story on the 2012 avalanche at Tunnel Creek in Washington state.
– Mark Schoofs, head of BuzzFeed's investigative unit, sounded much like the head of a major media investigative unit would have 30 years ago. He's got a staff of 14 — including veteran investigative reporters, a mandate to do hard-hitting reports, and the budget to support their work including taking up to a year on an important story. Among recent investigations: "Battered, Bereaved and Behind Bars," an investigation of women who get more prison time for not protecting their kids than the husbands who killed their children and "Fostering Profits", a BuzzFeed investigation into the "deaths, sex abuse, and blunders in screening, training, and overseeing foster parents at the nation's largest for-profit foster care company." Interestingly, Schoofs stressed their emphasis is on the written word and not loading up their stories online with related links, videos, and other distractions"
"We want things to be a good read," he said. BuzzFeed has the added benefit of 200 million readers a month.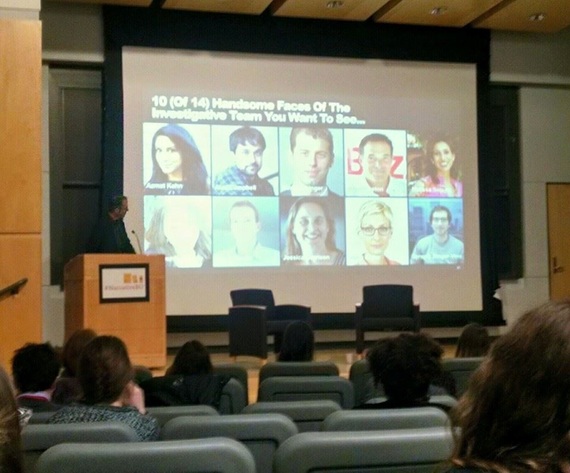 David Schoofs shows off his investigative reporting team at BuzzFeed.
– Sarah Koenig detailed the rigorous reporting process that went into Serial, the podcast series for which she said the This Ameican Life team had limited expectations, but which went on to amass millions of listeners. I asked her about the price tag for the series, and how they are funding the sequel: Koenig said the series was "extremely expensive" but wasn't able to discuss the price tag. Funding for a Serial sequel is being raised the usual public radio sources: grants, sponsorships and listener donations.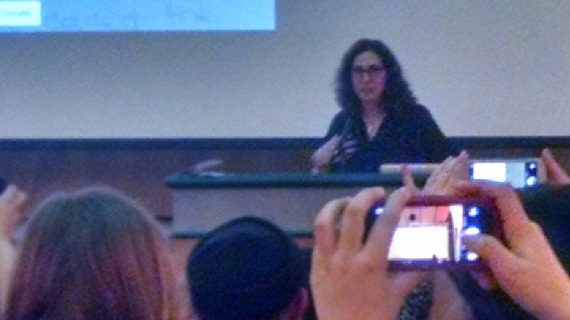 Sarah Koenig on her breakthrough podcast Serial.
– San Francisco producer and filmmaker Theo Rigby presented examples of interactive non-fiction narratives including the innovative "Take this Lollipop", which personalizes a horror film using your Facebook images and his Immigrant Nation project that included his documentary shorts for POV Digital.
Source: Huff Post