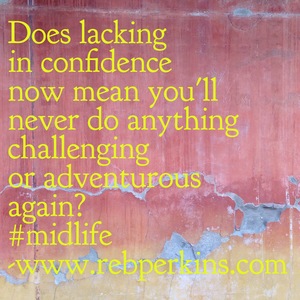 The transition we go through in midlife can have a fundamental and painful impact on our attitude and confidence. It raises many issues for us that can affect us at a deep emotional level. We often experience self doubt in midlife which is kicked off as our roles begin to change.
If we've had children they are invariably leaving home or if still of school age no doubt need us less than they did. They are beginning to develop their own lives and don't want mum around so much. Our very sense of self is often tied up with that of our children. If we've not had children, or the menopause is creeping ever closer or indeed we're in the midst of it then issues around our fertility and the end of any realistic hopes of having children are at the forefront of our mind.
In the workplace we may have reached what we see as the glass ceiling and have begun to feel vulnerable as younger colleagues are being promoted and seem to be more in favor.
'Who am I?', 'I don't know who I am anymore' are questions I hear a lot. Our very identity is so often tied up with that of the family unit. We've got used to hearing ourselves being introduced as someone's mother or wife or partner or daughter.
It's very easy, and we're so good at focussing on the negative aren't we? All the endings we're facing — lost youth, fertility, children leaving the nest, 'if only', menopause, aging parents, another decade … all of this can affect our confidence.
But here's the thing — does lacking in confidence now mean that you'll never do anything risky or challenging or adventurous again?
Dissatisfaction and a lack of confidence can lead us to shut down rather than open up. Take a look at the following questions and be honest in asking yourself where you are dissatisfied in your life.
• How happy am I in my work life, my career?
• How fulfilling are my relationships?
• How is my health, both physical and mental?
• What about my self-satisfaction?
• How am I dealing with aging?
• What do I believe about aging?
Answering those questions might have been tough, you may be struggling with some of the answers you've given or anxious about what it's brought to light for you. Or you may be feeling that things aren't as bad as you'd imagined.
So, if you're in need, here are a couple of great ways to instantly boost your self-esteem and confidence.
Firstly, get together with a girlfriend and ask each other the following questions:
What are you really ridiculously good at?
What is really good in your life, what's working well?
What five achievements have made you feel great about yourself?
Secondly, who are your female role models? I'm guessing they are women who have an air of self-confidence and self-assuredness. Ask yourself these questions and it'll help you understand them so that you can learn from them and apply that knowledge in your own life. The great thing is, you don't need to know them to answer these questions!
What is it that makes her 'attractive'?
How does she stand? How does she move? How does she walk?
What does she stand for?
What makes her stand out?
What is different about her?
What questions would you like to ask her to get inside her head?
What does she do that others don't?
How different is her attitude to life?
How would she walk into a room?
How does she behave?
What could she teach you?
So, how are you feeling right now having read this post and answered the questions? I'd love your comments.
Earlier on Huff/Post50:
Source: Huff Post