When you think of drinking in Hawaii, chances are your mouth waters for a Corona on the beach or a bright blue Hawaiian, complete with the little umbrella.
But Honolulu — the Aloha State's capital — has a lot more to offer when it comes to challenging and impressing your tastebuds. Named the "next foodie frontier" by Condé Nast Traveler, the city is known for mixing eastern and western flavors as well as pushing the envelope when it comes to traditional tropical touches.
And the revolution doesn't stop at the fork.
As Dave Newman, owner and bartender of the Honolulu gastropub Pint and Jigger and president of the Hawaii chapter of the United States Bartenders Association, puts it: drinking around Honolulu has "certainly gotten much more interesting in the last few years."
The Huffington Post wanted to know where the local experts go to drink in Honolulu, so we caught up with three of the city's most successful bartenders — Newman, Kyle Reutner of The Pig and the Lady, and Christian Self of Bevy — to find out their favorite spots to imbibe.
Here are their top choices for both innovation and ambience, starting of course, with their own establishments:
Flavor Forward at The Pig and the Lady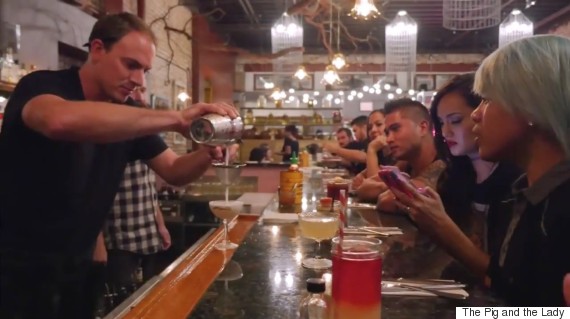 The Pig and the Lady offers rich flavors in its food, but Kyle Reutner's bar has balanced cocktails to match. The Matchbox, for instance, mixes local Kohana Agricole Rum, Dolin Blanc Vermouth, a little dry Curaçao with a splash of house-made grenadine and a few dashes of Mai Tai Bitters from the Hawaii Bitters Co.. It's all strained over one large ice cube. To finish it off, Reutner sets an orange peel aflame over the top of the cocktail.
Old Meets New At Bevy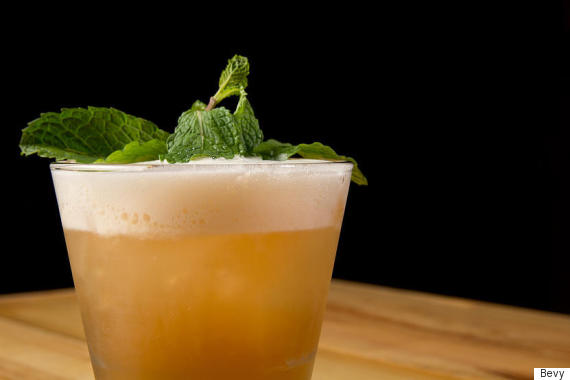 Christian Self's Bevy, in the developing Honolulu neighborhood of Kakaako, blends old-style cocktails with new technology. (Think the classic mai tai with a candied ginger foam.)
Newman's favorite is the Hall Pass: Rye whiskey, amaro, fresh lemon juice, a touch of sugar, egg white and lilikoi (passion fruit). Shaking the ingredients "vigorously together," Newman says, "makes this one of the easier cocktails to drink."
Playing With Emotions At Pint and Jigger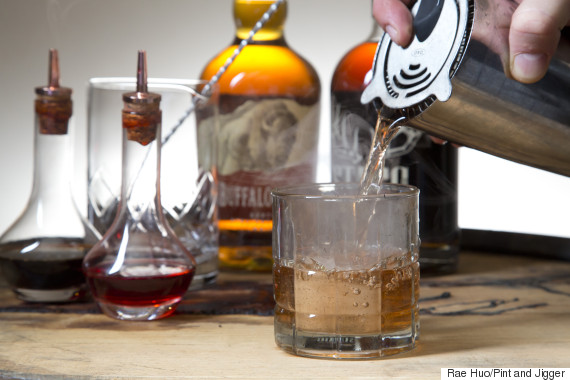 Pint and Jigger is all about the experience. Take their Mesquite Smoked Manhattan, for example. It all starts by mixing Buffalo Trace with Carpano Antica (an Italian Sweet Vermouth) and two types of bitters.
"Then we capture the smoke from torched mesquite chips under an Old Fashioned glass," Newman says. "Pouring the cocktail over a large format ice cube and into the smoke filled glass, it takes on this amazing smokey flavor. The only way I can describe it is that it really feels like you are drinking next to a campfire."
East-West Genius At Lucky Belly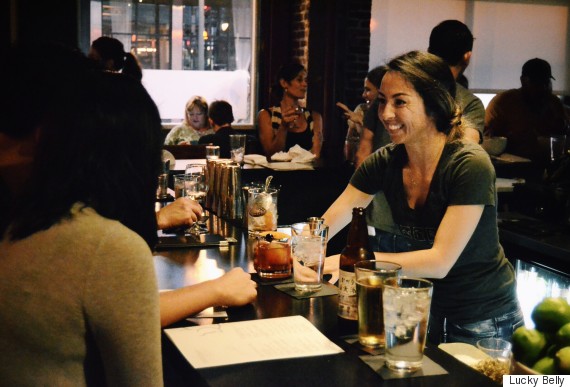 "This downtown haunt is known primarily for its great dining options," according to Newman, "but many people don't realize that they make some mean cocktails as well. The Bean to Box, created by Chris Nassar, is quickly becoming my go-to libation."
Infuse Akashi (a Japanese white oak whisky) with notes of vanilla and combine with Suze (a French brand of bitters), Luxardo Maraschino liquer, a splash of simple syrup and a dash of orange bitters. Finish with an orange twist.
Everyone Knows Your Name At Murphy's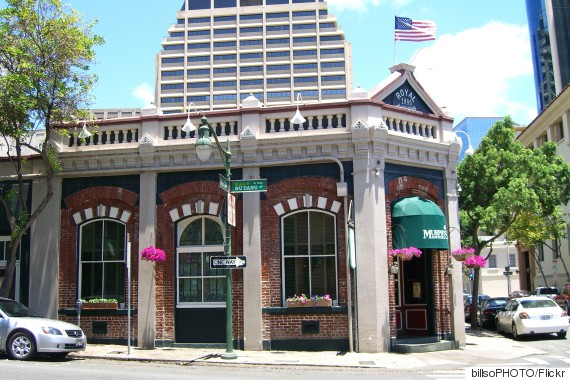 According to Newman and Reutner, Murphy's Bar and Grill in Chinatown is the place to go for ambiance and hospitality.
"First and foremost, Murphy's is one of the most welcoming bars on the island," Newman says. "I bring out of town guests here and they instantly feel at home. [Bartenders] Jonathan Schwalbenitz and Chad Pata have been holding it down behind that bar longer than most of us have been old enough to drink."
Reutner says he feels like Murphy's is his bar. "At Murphy's, I get to watch my favorite bartenders treat everyone like a regular… Jon and Chad are the quintessential barmen."
Newman says he gets an Irish coffee "made right with a generous portion of Irish whiskey and just the right amount of house-made whip cream," while Reutner gets a shot of Ferenet and a beer. Simple, sure, but in Hawaii, a good bar is about the aloha spirit as much as the drinks.
True Tiki Style At La Mariana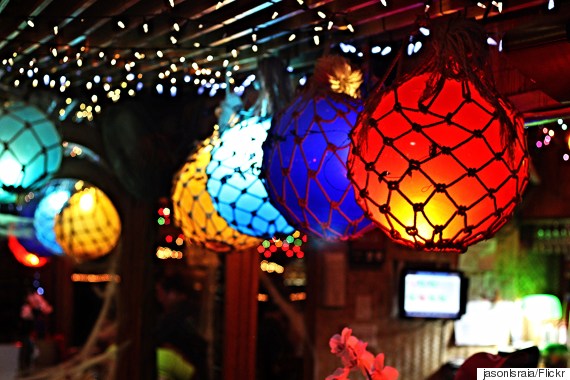 If you want to see a bit of old Hawaii, Self recommends taking a trip to La Mariana Sailing Club, one of the last authentic tiki bars still around today.
In the middle of an industrial district known as Sand Island, near Honolulu airport, La Mariana sits on a boat harbor and is filled with decor from the old Waikiki mainstays Trader Vic's and Don the Beachcomber.
"Grab a Zombie or a Tropical Itch, complete with back scratcher," Self says, "and hope you are there when the aunties come in and play old Hawaiian music — you'll really feel the aloha."
Guilty Pleasures At Duke's Waikiki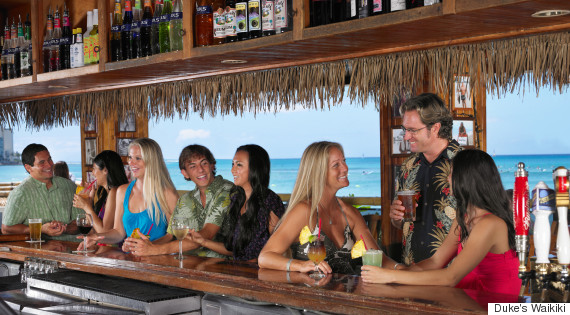 Self says visiting fellow bartenders Jesse and Amy Greenleaf at Duke's bar in Waikiki is one of his guilty pleasures.
Recently ranked the No. 1 most Instagrammed restaurant in Hawaii, Duke's is perfectly situated to enjoy the sunset, the frequent fireworks in Waikiki and some classically delicious drinks with your toes in the sand.
"Grab a tropical concoction and sit beach side on the famous Waikiki beach, listen to live music and people-watch till the sun goes down," Self says.
The Greenleafs are known for their Hawaiian Island Iced Tea: equal parts vodka, gin, Malibu coconut rum, and banana liqueur, shaken with lilikoi juice and 7-Up and poured into a tall glass over ice. It's a yellow-hued sweet drink that will hit you hard after a day in the sun.
Speakeasy Charm At The Manifest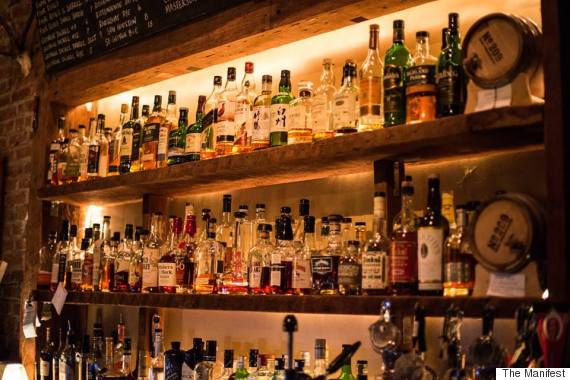 If you're in Chinatown, Reutner recommends the speakeasy vibe of The Manifest, which has a "slew of great bartenders." While the bar is mostly known for its carefully curated whiskey selection (including a bunch from Japan) and inventive cocktails, it also boasts a mean espresso bar and lively trivia nights.
Reutner's current go-to cocktail is currently the Movielife, a sophisticated take on tropical flavors. It's a combo of maraschino, gin, lemon, orange and kiawe pineapple bitters.
But Nothing Beats A Good View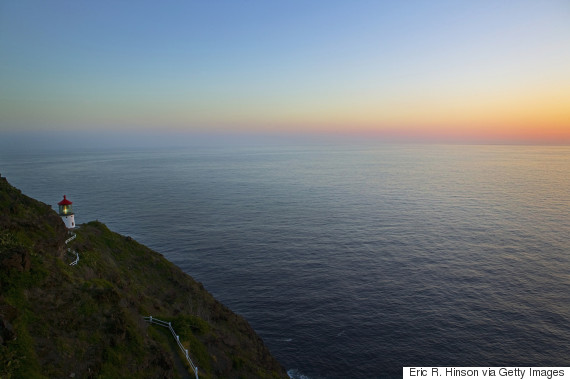 If only someone would open a bar here. Reutner says that when he wants to check out and have a romantic drink with his girlfriend, "I'll snag a bottle of bubbles at Fujiokas Wine Times and hike the Makapuu tide pools with my beautiful woman. Truth is, it ain't legal [to drink there], but it's heaven."
Want to read more from HuffPost Taste? Follow us on Twitter, Facebook, Pinterest and Tumblr.
Source: Huff Post