Hillary Clinton's standing in 2016 polling matchups remains generally where it was before the story about her emails broke, a CNN poll released Wednesday finds.
"Her prospects in 2016 appear largely unchanged compared to polls conducted before news broke about her use of a personal email address and home-based server while serving as secretary of state," writes CNN's polling director, Jennifer Agiesta.
The survey gives Clinton 62 percent of the vote in the Democratic primary, effectively unchanged from the 61 percent she held in their February poll. HuffPost Pollster's average, which includes all publicly available polling, shows that she's held steady at close to 60 percent in most surveys taken since 2013.
In seven potential general election matchups tested by CNN, Clinton leads by between 11 and 16 points over former Florida Gov. Jeb Bush, New Jersey Gov. Chris Christie, Florida Sen. Marco Rubio, former Arkansas Gov. Mike Huckabee, Kentucky Sen. Rand Paul, Wisconsin Gov. Scott Walker and former neurosurgeon Ben Carson.
The email controversy's lack of impact on the polls isn't too surprising: People's reactions to the issue tended to depend on how they already felt about Clinton. In a recent HuffPost/YouGov poll, Republicans were increasingly convinced the emails were a big deal, while Democrats thought the issue was overblown, and independents were somewhat concerned, but less likely to be paying attention.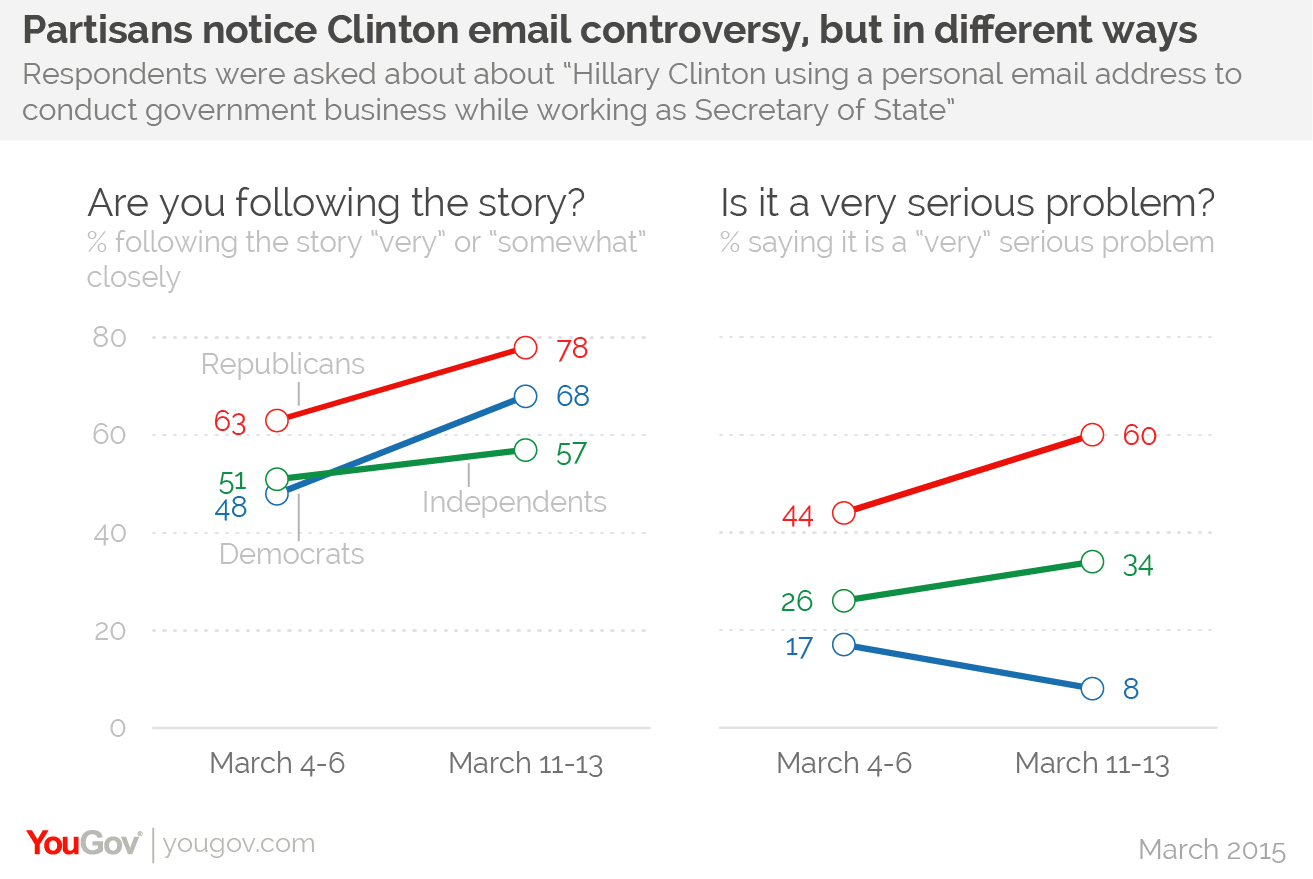 The HuffPost/YouGov poll also found that, with the general election still more than a year and a half away, fewer than a quarter of Americans said they were following election news very closely.
CNN surveyed 1,009 Americans between March 13 and March 15, using live interviewers to reach both landlines and cell phones.
Click here to keep track of all the latest polling on the 2016 election.
Source: Huff Post