I want to thank all the people in my life who have inspired me to pursue a career in science, and try to inspire other young women who might be interested in science. That is why I'm sharing my personal story, to pay it forward.
I was 4 years old when my family moved to the United States. It was winter. If the plane ride from the Philippines to Hawaii to Chicago wasn't adventurous enough, imagine the awe on my little pudgy face when I saw snow fall from the sky and met my grandparents for the first time. I remember I was wearing a brand new red quilted vest that was lined with navy blue trim. It was my favorite, and I was so happy to be wearing my best new clothes in this new place, the United States.
We settled in Indiana to be close to my grandparents. We went through the naturalization process and our family of seven – I had four brothers and sisters — were very poor. Neither of my parents had completed a college degree. They were adventurous, taking risks. They were also very proud. My dad was the son of an anesthesiologist and pharmacist. My mother was the daughter of a Philippine General and Chief Executive of the Philippine Army. Ingenuity led them to use their talents as entrepreneurs in Indiana in the early 80's. My mom had a sewing shop called ASAP-Alterations Sewing and Patterns. My dad had a video production business on the side called RSVP-Recording Services for Video Production. We had family dinners at the table often with the nightly news or 60 Minutes episodes on full blast.
My father always told me,
Stella, you should be a doctor like your grandfather or a lawyer like your uncles. Oh, you're good at math, you should become an engineer.
I listened, and I was programmed to think of a technical career in science for my future and to go to college. Naturally, I did. I was that girl in high school who went to science summer camps at the University. I attended as many as I could: Women in Engineering camp, Physics camp, Chemistry camp, Honors Engineering camp, and so on. We lived near the University so my parents never said "No" when I wanted to learn something new. Somehow, they found a way to pay for it, or get me a scholarship. As an undergrad, I started at Purdue in Agricultural Engineering. Of all the engineering disciplines, the one that pertained to food appealed to me most.
I still remember the day I had my "a-ha" moment. In one Intro to Agriculture lecture, the professor showed a hockey stick graph with the projected growing population and the current rate of food production. The supply and demand gap was astonishing, especially when I learned that most of that growth and hunger would come from developing countries. I was shaken. I could feel the sadness in my chest, the shock run through my arms and legs, and the fire develop in my belly. I thought to myself, my parents had moved my whole family to the United States for the American dream, for the land of opportunity and I was grateful. My parents raised me and my siblings with values rooted in family, community and culture. They instilled in me a sense of adventure and curiosity. Work pertaining to alleviating poverty and hunger had resonated with me and there I found my sense of civic duty. I had an opportunity to pursue a top notch education towards a career in helping address these problems. Right then I knew, that was my path: to help feed a growing population, especially those in developing countries.
I switched majors to international agronomy with plans to go into the Peace Corps. Instead, while working at a natural resource ecology lab, I met a professor giving a talk on the need for seed banks to preserve our natural biodiversity through in situ conservation. He was an ex-Peace Corps volunteer, quantitative geneticist, and plant breeding professor at Colorado State University. That following year, I started a Masters program under that professor, Pat Byrne, learning the use of molecular markers in applied plant breeding for improved crop production.
Years later, at my grandmother's funeral, one of my uncles told a story in which I learned that as a young pharmacist in the Philippines during the war, she had started soup kitchens. Her 'go to' food to make at the soup kitchen was her version of sinuwam, a lemon flavored beef, potato, and ginger soup that was served over rice. It was at the soup kitchen where she met my grandfather, a doctor seeking to help the people who came there to eat. My grandmother always had sinuwam cooking on the stove for us when we went to visit her during the holidays. That story was another "a-ha" moment for me. Until then, I didn't understand why I was so compelled to help those who were hungry and poor. It was part of my family history, part of my epigenetic makeup to want to help people in need.
I was reminded of that again when my dad attended my PhD commencement ceremony at the University of Wisconsin last winter. With tears in his eyes and barely able to speak, he said to me, "Your grandparents would be so proud of you. You bring happiness to the whole family." To my grandparents, my parents, friends and family, my efforts in this work have only just begun.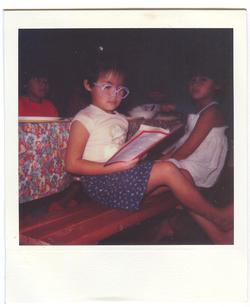 Photo Credit: Stella Salvo
Follow Stella Salvo on Twitter: https://twitter.com/StelAngelaSalvo
Source: Huff Post