Christine Royles of South Portland, Maine, was diagnosed with lupus in December 2013, the Portland Press Herald reported, and shortly after learned her kidneys were failing. After enrolling on the 100,000-patient long list in need of a transplant, Royles began writing messages on the back of her car, asking for donors with the right blood type.
"I hate taking chances like that. That's why I made it my mission to find a kidney and advertise like that," the 24-year-old told WGME.
In December 2014, one of her posts that mentioned Royles having a 2-year-old son caught the attention of Josh Dall-Leighton and his wife, Ashley. The couple immediately sent Royles a text message offering Josh to be her donor.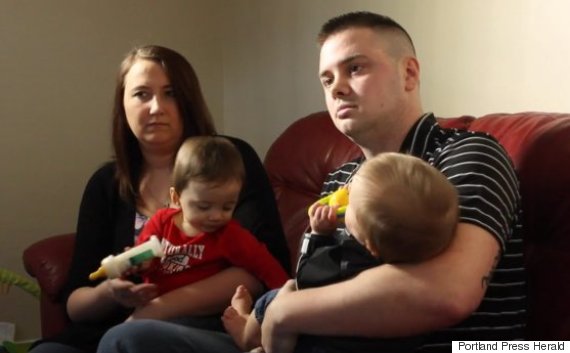 "I just looked at my wife and said, 'I have to try,'" Josh told the Portland Press Herald. "I think it was the fact that I have three kids of my own, and that really resonated with me. If [my wife] needed a kidney and I couldn't provide for her, I would hope that somebody else would kind of step up and help her out."
After he contacted her, Royles connected Josh with the Maine Medical Center's Transplant Program, which confirmed him a match in February.
"I started crying," Royles said, "because, oh, my God, I can't believe he's gonna do this for me."
Currently, Royles works shifts at Applebee's, only to come home and hook up to a dialysis machine for 10 hours. After the transplant surgery, she hopes to have a very different schedule and life.
The surgery is scheduled for May. Because she knows it will put Josh, a corrections officer, out of work for recovery, Royles is organizing a pancake breakfast to raise money for the Dall-Leightons and their three kids. A GoFundMe has also been set up to benefit the family of five.
"It's really amazing because he has three kids, he's the sole provider," Ashley told Today.com of her husband. "He's got a young family and he's just going to take time off to do something for a random person — I think it's pretty crazy."
Like Us On Facebook

Follow Us On Twitter
Source: Huff Post