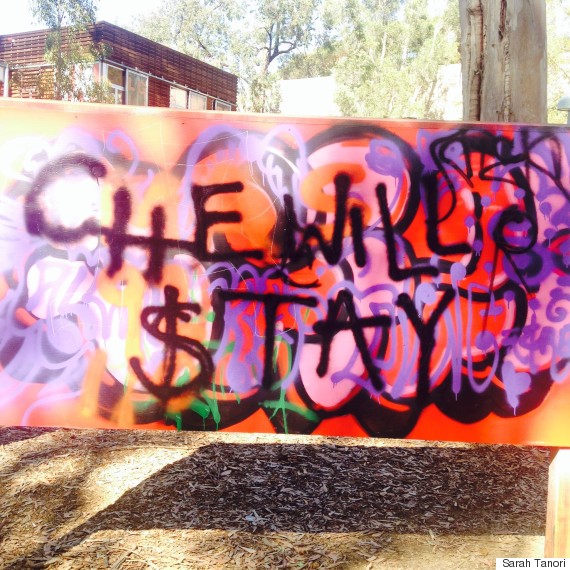 A lot of things seemed out of place as I was growing up.
I felt as though I was a bit of a reject in a city glorified for its tan-bodied sex appeal and surf culture. I was pretty sheltered, and Latina as hell. I knew what I liked, and it wasn't what my peers were into. I didn't know how to branch out, and didn't have the means to even if I did. In retrospect, there was a huge sense of isolation, mostly due to the fact that I didn't subscribe to a Mexican or San Diegan stereotype.
I was Sarah. I took guppies swimming class at the YMCA four times (never passed). I loved punk music, and I couldn't dance. I was just a confused brown girl who really liked heavy guitar solos.
It wasn't until high school when I discovered the "do it yourself" collective, Che Café.
I had passed by it many times before, and for some time I really did think it was exclusively a cafe like "wow, let's get coffee." However, I heard that Che Café went more along the lines of "nah let's go watch a show." I thought "ok?"
It wasn't apparent to me, clearly.
Then, I started to go a couple times with my friends to just sit in a corner and enjoy sometimes pretty awful bands. It was amazing. I was opened up to a new world.
You see, this place had hook. Yes, its foundations are music, but what I loved was the environment I was in. When I walked into the Che for the first time, there was a huge poster that said 'THIS IS A SAFE SPACE' and underneath explained that in this venue. Here, you would be respected no matter who you were, what your preferences are or what you believed in — the whole shebang.
The Che Café carried this rare energy of goodness and positivity, and even though I didn't know anyone there, it felt nice to be there. That is what DIY is all about. Acceptance and empowerment. The DIY ethic is based off the belief that you can do things yourself, reject consumer culture and still be a badass.
However, currently, the two southern Californian DIY collectives, Che Café and the Dial, are struggling to save their spaces from eviction and closure.
Many people mistake these collectives as places for trouble. There comes this stigma that these venues are where smelly anarchist kids do drugs and wreak havoc for the sake of shooting shit and breaking the rules, but the reality is far from that image.
That's because it's for the damn kids.
When do you walk into a space these days and think this is for the kids?
Not to capitalize or to exploit, but to solely benefit kids and educate them by building community. Not many places that aren't registered as non-profit. Not only are they all-ages, but also sober spaces, where drugs and alcohol are prohibited, providing comfort and safety for all. It's important for young people to have a place of their own to contribute and manage. With that experience they could learn more, about not only about their community, but it could help highlight their personal strengths as well.
Che Café is an all-ages music collective recognized for its DIY ethic, known for hosting a variety of artists recognized locally and nationally. The collective has hosted well known groups including Bright Eyes, Jimmy Eat World, Rise Against, Green Day, Blink 182 and more.
The Che Café was created in 1980 by students of University of California, San Diego, as an acronym for "Cheap Healthy Eats," as well as a nod to the Argentine revolutionary, Che Guevara. It started as a venue in the 80s limited to mostly punk and reggae shows. By the 90s, the Che Café evolved into a staple for the punk, indie, hardcore rock scene.
Today, it acts as a venue for a plethora of artists from varying genres, as it also presents art shows, performances and film screenings from the music and art departments of UCSD. This collective has built an inspirational and creative community for artists, students and its visitors.
But, this cherished community is facing a huge obstacle.
The Che Café is currently under threat of imminent shutdown by the administration of University of California, San Diego, where the space is located. UCSD voted to take the Che Café off the budget for the upcoming year. It may be terminated at any time.
It's hard to believe an iconic venue that holds such a distinct cultural value to San Diego could be so easily removed. However, it will probably be replaced with a Starbucks franchise or a really nicely cemented parking lot; something that really captures the essence of the university and its history.
That's what really gets me when I think about the Che potentially closing for good.
What will takes its place? I get a little queasy thinking about pay-to-play joints, and faux-hip kids running around talking about the $50 tickets they just spent on a show. Spaces like Che diversify not only San Diego, but enrich perspectives on live music overall.
More importantly, what's being done to avoid this altogether?
The collective members, as well as frequenters of the Che café, are resisting actions made by the UCSD administration by attending UCSD's meetings. They are holding their own meetings on what can still be done to save the Che, holding protests and letter-writing workshops to send to the administration.
The battle is not over.
Che is still fighting at court hearings, and it still actively holds meetings every Monday night.
Whether it be through incessant legal documents, spray painted flags stamped "Save the Che" or support of other venues, the collective is still very much alive and that's not something to forget.
The Che Café is fighting to stay open in true punk fashion, providing its one of a kind political and cultural dialogue through the arts. They are continuing to stand in solidarity with the rest of the San Diego DIY scene following their motto, "There is no education without community."
Similarly, there is the Dial Collective.
The Dial Collective is fairly new. Founded in 2010 by founder Kyle Napalan, the Dial Collection was created when Napalan experimented with his 1200 square foot rehearsal space, seeing what would happen if he opened it up to other young adult artists.
There, a group of like-minded individuals collaborated, and transformed a warehouse into a safe and sober space. According to the collective, this dream was achieved through "countless weekly meetings where volunteers of various ages and skill sets pooled their individual resources and time to promote the Dial and its events."
Word of mouth spread and spread fast. A year went by, and the space cemented into a meeting ground for members of the collective to plan events tailored to the interests of local youth.
Between 2012 and 2013, the Dial members were able to rent a larger space, secure their 501(c)3 and transform into an alternative space that filled the void of many absent arts curriculums in the area.
Come 2014, the Dial became an art center that hosted globally diverse talent, bringing artists from New Zealand, Australia, Japan, South America and beyond. The Collective began hosting events such as: open mic nights, poetry reading, gallery shows, movie nights, musical performances and dance events.
It's the diversity of the community that has allowed the DIY arts community to expand in Murrieta, California. Through these efforts, the Dial Collective has allowed a counter-culture to develop, one that speaks a peaceful and impactful voice.
However, it was no sooner than last October that the Dial Collective was facing the same obstacles that Che Café was.
The Dial Collective was asked by its landlord to find a new location due to the higher scale shows the space was holding, and the noise complaints they were attracting.
So here we go, another legal battle, right? This is just another fight to prove to people that DIY represented something positive and enriching, right?
Not necessarily.
The Dial has partnered with several community members and organizations to proactively collaborate on ways to raise awareness of their situation and the money needed to build the foundations of a strong future for the collective.
First, they proactively started through their relationship with the local police. The area police forces recognized their function as a community center and were able to amicably settle the terms of their closing.
Second, they began collaborative work with local high school teacher, Mark Harnetiaux. Through the TedX conference, the collective partnered with Great Oaks High School teacher, Harnetiaux and his organization, The Creator Space.
The Creator Space is a locale where school-aged youth can take part in hands-on activities including woodworking, 3D printing, metalworking and costume creation — to name a few.
The program provides kids with a space where they can participate in activities that are not provided in their high schools due to budget cuts. Harnetiaux has joined forces with the Dial, allowing his location to help fundraise for the collective, as well as provide a place to hold its gallery nights and film fests.
The Dial hopes to continue to work in conjunction with the city for years to come to keep the DIY presence alive in their community. Dial Collective founder, Kyle Napalan, said, "I believe DIY collectives are more important now than ever before, because it allows culture to be created in places that don't have any culture."
The chief issue here is not the kids that hang out here, it's not what they look like or how they identify.
It's the generic image given to places like DIY collectives.
Music is associated with alcohol and substance abuse. Creativity is synonymous with insanity.
DIY is not a similitude of this.
It's a spirit, a feeling, a representation of community and acceptance.
As the Dial Collective states, "these spaces act as a supplementary beacon of hope for those who have not yet learned that allowing failure and accepting change can cultivate progressive ideals and bring communities ever closer."
Young people today need venues like the Che Café and The Dial.
Growing up is a scary and lonely. Screw ups are inevitable and acceptance is sometimes hard to come by.
However, these places not only reach to the younger generations, but allow these kids to explore the world around them while they are taking the steps to create their own.
So take out "DIY is dead" from phrases you use, enlighten your peers and educate those around you on alternative communities.
Maintain and preserve spaces like the Che Café and the Dial. They take so little and give so much.
I'm 20 and still a reject, but these DIY communities have helped me understand that acceptance is not synonymous with any sort of mold, but something that comes with a positive environment and genuine individuals.
Source: Huff Post