The concept of spring break is one that often carries with it a vision of sun-kissed college students frolicking on cream-colored beaches, their sunglasses protecting their eyes from the soft spray of saltwater as their caramel tans glisten in the ocean waters of Florida or the Bahamas or Cancun. Indeed, we often associate the much-needed break from textbooks and essay assignments with freshly toned abs and underage drinking, with infinite youth and wild irresponsibility. While I have nothing against using the blissful freedom granted by spring break to catch up on some much deserved relaxation, my spring break this year involved not martinis and hours of tanning–although to be fair I don't think it is possible for me to get any tanner–but a life changing trip to the great state of Texas, during which I was blessed with the opportunity to work alongside my peers from the University of Michigan at the nonprofit Peaceable Kingdom Retreat for Children in the small town of Killeen, Texas.
Established in 1984 in memory of Charles Schreiner V, son of Mary Helen and Charlie Schreiner IV and grandson of Daurice and Jim Bowmer who at the age of eleven months lost his battle with a congenital heart defect, Peaceable Kingdom, in partnership with Variety of Texas, aims to empower children with special needs through a multitude of outdoor activities, team exercises and programs throughout the school year and summer.
Upon reaching the beautiful facility after an invigorating twenty-two hour roadtrip from Ann Arbor, we were greeted by the full time camp staff and given a general orientation of how we would be serving a multitude of elementary, middle and high schools throughout the week. From low ropes to swimming to rock climbing to zip lining, PKRC features a wide range of activities, all of which can be adapted to the point where children who lack use of their arms and legs can still participate.
Throughout the week, my peers and I were given the chance to work closely with students of all ages, shapes, sizes, backgrounds and personalities, who along with their teachers came to the camp for day field trips. On one day, for example, we helped teach a wonderful group of fourth and fifth graders from a local elementary school about the importance of volunteerism, and spent the day washing windows, picking up trash and removing weeds from the pool. Despite the fact that these jobs appear to be tedious, meticulous and downright boring, the children were full of energy, spreading their enthusiasm across the campgrounds as they scrubbed Windex onto windowpanes and removed cobwebs from the buildings. At Peaceable Kingdom, children were not told to sit in a desk and silently read their history books. Instead, they were encouraged and even expected to have fun, pushed and empowered to forget the real world and immerse themselves in a world of euphoria that cannot be tapped into outside of Killeen. And what perplexes me even now is that the children needed us, the college student volunteers, significantly less than we needed them. The learning that took place during the week was hardly one sided; each night, as we reflected with one another, our minds still flooded with fond memories of the children who left that afternoon, we would find that our lives were more and more changed by a group who reminded us of what it means to have fun.
At PKRC, it is almost impossible to tell the difference between students who have no identifiable special needs and those students who have different abilities, simply because at PKRC, there is no pressure to treat one another differently.
Prior to volunteering at Peaceable Kingdom, I had little to no experience working with individuals with special needs. My high school was determined to isolate "special needs" students from the so-called "normal" students, which I now see is a negative and rather unnecessary practice. Coming to Texas was therefore an experience that challenged me to shed the skin of misconceptions that we often wrap ourselves when discussing the "issue" of special needs, pushed me to see past the stereotypes in favor of the individual.
As a nation, we have a tendency to assign a level of misfortune or suffering to individuals who we perceive as "disabled." The paralyzed veteran we see everyday as we drive to work, the blind woman who walks alongside a service animal and even the deaf cat who wanders our street at night are all beings who we assign a level of pain that is not necessary experienced by these same individuals. As discussed in "In the Name of Pain" by late University of Michigan English professor and disability advocate Tobin Siebers, a "disabled body is supposedly a body in pain, and pain represents for most people a source of terror and an affront to human dignity." We are, for one reason or another, wired by our media, society and communities to pity those who are differently abled from us, programmed to perceive the differently abled as disabled. We assume and even expect that individuals who must perform tasks differently than us must be unhappy or emotionally distraught, and by doing so we etch into our own minds a portrait of narrow-mindedness that is above all lethal to our own individual growth.
But as I have learned from my time at the Peaceable Kingdom Retreat for Children, to have special needs is not to lack ability, but to have a different sort of it, to possess an alternative perspective of the universe that if positively channeled, can foster success just as well as any of our "normal" selves can. At Peaceable Kingdom, children of all skill levels are encouraged to climb the slippery rock wall and zip line back to the ground. At Peaceable Kingdom, children are happier and more motivated than can be, and their optimism radiates into the hearts of everyone they interact with. At Peaceable Kingdom, there is no such thing as "I cannot."
So, thank you to the Peaceable Kingdom staff for changing my perspectives and opening my eyes to the world around me. Thank you to Jessica, Derek, Laura, Holland and Dylan for making my spring break one to remember, as well as all of the other professionals who on a day to day basis made our trip as comfortable and educational as could be. While my skin may not be any tanner, my heart and mind feel significantly more full and rejuvenated. I will never forget my experiences at PKRC, and one thing is certain: this is not and will not be my last visit to the Peaceable Kingdom.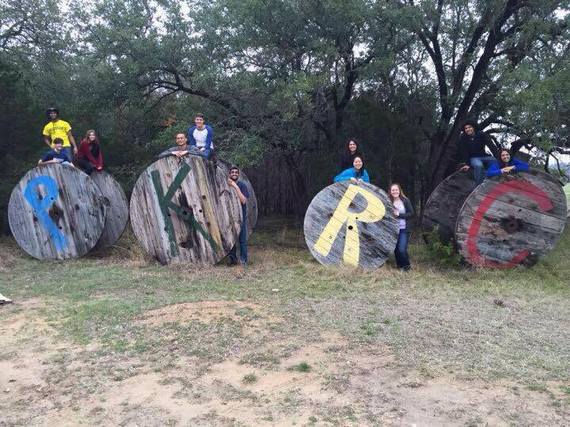 If you wish to learn more about Peaceable Kingdom Retreat for Children and Variety of Texas, please visit their website: http://www.varietytexas.org/
Source: Huff Post