How Modern Cinderella Adaptations Have Given The Tale's Outdated Feminism A Makeover
Even with Egyptian and European roots, Cinderella is one of American culture's most famous folktales. Decades after Mary Pickford portrayed the hapless scullery maid in 1914's silent film and Disney popularized the story in 1950's celebrated singalong, the latest adaptation topped the box office last weekend, collecting a fancy $70.1 million across North America. But in the years since "Bibbidi-Bobbidi-Boo" became a rite of passage for 4-year-olds everywhere, stories based on the Cinderella archetype have had to determine whether to redraft the fairytale for an increasingly feminist audience.
The new movie, "Cinderella," written by Chris Weitz ("About a Boy," "The Golden Compass") and directed by Kenneth Branagh ("Hamlet," "Thor"), borrows a note that certain other adaptations have played: the prince (Richard Madden, aka Robb Stark on "Game of Thrones") first encounters Cinderella (Lily James, aka Rose on "Downton Abbey") in everyday garb before the ball has even been announced. "She's not waiting around for a prince to rescue her, and she's dealing with life as best as she can," James told The Daily Beast. But beyond that and some basic dialogue choices which lend the mistreated heroine slightly more agency, most of the plot beats are squarely aligned with the Disney movie that many now commonly associate with standard Cinderella lore. (It should be noted that this, too, is a Disney release.)
"The structure of the story responded very well to making time to allow [Cinderella] to become strong, empowered and intelligent. We make various choices to do that," Branagh told HuffPost Entertainment when asked what attracted him to the reboot. The director said his "Cinderella" shows "who she was, where she was born and then [provides] a chance to see a relationship with the prince develop. So, it was about the excitement of reimagining that character and sort of turning this tale on its head from the inside out."
Transforming the fairytale "from the inside out" is not a novel notion, even if some adaptations have lived up to that objective more than others. The 1997 television movie that updated Rodgers & Hammerstein's 1957 musical — itself a TV production that first starred Julie Andrews and then, in a reboot eight years later, Lesley Ann Warren — also finds the prince (Paolo Montalban) taking an interest in a plainly dressed Cinderella (Brandy Norwood) ahead of the ball. Later, when the wicked stepmother (Bernadette Peters) declares a woman should hide her worst qualities until after her wedding, Cinderella protests, saying a suitor should appreciate her for who she is.
Robert Freedman, who adapted the musical for ABC's Wonderful World of Disney, said there was a conscious decision to deconstruct what young boys and girls see in outdated Cinderella stories. "We didn't want the message to be 'just wait to be rescued,'" Freedman said to The Huffington Post. That applies to both Cinderella, who pines for life away from her vicious stepsisters, and the prince, who doesn't want to be married off to the woman of his father's choosing.
That's in contrast to 2004's "A Cinderella Story," the critically reviled but lucrative teen rom-com starring Hilary Duff and Chad Michael Murray. Leigh Dunlap wrote the script, which went nowhere at first because, as she recalls, there were "two or three" other Cinderella adaptations being shopped around Hollywood at the same time. It wasn't until director Mark Rosman recruited Duff, with whom he'd worked on "Lizzie McGuire," that the script underwent a bidding war. Warner Bros. won and it immediately went into preproduction.
Dunlap says feminist updates are inevitable today. To understand why, just read Peggy Orenstein's 2006 New York Times essay, "What's Wrong With Cinderella?," or her 2011 book Cinderella Ate My Daughter. But when Dunlap wrote "A Cinderella Story" in 2003, there was nary a mention of needing to revise the classic structure. Dunlap used the plot fixtures "trapped" in her head to craft a movie about a high school outcast who develops a relationship with the school's unhappy quarterback after the two bond via anonymous online chats.
In Dunlap's eyes, Cinderella is the original makeover fable. Today, we see sprinklings of that archetype everywhere, as NPR's Linda Holmes pointed out in her comprehensive look at the story's evolution. George Bernard Shaw's popular 1913 play "Pygmalion," in which Henry Higgins makes a bet that he can train the threadbare Eliza Doolittle to pass as a duchess, stems from a Greek myth with roots in Ovid. That play became the source for 1964 Best Picture winner "My Fair Lady," as well as inspiration for the teen rom-com's "She's All That" and "The Duff." With slightly different twists, it also arguably contributed to 1990's "Pretty Woman," itself a source of endless debate about feminist values. Detractors slam what they see as a tale of white-male greed paraded out with rom-com conventions.
J.F. Lawton initially wrote "Pretty Woman" as a gritty drama called "$3,000" — a reference to the money we now see Edward Lewis (Richard Gere) pay Vivian Ward (Julia Roberts) for a week's worth of escorting. Rather than channel Cinderella, Lawton structured "Pretty Woman" similarly to Hal Ashby's "The Last Detail," in which a miserable sailor unresistant toward his prison sentence is shown a fun time and no longer desires incarceration. Walt Disney Studios snatched up the script. After recruiting Garry Marshall to direct because he'd helped to lighten the glum novel "Beaches" as a Bette Midler vehicle, then-president Jeffrey Katzenberg asked that "$3,000" become a romantic comedy. Lawton said numerous discussions ensued regarding the feminist subtext of a wealthy businessman swooping up a sex worker from the street and transforming her into a Rodeo Drive-shopping, snail-eating glamour shot.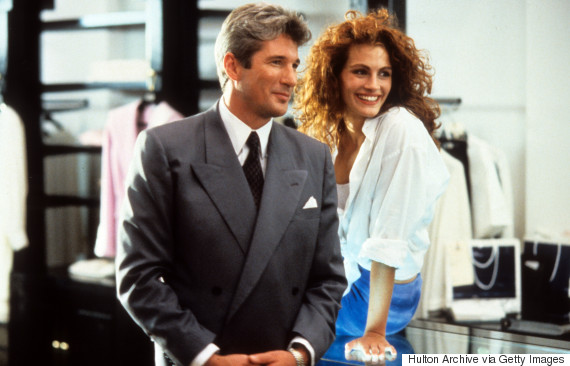 Lawton said, for example, that he and Marshall pushed back when executives told them it wasn't necessary for Vivian to say at the end that she planned to finish high school. It's one of multiple steps they took to protect Vivian's self-determination. One of the chief complaints Lawton has heard since the movie opened concerns the lack of morality tale — specifically, that Vivian is not punished for her supposed sexual deviance. But for Lawton, "Pretty Woman" is not as much of a Cinderella yarn as some of its criticism implies.
"I think we told the right story because what we said is, 'This guy accepts her for who she is,'" Lawton said. "He doesn't care about her past. A lot of stories that talk about prostitution always condemn the woman for having done that. Vivian doesn't come at the end and say, 'Oh, I'm sorry for what I did, I realize everything I did was wrong.' We've gotten both praise and criticism from feminists, and a lot of people see it as a materialistic thing. On one level, you could say there's money involved, but she's the same person she was at the end that she was at the beginning. If you look at it beat for beat, he doesn't change her."
Still, Lawton, who is collaborating with Marshall on a "Pretty Woman" stage musical, acknowledges that the movie probably wouldn't be made today. He noted "tremendous hesitation" after pitching a similar script in 2000, even though "every week on TV a hooker gets murdered."
If any movie has satisfied the contemporary demands placed on the Cinderella folktale, it's 1998's acclaimed "Ever After," starring Drew Barrymore as an empowered heroine who debates class structure, quotes Thomas More and refutes any dependence on the prospect of a royal savior. You'll still find balls, glass slippers and a fairy godmother (or godfather, rather), but the core themes have been stripped away. "Into the Woods," the Stephen Sondheim musical that became an Oscar-nominated film, also inverts the antiquated messages, with Cinderella deciding that life at the palace isn't so thrilling after all.
"Every generation is going to have its own Cinderella story, whether it be something like 'Pretty Woman' or whether it's a retelling of the actual Cinderella myth," Freedman said. "There are very strong myths that young girls and young boys have grown up with for centuries that help shape the way they perceive themselves and their place in the world. Some of those myths have held them back, particularly women, or have given young boys expectations about what it is to be a man that is not really the whole story of what it is to be a man. I think the myths still have power and you have to harness that power while at the same time considering what message you're sending to young people today and what you want them to get out of the story."
Source: Huff Post