Katie Holmes and Luke Kirby play a pair of New Yorkers suffering from bipolar disorder in Paul Dalio's "Mania Days," but each character has a little bit of Dalio himself in their bones. Dalio wrote, directed, edited and scored his debut feature, which deals with many of the issues he tackled while trying to find a balance with his own bipolar disorder.
"Katie's character is what I was like when I first got sick — I was really scared and ashamed of it," Dalio told The Huffington Post at the South by Southwest Film Festival, where "Mania Days" had its world premiere on Sunday. "Then I became more like Luke's character, which is when I started to romanticize bipolar. I kind of closed the door on my past. I didn't think I was that person. I embraced lunacy and being a lunatic. That's how I coped with it at this time. The romanticization is what I went through also."
A graduate of the NYU Film School, Dalio spent three years in the throes of manic, suicidal depression, and struggled with the medication he was prescribed to control his emotions. It wasn't until Dalio saw the pain he was causing his family that he resigned himself to "living on meds."
"For a while, I was feeling nothing," Dalio said. "Which is so hard to describe, because it's basically a waiting room for death. You're here watching people enjoy life, but you're not there. Emotion is what drives everyone. You feel pain, it moves you away from something; you feel pleasure, it moves you toward something. It was like I missed feeling sad. I missed feeling everything. But I just kind of waited."
While working as part of the David Lynch Foundation for Consciousness-Based Education and World Peace — a group founded by Lynch that strives to "ensure that every child anywhere in the world who wanted to learn to meditate could do so" — Dalio met another man with bipolar disorder. He told Dalio that through meditation, he spent the last 20 years happy for "80 percent of the time."
"When you're bipolar, you don't take that word, happy, lightly," Dalio said. "You don't lie or bullshit about that word. He meant it! I couldn't believe. That's when I started meditating without fail, twice a day." (Dalio's father, Ray Dalio, founder of the investment firm Bridgewater Associates, is also an outspoken meditation advocate.)
Through meditation, doses of lithium, and a strict regimen of personal care that includes going to bed at 10 p.m. and no alcohol consumption, Dalio has been able to control his manic depression. He's married to Kristina Nikolova, a fellow filmmaker and the cinematographer on "Mania Days," whom he met at film school. The pair have a son together.
"The emotions came back much deeper than they were before bipolar," Dalio said about the change to his psyche after the combination of medicine and meditation took root. "But in a sustainable way. Not in a manic way."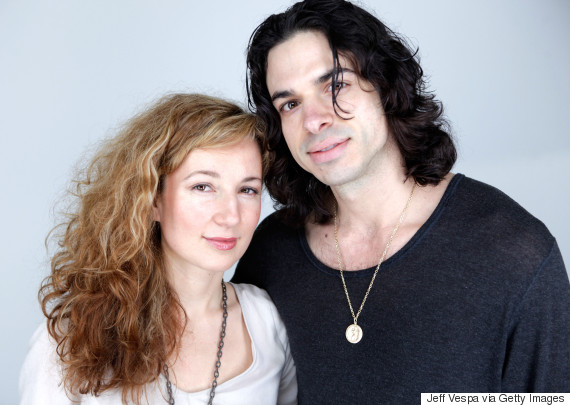 Kristina Nikolova and Paul Dalio at the 2012 Sundance Film Festival
Dalio's own experiences inspired "Mania Days," and his wife pushed him to show the script to Spike Lee, his professor at NYU. Lee became an executive producer on the project, and helped Dalio knock the screenplay into shape.
"It started with weekly meetings where he would read the script and mark it up in pen. He'd literally correct spelling mistakes and grammatical errors," Dalio said of his collaboration with Lee. Multiple revisions soon followed. "He wouldn't let me go into preproduction until he felt the script was ready. I was like, 'It's ready, Goddamnit! I've been doing this for
months.'" Dalio said Lee wouldn't budge.
"Paul, like a lot of my students — you might say a lot of millennials — they want shit to happen overnight, with the snap of a finger and the blink of an eye. It doesn't work like that," Lee said in an interview with The Huffington Post. "I had to say just be patient. Your first feature film is a very important film. It has to be right. You don't want to go out there in the world with something that's substandard. It takes a long time to recover from that."
When Lee finally did give Dalio the go-ahead on the project, it was all the encouragement Dalio needed. "I knew it was ready," he said.
"I'm very happy with Paul and how it turned out," Lee said of the finished product. "I think Paul has learned patience, and I'll be looking forward to his next film."
But before that happens, the first-time director hopes his current movie will change the conversation about bipolar disorder. Dalio was inspired by Kay Redfield Jamison's 1996 book, Touched with Fire, which explained how so many of the greatest artistic minds in the history of humankind were manic depressives. (Dalio ends his film with a dedication to some of those people, including Ernest Hemingway, Emily Dickinson, Cole Porter and Vincent van Gogh.)
"When I came across Touched with Fire, it was a revelation," Dalio said. "You go from thinking you're a genetic defect to maybe thinking it's a gift. You go from thinking that I'm going to just get by in life to maybe I can do something meaningful in life with this. There's a beauty to it."
Dalio said the stigma surrounding manic depression is a big part of what holds back the nearly 6 million American adults affected each year. "That's the tragedy of it. Everyone thinks it's a horrible thing. The people who have it are ashamed to be even open about it," Dalio said. "I had no problem opening up about it. But it still frustrated me that I couldn't change other people."
Which is why the ultimate goal of "Mania Days" is to show people suffering from bipolar disorder there is hope. "My ideal situation is you have two people talking about the film and saying they didn't know there was so much beauty in bipolar, and you have a closet bipolar who overhears them," Dalio said. "And he or she has never heard that and never thought of that. Maybe, internally, something might shift in them. Maybe they can be open about this and proud of it."
"Mania Days" screens at this year's South by Southwest Film Festival. More information on the project can be found here.
Source: Huff Post