Well, this has just taken the lead for best Internet invention of the day.
Fivethirtyeight.com, the wondermous ESPN site from Nate Silver, launched an interactive tool on Wednesday aptly named Which Flight Will Get You There Fastest?
It does exactly what you think it does. The site examines 6 million domestic flights to determine which one will most likely get you to your destination on time.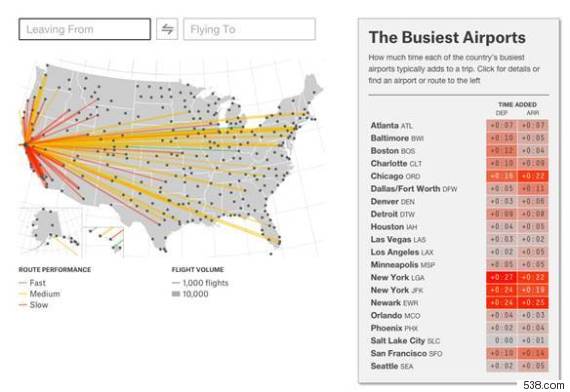 Really. It's so amazingly simple and so amazingly awesome. As Silver wrote to introduce the site:
Your American Airlines flight from Chicago O'Hare (ORD) to Dallas (DFW) is hopelessly late. After a first look at the airline's on-time data, you might blame American. Thirty-two percent of its flights were late, 1 canceled or diverted on the ORD-DFW route in 2014, considerably higher than the 24 percent that airlines averaged across all routes last year. But consider American's main competitor at O'Hare, United Airlines. It was even worse; 40 percent of United's flights from ORD to DFW were late, canceled or diverted. So should you blame American Airlines for that late flight? Or chalk it up to O'Hare, and count your blessings that you're not flying United?
Essentially, though, we all know to avoid the likes of Newark and Chicago in winter and LaGuardia and LAX pretty much always. This guide just helps, well, guide us to our best airline (and airport, if applicable) for our flights.
Source: Huff Post