Is Basquiat's 'The Unknown Notebooks' Art?
Jean-Michel Basquiat passed at the tender age of 27 years young, yet his body of works — particularly to be paid special attention at his upcoming exhibit at the Brooklyn Museum titled Basquiat: The Unknown Notebooks, isn't just someone's brilliant idea to fabricate the young artist's thoughtful 'scribbles' into some artistic sense of expression. Curated by Basquiat scholar, Dieter Buchhart and Tricia Laughlin Bloom, former Brooklyn Museum Associate Curator of Exhibitions, The Unknown Notebooks is the first time Basquiat's 8 notebooks of 160 pages created between 1980 and about 1987 have ever been exhibited and shown to the public. Parts of the exhibit display a chronological succession of every right-sided page Basquiat drew on from these notebooks, meticulously laid out purposefully omitting the blank left-sided page with proper spacing for the viewer's ease. Now attempt to decipher Basquiat's thoughts drawn from advertisements, famous black athletes, pop art, Aztec, Native American, Caribbean, African, Greek and Roman culture, jazz music, girls' phone numbers and everything in between. And to the artist — an avid reader, draftsman and critical thinker, this was also art itself, literally. Indeed, there is a pictorial element to his texts. Whether it's his love of using the word "teeth" by twisting the 'e' into three parallel line-strokes, or spitefully crossing out phrases to bring emphasis to that very phrase, Basquiat's warning is, to not approach these pages of texts too differently to his elaborate canvas paintings or drawings that you'd only consider as, art.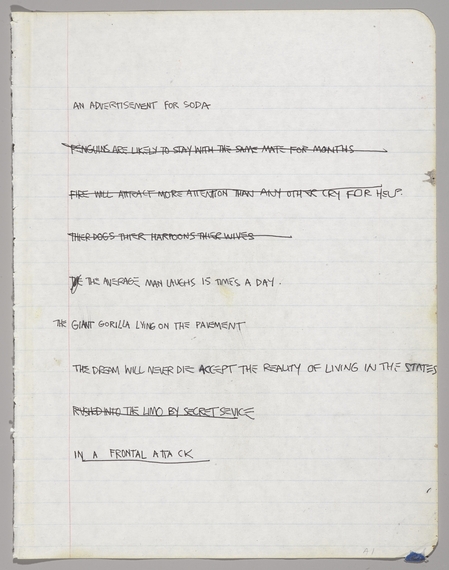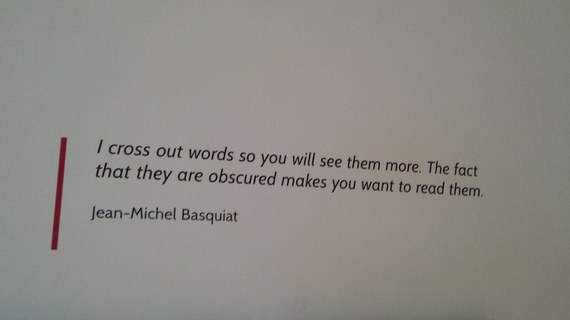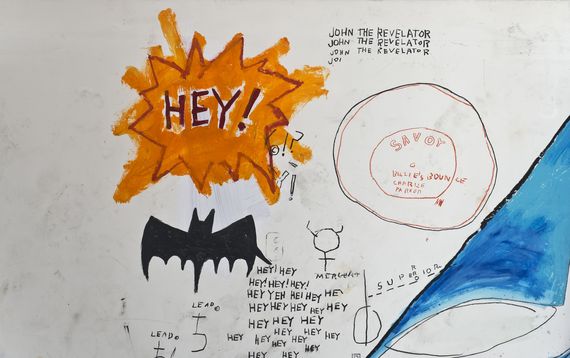 After all, Basquiat did once say that he used words like brushstrokes. He also used language poetically, attuned to the rhythm and the musical qualities of words by emphasizing repetition and experimentation, testing letters and words like jazz notes, for both their sounds and their constellations of meaning. So you'll be excused if you're at times confused because this cat was too cool, so cool. No wonder he worked to the jazzy sounds of Charlie "Bird" Parker late at night, when he wasn't partying of course. Besides the swooping wooden and canvas structures of Basquiat's art alongside his many excerpts of texts from unbound notebook pages, et al for the eyes to delight over in this exhibit, looped-film in somewhat private rooms of documentaries on him and outtakes from Downtown 81 show live footage of the man in the flesh as a street artist, back then a familiar part of the NYC downtown art scene and culture of lower Manhattan in the late 1970's. Also finding itself in the exhibit is Basquiat's cute "Junior Membership" card on display, proof that even at younger age, way before he became an artist, he was a Junior Member of Brooklyn Museum.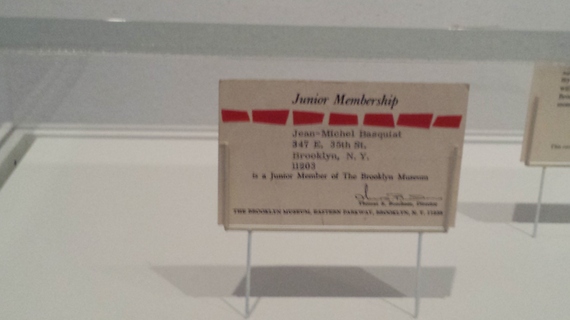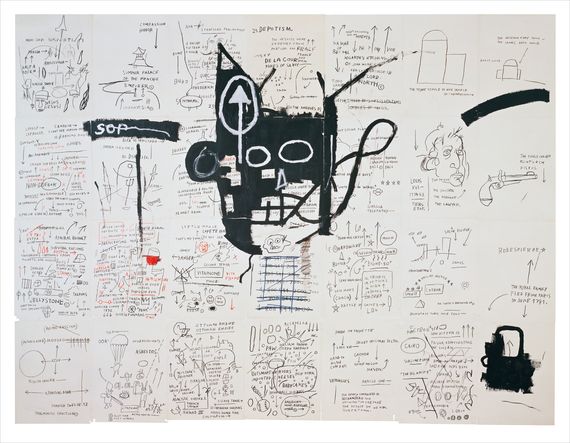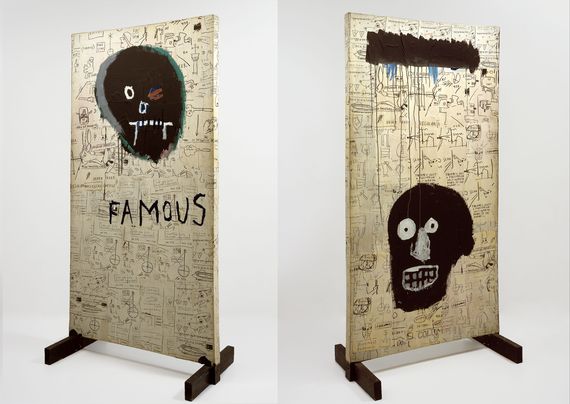 Basquiat: The Unknown Notebooks is on view and opens to the public at the Brooklyn Museum, April 3 – August 23, 2015.
All photos used by permission from the author and Brooklyn Museum.
Source: Huff Post