Militants from the Islamic State group stormed a Palestinian refugee camp in the Syrian capital on Wednesday, witnesses and officials said.
The extremist group captured some of Yarmouk's main streets, the Syrian Observatory for Human Rights reported. A Palestinian official said a "majority" of the camp was under the militants' control.
Islamic State fighters clashed with Syrian opposition forces inside the camp. A witness told Reuters that the group was aided in its assault by a number defectors from al Qaeda's Syria branch operating in the area.
The group launched the assault from the Hajar Aswad neighborhood south of Yarmouk, which it has controlled for several months, a Palestinian official told The Associated Press.
The advance brings the militants just a few miles from the center of the Syrian capital, presenting a potential threat to the Syrian regime's stronghold.
It is also dire news for around 18,000 residents trapped inside the camp. The United Nations agency for Palestinian refugees, UNRWA, is "extremely concerned about the safety and protection of Syrians and Palestinians in Yarmouk," spokesman Chris Gunness told The WorldPost, noting the presence of thousands of civilians, including children, in the conflict zone.
Yarmouk's residents have endured a brutal government siege since 2013, when the Damascus suburb became a key battleground between the regime and opposition forces.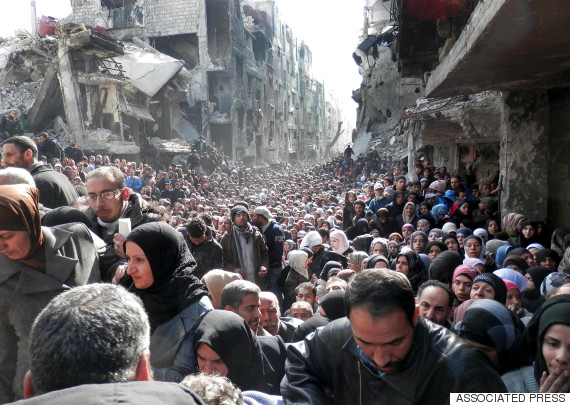 Residents of Yarmouk wait to receive food supplies, Jan. 31, 2014. (AP Photo/UNRWA, File)
Since then, over 100 people have died of starvation or hunger-related illnesses in the camp. Images of desperate residents lining up for a rare food aid delivery in January 2014 became emblematic of the Syrian conflict.
Before the war, the camp was home to an estimated 800,000 Palestinians and Syrians, and the largest Palestinian community in Syria.
Palestinian refugees in Syria tried to stay neutral after protests broke out against the regime of President Bashar al-Assad in March 2011. As the conflict spiraled into a bloody civil war, fighting finally engulfed the camp in 2013, prompting the majority of residents to flee.
Syria's brutal conflict, now in its fifth year, has left more than 230,000 people dead and displaced millions from their homes.
Source: Huff Post