A Japanese shipping company is doing some strange things to convince consumers it's the cat's meow.
On Tuesday, Kuroneko Yamato — or Black Cat Yamato — installed a a giant billboard that is nothing but a humongous cat's face at Tokyo's Shibuya Station, according to Kotaku.com
The giant black cat face features plush, pettable fur, a nose with actual nostril holes big enough to fit a human han, and giant eyes that stare right through you, WTFark reports.
Although the billboard is attracting lots of selfies, it will be a while before w know if it increases business.
Kuroneko Yamato is no stranger to bizarre branding techniques.
Last July, Kuroneko Yamato started making employees wear pawprint gloves as a way to advertise that any parcels delivered by the company would be handled as delicately as a mother cat handles its own child, RocketNews24.com reports.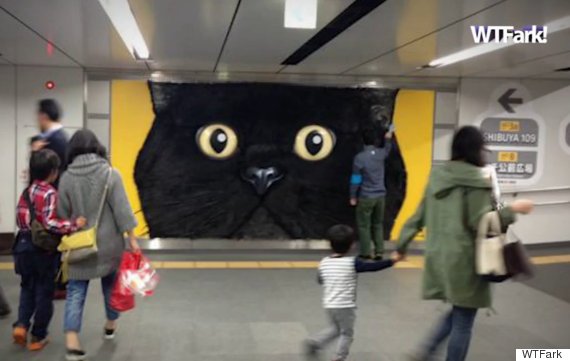 @media only screen and (min-width : 500px) {.ethanmobile { display: none; }}
Like Us On Facebook |

Follow Us On Twitter |

Contact The Author
Source: Huff Post