This is an edited re-post of my Easter blog from last year.
It is a great privilege to be in Jerusalem on Eastern morning. The city wakes with the sunrise and worshipers from diverse Christian traditions from all over the world gather to share the words with one another, "He is Risen!" Last year was particularly special because the Eastern Orthodox and Western church calendars overlapped, thus Easter was on the same day that year.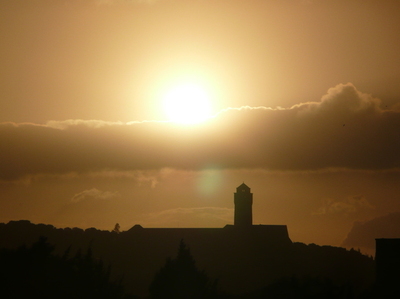 Just prior to going to sleep the night before Easter, I decided to step out onto my hotel's patio to sit and take a few minutes to calm my spirit. I didn't pay much attention to what time it was, but was drawn by the city's lights gently twinkling on the horizon. As I came to sit, I noticed a light cool breeze, which comforts not only the body, but also the soul. A few minutes into the silence, the brightest and most beautiful of church bells began to ring. It took me a few moments to realize its significance, and then I realized Easter had already dawned! Other church bells joined in the chorus, at times ringing consecutively and at other times simultaneously. It had been more than thirty minutes since the new day arrived and still bells could be heard in the distance.
Jerusalem is a profound place — with a deeply rich spiritual history. Precious to all three major Abrahamic traditions as Jews, Muslims and Christians around the world pronounce the place holy. When I am in Jerusalem, I continually think of the verses in Scripture prior to Jesus's triumphal entry, which say, "even the stones cry out" declaring glory to God. That is how I feel about this sacred city.
And yet, modern day Jerusalem, is wrought with many contemporary challenges. Political battles about land ownership and property rights; human rights concerns where some of the residential community have greater access and privileges than indigenous inhabitants; a divided city between East and West, Palestinians and Israelis. Even on Holy Saturday that year, reports came through that a UN delegation and the UN Envoy was "ruffled" by security checks going into the Old City to worship. From a human perspective, this post could be entitled "Jerusalem Mourning" as there is so much human brokenness and need for redemption. Tragedy and suffering continue to exist as we anticipate and wait for the Lord's Second Coming.
Thus, Easter morning is the greatest of all news! We are reminded this day that death and suffering have not triumphed, but Christ is victorious over death. Less than a mile away, somewhere in the distance, is Golgotha, the place where Christ was crucified. Though the exact location is not known, we who choose to follow Jesus, rejoice in knowing that Christ chose to die on our behalf. Justice has prevailed because of God's great mercy. And death did not have the final victory, but a new morning has come.
"He is Risen!"
Source: Huff Post