Kermit & Co. spontaneously converse with small kids on Disney Junior's new <em>Muppet Moments</em> shorts
To hear Nancy Kanter tell the story, it was her favorite part of working on Sesame Street. Being able to walk down to the stage while scenes with the Muppets were being shot and then listening in as the younger members of that show's cast interacted with those much-beloved characters.
"Those pieces when — whether it was Kermit or Grover — you saw a kid interact with the Muppets, they've always been one of my favorites because they are so genuine," Kanter recalled during a recent phone call. "They were unscripted, so obviously you just never know what was going to happen, what's going to come out between the Muppets and that kid. And sometimes it was pure gold. That suspension of disbelief that kids can do so easily when they are just sitting next to a Muppet and really believing that that character is talking to them without any awareness of acknowledgment of the puppeteer that is sitting 6 inches away from them. I always really loved that aspect of childhood that only the Muppets can bring out."
But that was back in the late 1990s when Nancy was working at the Children's Television Workshop as the executive producer of Sesame Street's TV specials and direct-to-video productions. Now jump ahead to 2014, when Kanter is the executive vice president of original programming and general manager of Disney Junior Worldwide. And that arm of The Walt Disney Company's vast media empire is casting around for ways to best make use of Kermit & Co.
To Kanter's way of thinking, the solution as to how best use the Muppets over on Disney Junior was obvious.
"It's been a while since the Muppets themselves have been in something that was very much directed just to kids. Mostly because they've been making movies like The Muppets and Muppets Most Wanted, projects that were intended for the family audience. And here at Disney Junior, we hadn't done anything with puppets or Muppets for a long time. So it seemed like there was an opportunity here that was worth exploring," Nancy recalled. "So we pitched this idea to the Muppet folks about recreating some of those kid interaction moments in a brand-new series of shorts that then would be made specifically for the Disney Junior audience. And they really responded to it. The puppeteers themselves loved the idea of going back into the studio and seeing what they could come up with."
So now it's November of 2014. And Disney has brought the Muppeteers together with 35 – 40 preschoolers on a soundstage in Southern California. And for four days, they shoot footage of these kids spontaneously interacting with these characters. And the end result was Disney Junior's Muppet Moments. A new short-form series which premieres today on the Disney Channel (with four new shorts bowing at 8:25 a.m., 8:55 a.m., 9:25 a.m. and 9:55 a.m. respectively) made up of completely unscripted conversations between these characters and young kids. As they discuss everyday topics that range from favorite food, apologies and manners.
"Mind you, when you're working with small children, you obviously can't interview them for too long or you then get diminishing returns. So what we'd do is bring these kids in, have them talk with Miss Piggy & Kermit for a little while and then let them take a break. Then after a while, we'd bring these same kids back to the stage and then have them talk with Gonzo & Pepe," Kanter stated. "And what was fascinating to me was to watch as some kids would spark to a particular Muppet and then have a far breezier, easier conversation with that character than they would with another Muppet."
"And the Muppeteers? They're incredible improv artists. So when their conversation with that kid would sudden veer off in an interesting direction, the Muppeteers just went with it. They could turn on a dime," Nancy continued. "And this new series of shorts is a real testament to the talent of those puppeteers. They have this incredible ability to engage in the most genuine, child-like way. Which is why — when you're looking at these kids on camera — you can see that they're looking straight at that Muppet thinking that he or she is real."
Of course, what's great about doing anything with these particular set of characters is that they have the ability to perform on multiple levels. So that these Disney Junior's Muppet Moments are genuinely entertaining for children 3 – 5 year-olds, there's also enough off-the-cuff humor being thrown in there to entertain Mom & Dad should they wander through the room while this new series of shorts are playing.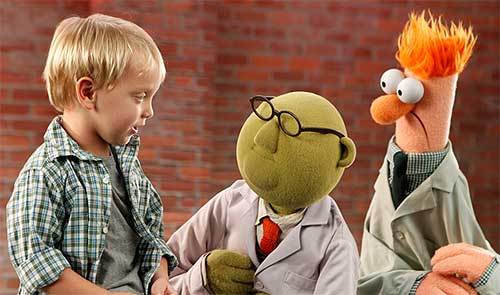 "Honestly, I don't think that I've laughed that hard at a shoot in ages. As a life-long fan of the Muppets, It was a genuine pleasure to see these characters in action again," Kanter enthused.
"You know, people are claiming that children are far more sophisticated these days. They insist that kids are getting older younger. But then when you put them in front of a Kermit or a Fozzie Bear and you know, a kid's a kid. When we were shooting these new 'Muppet Moments' shorts, those kids were just totally there. Captivated and wanting to have a conversation with these characters. That was the magic that we hoped to capture with this project. Me personally, I'm thrilled with the way these shorts turned out and hopefully there are more to come."
Starting today, Disney Junior will be airing Muppet Moments daily now through Friday, May 8. New shorts will continue to roll out throughout 2015 and will also be available on WATCH Disney Junior.
Source: Huff Post