Every day, people who work in nonprofit organizations strive to solve some of the world's toughest issues. They operate in the same way as any other organization and have the same technology needs as commercial businesses. But many lack the technology resources required to meet their goals. For example, a recent study noted that 46 percent of nonprofits don't have the training budget for technology-related skills and knowledge. Too often, they have to choose between upgrading their software and funding an element of their program. A new server or extra meals for disadvantaged youth? We think that they should not have to make those decisions.
We have had the honor of working with nonprofits for decades and know that by helping them to focus on their missions, they can do more and achieve more. We also believe that our customers and society expect us to maximize the value of technology. Our employees do too. In 2014, Microsoft employees raised a record-breaking $117 million for nearly 20,000 nonprofits and schools. This is the fourth year in a row that our employees raised more than $100 million. Many have asked how they can do more.
Last month, in direct response to the widespread need for technical expertise among nonprofits, we launched Tech Talent for Good which extends the expertise of our employees to help them. We're starting with a varied portfolio of twenty nonprofits in Washington State, including Food Lifeline, Bellevue Arts Museum, Little Bit Therapeutic Riding Center, PATH, Seattle Aquarium, Treehouse, USO Northwest, Washington FIRST Robotics and Year Up Puget Sound.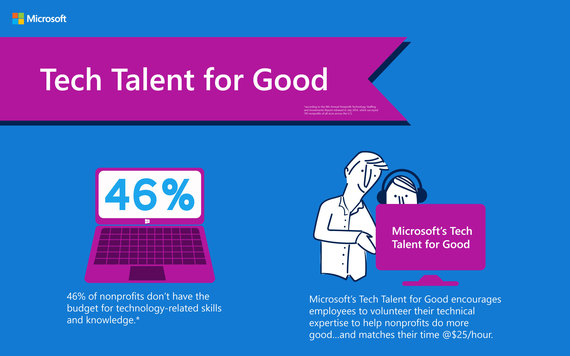 It's an element of Microsoft's Employee Giving Program, which will enable employees to choose the project they want to work on based on a nonprofit's technical needs. These range from technology strategy planning, to data mapping, to deploying productivity tools, to web site development, and more. And, as we do with all employee volunteer efforts, we'll now match employees' time with cash contributions of $25/hour to each organization.
We believe that talent, time and money can help almost any cause, which is why we have followed our employees' lead. Over time and as we refine our program, we'll roll out even more nonprofit tech talent volunteering opportunities.
Little Bit is a perfect example of the need for unlocking the power of technology to help a nonprofit organization achieve their mission. The center relies on more than 350 volunteers, including Microsoft employees, to provide support and services for 230 children and adults who visit with various disabilities, from cerebral palsy to autism. "We don't focus on their disability, we focus on their ability and on expanding how they move, and how they operate in the world," says Cluny McCaffrey, the center's deputy director.
"Our IT systems are very unsophisticated," she continues. "And as an organization, we've grown a lot in the last few years and it's absolutely imperative that our IT catches up with us. It's very hard to do with a nonprofit. We don't have anybody on staff with that skill set."
We're working with a number of nonprofit partners, including Taproot Foundation, an organization that specializes in skills-based volunteering, and will actively identify technology projects and help manage the engagement between nonprofit organizations and our employee volunteers. We are also partnering with Realized Worth to establish and maintain a grassroots infrastructure that enables employees to lead and manage their own volunteering projects.
Employee volunteerism is crucial to helping leading companies engage staff, boost morale, and improve overall job satisfaction. Our own employee surveys underline that and it was also a conclusion in the 2014 edition of Giving in Numbers, which looked in-depth at corporate giving and employee engagement data from 261 of the world's leading companies.
In the hands of nonprofit organizations, technology can boost productivity, increase effectiveness through better collaboration, and extend services to new communities and individuals in need. Whether the nonprofit is a small organization serving a single community or a global nonprofit serving millions of people, access to technical expertise can help them achieve their missions to change the world faster.
We are committed to playing our part in that, and to sharing our insights as we progress this program so that other companies may avail of the learnings to apply to their own volunteer programs. Together we can help nonprofit organizations do more and achieve more good.
Source: Huff Post