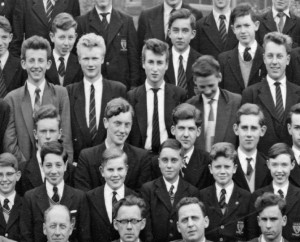 Image via www.facebook.com/johnlennonlegendbook
Beatles books tend to fall into two broad categories: British vs. American authors. The Brits get so many particulars right, and shame us Americans so often, they like to think they own the subject. That they feel proprietary puts it mildly. Americans like to ponder how such a vast cultural transformation took place by a foreign band literally mastering and transforming a uniquely American style. Imagine if a figure such as Duke Ellington or Charlie Parker had come from Denmark — that's the kind of cultural miscegenation that has a core inexplicability.
Michael Hill, a Quarry Bank schoolmate (two to Lennon's right above) who now lives in Australia, conversed with me early on in my Lennon research. He proved most helpful with myriad details, such as the color of the Little Richard 45rpm labels they listened to (imports, from an Easter holiday), and how he barely remembers Lennon ever being so speechless. I remember feeling blessed after I found him: here was primary source very few people had spoken to yet, and he had fresh, original material.
Now he's written his own memoirs, and alongside titles from Quarry Men like Len Garry and Pete Shotton's long out-of-print staple (In My Life), any Beatles obsessive needs to track it down.
via blog riley
Source: Huff Post