By Janet Hernandez, Senior Civic Engagement Project Manager, NCLR
The most recent snow storm to hit the Washington, DC, area could not stop Karina Velasco, a 25-year-old DACA recipient, from meeting with her congressional representatives and advocating for administrative relief. Since congressional offices were closed during National Latino Advocacy Days, Karina rescheduled her meetings to ensure Congress heard her story.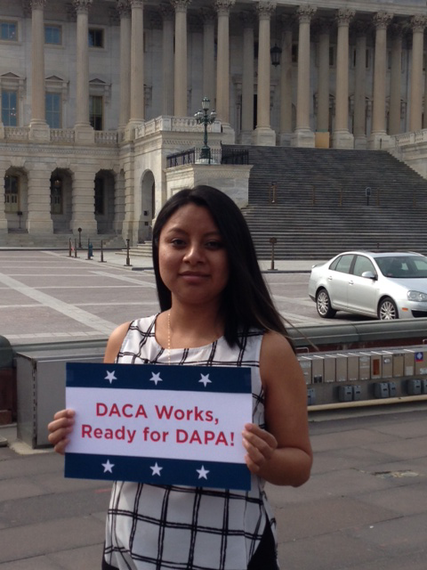 Her persistence comes from years of advocating for an opportunity to experience the American dream. Throughout her life Karina witnessed her parents' struggle, perseverance, and hard work. Her mother cleaned restaurants and houses while also being a full-time mother. Her father held two jobs in construction and housekeeping to make ends meet. Their encouragement and daily sacrifices helped Karina make the choice to focus on her education.
"My mother always told me that education was the path to success, so I decided to become a social worker to advocate for those in need," said Karina.
In 2012 she celebrated the president's Deferred Action for Childhood Arrivals (DACA) announcement, and gathered the paperwork needed to apply. She also helped fill out hundreds of applications for other DREAMers who were eligible to apply for DACA. Since Karina received DACA, she has obtained a driver's license, finished community college, transferred to a four-year university, and obtained a job. Having the job allows her to enter the workforce, pay taxes, and help others.
"Without DACA it would have been harder to accomplish this success. I can finally contribute to my country's economy and lift some of my parents' economic burdens," said Karina.
This week, Karina met with her elected officials to highlight how well DACA works by demonstrating that she is an example of the program's success.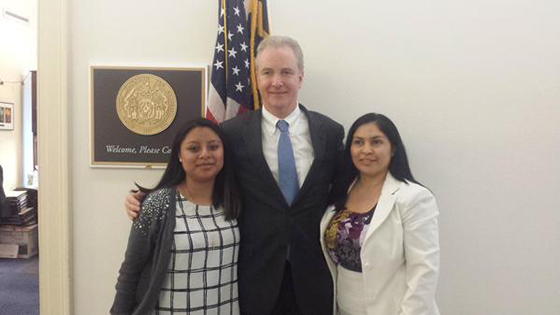 Karina (left), Representative Chris Van Hollen (D-Md.), and Rosa, program manager for NCLR Affiliate Latin American Youth Center
Like Karina, there are millions of other young Americans who need Congress to stand up for administrative relief rather than deny them the opportunity to contribute to the country and pursue the American dream.
This was first posted to the NCLR Blog.
Source: Huff Post