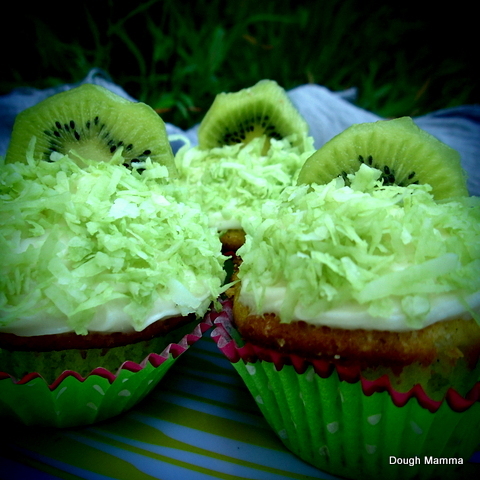 Saint Patrick and I have at least one thing in common — neither of us are Irish. With Saint Patrick's Day right around the corner on March 17, I decided to do a little research about this jovial, Guinness drinking, green-spirited holiday. I found the history quite interesting since I never gave much consideration to the holiday — other than using it as an excuse to drink, eat green treats and pinch those not displaying green clothing.
Patrick was born in Britain around 390 A.D. As a teenager he was kidnapped by pirates and forced to tend sheep as a slave in Ireland. According to historians, he escaped slavery several years later, returned to Britain and eventually experienced a religious awakening. Patrick decided to return to Ireland with the intention of converting the Irish to Christianity. He used the three-leaf shamrock to explain the holy trinity of the Father, Son and Holy Spirit.
Currently, Saint Patrick's Day is celebrated across the states and abroad, amongst the Irish and non-Irish alike. One popular holiday tradition is drinking Guinness, an Irish stout which originated in Dublin, Ireland. In fact, so many holiday celebrants pay homage to this delicious beverage that the sale of Guinness pints increase from 5.5 million pints sold daily to 13 million pints sold on March 17. Not a bad profit for the folks at Guinness Corp. Other celebratory traditions of course include: wearing green, displaying shamrocks and eating corned beef and cabbage stew.
Since cabbage and pregnancy are most likely an unpleasant combination for both myself and my husband, I decided to make cupcakes instead. My son has been eyeballing the green-frosted grocery store variety and though I don't mind allowing him chemically enhanced treats from time-to-time, I prefer to make a less processed version to enjoy at home. Kiwi and coconut are quite complementary flavors, and I assure you, your friends, families and co-workers will be absolutely delighted by these cupcakes.
Enjoy!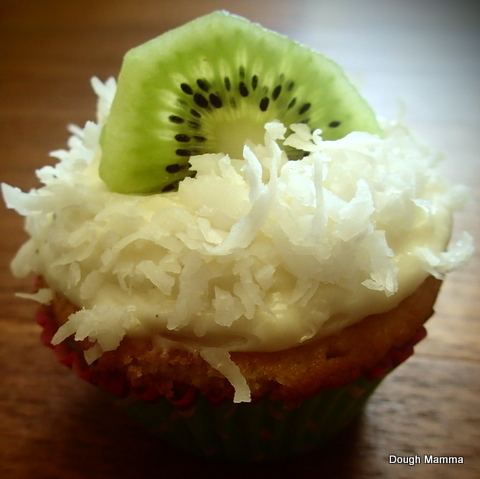 Title: Lucky Kiwi and Coconut Cupcakes
Author: Adapted from Foodnetwork
Prep Time: 1 hr and 10 min
Cook Time: 25 min
Total time: 1 hr 35 min
Serves: 20
Notes: I made some adjustments to both the kiwi filling and coconut frosting which are listed below. You may double the quantity of frosting, however, you will have plenty of frosting left over. I found this halved version offers just enough frosting for 20 cupcakes. You can fill your batter all the way to the top of the cups, as these do not rise as much as most cupcakes.
Ingredients
Coconut Cupcakes
3/4 pound (3 sticks) butter, room temperature
2 cups of sugar
5 extra large eggs at room temperature (or 7 large eggs)
1 1/2 tsp vanilla bean paste
1 1/2 tsp almond extract
3 cups of AP flour
1 tsp baking powder
1/2 tsp baking soda
1/2 tsp kosher salt
1 cup of buttermilk
14 oz sweetened, shredded coconut (divided)
Kiwi Filling
4 Kiwis
1/4 cup sugar
1 Tbsp instant pectin
Cream Cheese Frosting
8 oz cream cheese at room temperature
1 1/2 sticks of butter (6 oz) at room temperature
1/2 tsp vanilla bean paste
1/4 tsp of almond extract
12 oz powdered sugar
* you can add 1/8 cup of kiwi puree for light coloring and flavoring
Instructions
Coconut Cupcakes
Preheat the oven 325 degrees.
In the bowl of a stand mixer fitted with a paddle attachment, cream the butter and sugar on high speed until light and fluffy — about 5 minutes.
Turn your mixer on low speed, add your eggs, one at a time, scraping down the bowl after each addition.
Add the almond and vanilla extracts and mix well.
In a separate bowl, sift together the flour, baking powder, baking soda and salt. In 3 parts, alternate adding the dry ingredients and the buttermilk to the batter, beginning and ending with the dry. Mix until just combined. Fold in 7 oz of coconut.
Line a muffin pan with liners. Fill each liner to the top with batter. Bake for about 25 minutes.
Allow to cool in the pan for about 15 minutes, then transfer to a wire rack.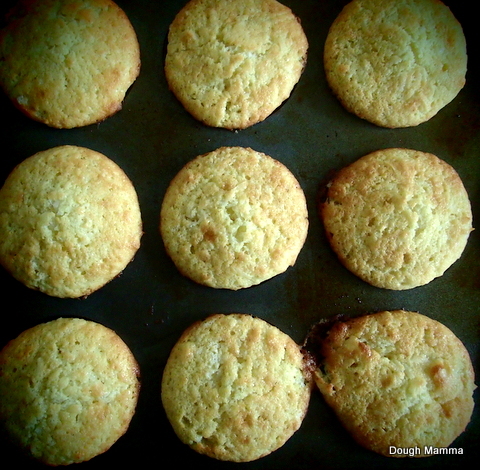 Kiwi Filling
Peel the kiwis with a pairing knife.
Place kiwis in a food processor and mix until smooth, but not pureed.
Transfer to a bowl, mix in sugar and pectin, and whisk for about 3 minutes.
Refrigerate for 30 minutes.
Core cooled cupcakes and pipe with kiwi filling.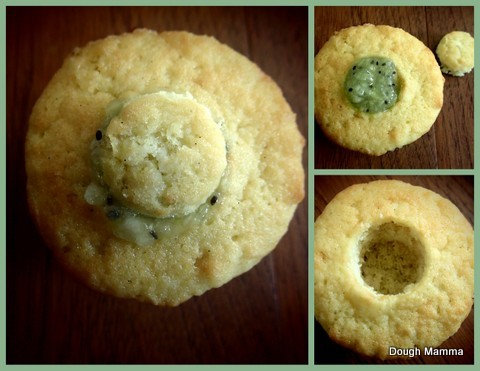 Frosting
In the bowl of an electric mixer fitted with a paddle attachment, on low speed, cream together the cream cheese, butter, vanilla and almond extracts. Add the confectioner's sugar and mix until smooth. If using kiwi puree, mix in after sugar. Use the remaining coconut to decorate the tops of your cupcakes.
*I used 1 tsp of wheat grass to dye 1 cup of coconut. Allow to dry in a mesh sieve for 3-4 hours, to help eliminate wheat grass taste. You may also toast/dry at 200 degree oven for about 20 minutes.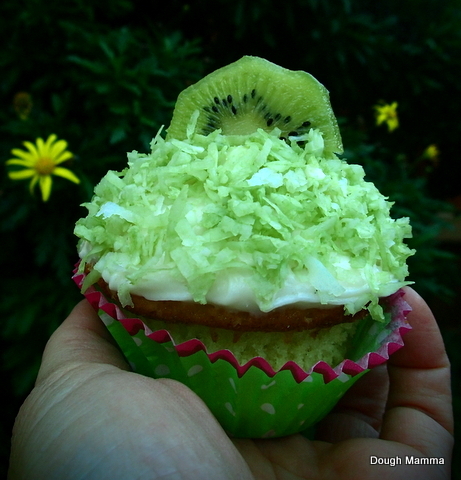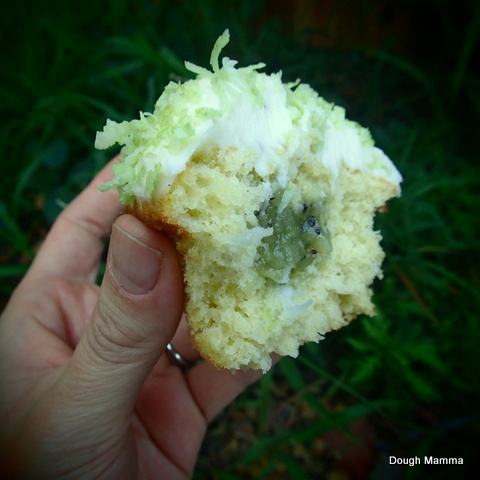 Source: Huff Post