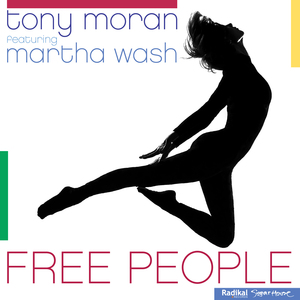 What do you get when you put the soulful and legendary voice of Martha Wash together with the award-winning remixer and songwriter Tony Moran: A hit! Over the years the duo has made music together that not only found a place on dance floors across the world, but also on the charts. Last year their collaboration "I'm Not Coming Down" reached #2 on the Billboard Dance Club Charts. Now their back with a new anthem called "Free People."
"In a time where people Photoshop their faces because they worry about if their too thin or too fat or too ugly or too dark, you should just care about the way you want to look for yourself. You have the power," Moran says about the song he wrote and produced.
For years Wash has personified the message in "Free People." From her early days with Sylvester with singing partner Izora Armstead to hits like "Just Us" as Two Tons O' Fun and then later as The Weather Girls with "It's Raining Men," Wash has never let preconceived notions on image stand in her way. She set the music industry on fire in 1991 when she sang the lead vocals on C&C Music Factory's #1 hit, "Gonna Make You Sweat (Everybody Dance Now)," but failed to receive credit because her size was deemed unmarketable. She won a lawsuit, and by speaking up for herself, it is now mandatory for artists to receive rightful credits on albums and music videos.
"Free People," which is already climbing up the charts, is a continuation of both Wash's and Moran's positive outlook on life. Over the years I've talked with Wash many times. When I begin asking her questions she starts giggling and says, "Lord, don't you have enough info?" The fact is no matter how many times you speak to Wash, you always leave feeling inspired and free.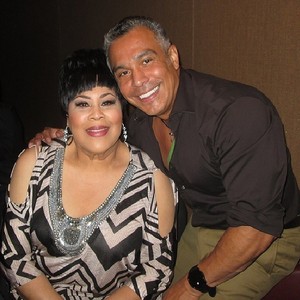 Tony, on your Facebook page recently you said of Martha Wash: "She is still undisputed." What do you like about working with Martha?
Tony Moran: I've worked with a lot of artists over the years of all different calibers. She's been able to find something that defines herself to generations older and younger. I know every time I cut a record with her, something good is going to come out of it.
Martha, what is it about Tony that you love?
Martha Wash: He's worked with the best over the years and made hits for them. He's been able to do that year after year. We just go in the studio and talk about what needs to be done and basically do it. We're comfortable enough with each other that we can read each other and figure out where a song needs to go.
Tony: People are constantly being introduced to her voice. We are basically underdogs working together. It's not like we have Clive Davis' staff with us. We're looking to put out good music in a time where music is in such a state of purgatory with streaming and mashups. The one thing you can really hold on to is an artist's performance, and Martha has always been there to make herself available.
"Free People" is about being comfortable with yourself. Martha, Tony mentioned how new generations are always discovering your music. What would you like new and old fans to know about you? Who is Martha Wash?
Martha: Just little ol' me. I've been around for a minute. I just like all types of music. Music has been the big mainstay for me as a person and an artist. As a child I could only listen to gospel music. Then as I got to be a teenager, I started listening to the radio, and I learned to appreciate all types of music–rock music, Motown and R&B. I've been an artist who doesn't want to be put into one particular box. Although people know me for doing dance music, I'm always trying to move ahead of that and go into different types of music like my last album "Something Good." It was pop and rock and people were really surprised I did that, but that was the direction I wanted to go in. I wanted to get out of dance music for a little bit to show people that I did other types of music.
And now you're back with dance music! What keeps drawing you back in?
Tony: What pulls her back is that I know her address, and I'm there waiting outside wearing a street blanket with new material!
Martha: I'll do a little bit of that [dance music], but the focus is still on other genres of music or something totally out of the box.
The gay community has consistently supported you, no matter what style you're singing. Why do you think they have always been there for you?
Martha: I think it really goes all the way back to working with Sylvester and then Two Tons O' Fun. It's been good for over 30 years. They have been supportive of Two Tons O' Fun, The Weather Girls and then the solo career. I've always appreciated that.
One of your hit songs is "Carry On." Over the years how have you managed to do just that during some of the down times?
Martha: Oh, a lot of faith and a lot of prayer! There have been times when I thought of giving up. Then I think, "Okay, so you're gonna quit; now what are you going to do?" I never came up with an answer, so here I am!
Do you ever get tired of singing "It's Raining Men?"
Martha: Oh no! No! It's a song that everybody is waiting to hear. I can do a whole show, but if I don't sing that song, people get upset!
What is next for you, Martha?
Martha: Probably do some more pop and rock. I have a new song coming out with Evelyn Champagne King and Linda Clifford—The First Ladies of Disco. We recorded a song called "Show Some Love," and it's all about positivity. We have to show love to everybody. This world is really kind of crazy. We've gotten off the track of being nice to one and other and loving people. You have to show positivity to everybody regardless of who or what they are.
You've both always been able to convey that message.
Martha: I try, and you have to love yourself as well. Sometimes when you show kindness to someone else, it makes you feel better about yourself.
Tony: That's my nature, too. Live and let live. I get so much satisfaction watching other people learning and doing their thing.
"Free People" is available now on iTunes. For more information on Martha Wash visit: www.marthawash.com. For more on Tony Moran visit: www.tonymoran.com
Source: Huff Post