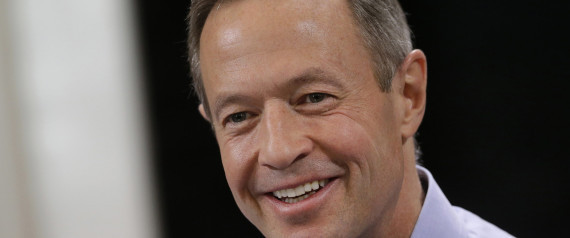 Former Maryland Governor Martin O'Malley echoed the sentiment of millions of Americans, especially Democrats, when he made the following statement about "crowns" and political dynasties:
"Let's be honest here, the presidency is not some crown to be passed between two families. It is an awesome and sacred trust to be earned and exercised on behalf of the American people," O'Malley said in an interview on ABC's "This Week."
With these words, O'Malley is the first Democrat to openly challenge a deep-seated paradigm within the Democratic Party and unfortunately within American politics. If you're a liberal, and you were asked why Hillary Clinton deserves to be president, how would you answer? Similarly, if you're a conservative, why does Jeb Bush deserve to be commander in chief?
Asked differently, if Hillary Clinton and Jeb Bush were not related to former presidents, would they still be viewed as worthy of the presidency? To answer this question in an honest manner, let's look at how each politician ended their previous post as public servant. Also, it's important to evaluate the legacy each politician has left their country.
As Governor of Florida from 1999-2007, Bush's impact on his state isn't necessarily what most Americans would want for their country. In a 2007 Washington Post article titled The Jeb Bush Era Ends In Florida, the former governor's tenure is summarized in less than admirable terms:
In the ensuing eight years, Bush sent shivers through Florida's status quo as he gathered more power than any previous governor and reshaped state government to fit his vision.

Nicknamed "King Jeb," the Republican transformed what he saw as a tangle of red tape and squanderer of public money into a smaller, business-friendly administration needing fewer tax dollars to run.

… Yet, while his tenure coincided with a sizzling economy and an overflowing treasury, Bush's back-to-back terms were marred by frequent ethics scandals, official bungling and the inability of the government he downsized to meet growing demands for state services, including education and aid for the infirm and the elderly.
In 2007, a Washington Post article referred to Bush as "King Jeb" (a reference to Bush amassing more power than any previous Florida governor) and cited "frequent ethics scandals" during his tenure. Therefore, how does this bode well for the rest of America? Bush's conservative "business friendly" policies had the usual economic consequences; education, the elderly, and others paid the price.
Regarding Jeb's ethical scandals, a Newsweek article by Lou Dubose titled Tricky Ethical Questions Jeb Bush Must Answer highlights one of several scandals during Bush's tenure:
Bush was both a director on the corporate board and a marketing consultant for InnoVida Holdings LLC while it was the subject of a criminal investigation that sent its two top executives to jail.

…"A Securities and Exchange Commission lawsuit filed against InnoVida alleges that Bush was brought on 'to add an air of legitimacy to InnoVida.'"

…Why didn't Bush or someone on his staff look deeper?

…And Jeb Bush either had a front-row seat to a corporate scam or he ignored his duty to the shareholders he represented on a corporate board.
If Jeb Bush had a different last name, would conservatives inquire as to why he was both a director and consultant for a corporation that was "the subject of a criminal investigation" and lost investors millions? The fact is that Jeb isn't that far removed from his brother George in regards to his economic philosophy. Unfortunately, this also means that another 2008 financial collapse (that resulted in $19.2 trillion in lost American wealth) could be on the horizon with a future Bush administration in 2016.
As for Hillary Clinton, the former New York Senator and Secretary of State has accomplished a great deal, however Democrats should engage in a more sober assessment of her tenure as public servant. According to a Foreign Affairs article by Michael Hirsh titled The Clinton Legacy, Hillary's tenure as America's top diplomat wasn't groundbreaking:
At other times when Obama's foreign policy team was forced to act on its feet, the results were not as impressive. The administration failed to anticipate the increasingly Islamist bent of the countries whose regimes were ousted in the Arab Spring, and it has been slow in formulating a coordinated response to the abuses against democracy by Morsi and other Islamist leaders.

… In her final testimony before the Senate, commenting on the new wave of jihadism in the region, Clinton said, "We've got to get our act together." It was a helpless remark that recalled former U.S. Defense Secretary Donald Rumsfeld's notorious lament from a decade ago: "We lack the metrics to know if we are winning or losing the global war on terror."

… The post-Qaddafi chaos in Libya, the civil war in Syria, the emergence of a terrorist sanctuary in northern Mali — all these developments have taken the Obama administration by surprise.
True, both Obama and Clinton were forced to deal with two wars (started by Jeb's brother) that never had a true definition of "winning." However, her decisions can rationally be linked to the chaos in Libya, the failure to provide Egypt with a credible alternative to a former American ally in Mubarak, and the "helpless remark" she made that essentially was an admission of frustration.
Jeb Bush and Hillary Clinton must be judged by their accomplishments, not by their family tree. Martin O'Malley is absolutely correct in stating that the presidency must be earned; not simply handed down to relatives as if it were a crown. Interestingly, the man who made these profound statements is a prime example of an American politician who deserves the presidency.
According to a 2013 Washington Monthly article, O'Malley successfully addressed issues important to all Americans as Maryland's governor:
Halfway through his second term as governor, O'Malley has a handful of big legislative victories to be proud of, as well as some managerial ones.

…Maryland school system has been ranked first in the nation for five years running, up from third place in 2008; that his administration was able to hold down the cost of tuition at state colleges and universities; and that crime rates, following trends across the country, are the lowest ever recorded in the state.

He can also brag about incremental but important progress on issues like pollution in the Chesapeake and eliminating the DNA backlog from Maryland's criminal justice sector.
While Bush was linked to bankrupt corporations as governor, and Clinton's tenure can be linked to chaos in Libya and elswhere, Martin O'Malley made "big legislative victories." O'Malley championed issues like education, government backlogs, and crime; all topics that are important to the majority of Americans, regardless of political affiliation.
Finally, it's important to note that recent polls stating Hillary Clinton enjoys advantages over the competition were taken before "Emailgate" evolved into a contentious issue. For example, a Gallup Poll titled Clinton Favorability Among Dems Better Than Last Campaign reads, "Results for this Gallup poll are based on telephone interviews conducted March 2-4, 2015." Since March 2, the scandal mushroomed, so perhaps it's time for a paradigm shift within the Democratic Party. People like Martin O'Malley, Elizabeth Warren, Jim Webb, and Tim Kaine are just as capable of getting 270 Electoral Votes in 2016, and none of them own their own server.
As for another Bush or Clinton in the White House, America needs new blood; literally. Martin O'Malley was wise to make this topic an issue since it allows others in the Democratic Party to challenge the belief that only two surnames will compete for the presidency in 2016. The fact is that only Martin O'Malley, not Clinton or Bush, has been compared to JFK by people in Iowa. This alone, in addition to his tremendous success as Maryland's governor, should warrant greater attention to O'Malley in 2016.
Source: Huff Post