Mary Lambert: I Thought Singing 'Same Love' Might Get Me Killed
Mary Lambert isn't just open about being a lesbian. One spin of plucky single "Secrets" lays bare the singer/songwriter's struggles with weight, bipolar disorder, a dysfunctional family and much, much more. Says Lambert with a laugh, "I'm severely out!"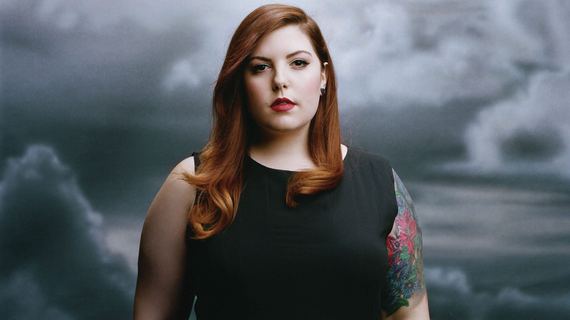 "There was a time in my life when I was starting out that I realized the people at my shows knew far more about me than my close coworkers did," shared Lambert during a recent telephone interview. "I realized that was unique."
Intimately confessional writing marks Lambert's 2014 album Heart on My Sleeve. From past sexual trauma to bouts of self-harm, nothing was off-limits when writing the pop album, she said, because "it's second nature to include pieces of [personal] history in my music."
That much is clear. The singer's lyrical honesty first gained mainstream attention on Macklemore & Ryan Lewis' critically-acclaimed hit "Same Love." There, Lambert provides the song's yearning chorus, later extended into the even more autobiographical breakthrough solo single "She Keeps Me Warm."
"I never thought I would hear a song like ['Same Love'] on the radio," admits the 25-year-old, who came out eight years ago. "I think that's what was so emotional about the whole thing. I knew the implications of what we were going to do."
Lambert relished Mackelemore & Ryan Lewis' offer to honestly tell her story of being "hugely affected [growing up] as a Christian lesbian" — experiences she continues to process through in solo work. Still, in addition to being painfully aware of the potential impact "Same Love" might have upon release, she also knew its possible consequences.
"I'd never been anywhere, never been outside the metropolitan scene of Seattle, and didn't know anything outside of it," said Lambert. That meant she had no idea how others might respond to a song about same-sex relationships. As the time came to begin promoting it, she braced for the worst.
"The feeling of peace I got was knowing I was doing it right," she said of accepting the possibility "Same Love" might evoke deadly backlash. "Knowing I was ok with that let me know I was doing exactly what I needed to be doing."
According to Lambert, what happened next shocked her.
Not only did she not receive death threats, "Same Love" shot to No. 1 in countries around the world. With more than 136 million views-to-date on YouTube, the 2013 ode to same-sex marriage rose to No. 11 on U.S. pop charts and thrust Lambert into the international spotlight.
A "Song of the Year" Grammy nomination followed. Macklemore, Lewis and Lambert performed "Same Love" with Madonna at that year's awards ceremony as Queen Latifah married 33 same-sex couples live on television.
"I thought I was going to be murdered," Lambert half-joked, "But instead I got nominated for a Grammy!"
Her astonishment didn't stop there, Lambert says. Performing "Same Love" live on Macklemore & Lewis' sold-out, global stadium tour changed her life. The artist was overwhelmed with love each time she stepped onstage.
"They were cheering and crying…10,000 people chanting my name," she recalled. "I had kids in rainbow shirts in front, looking at me… I couldn't believe I was part of this thing that meant so much to so many people.
"All I wanted to do was make sure I was honoring it correctly and being a good representation," said Lambert of the song.
"I couldn't believe this was my life, especially after the shit show I'd been through," she concluded, "It was really, really gratifying."
Source: Huff Post