Melinda Gates understands why contraceptives are vital to the health and well-being of women in the developing world. Her own life would be different if she hadn't had access to them.
The Bill & Melinda Gates Foundation co-chair opened up to AOL Build on Tuesday about the role birth control can play in empowering women, particularly in the developing world.
"I used contraceptives," Gates said. "I have three children, they're all three years apart … I've used contraceptives. It allowed me to space their births so I could work, which I wanted to do."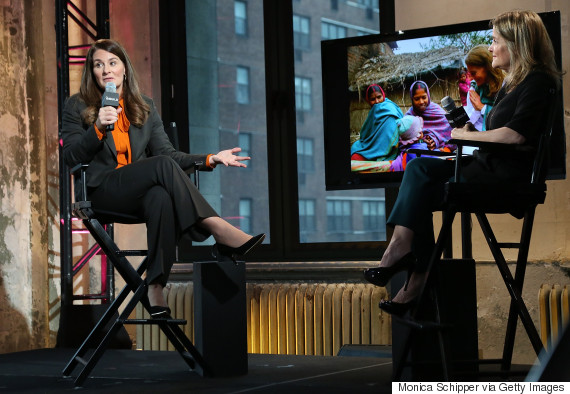 Melinda Gates (L) speaks with Dylan McGee at AOL BUILD Speaker Series on March 10 in New York City. (Photo by Monica Schipper/FilmMagic)
The appearance came after the philanthropist was featured in a Makers interview in which she discussed her start in computer science, and how being a mother influenced her to become a more visible leader.
"[Birth control] is too important to let it be a politicized issue, when in fact, we use contraceptives in the United States," she told AOL Build on how the lack of constituent support for birth control in the U.S. has slowed progress in poor countries. "Even Catholic women, more than 90 percent, report using contraceptives. And we sort of take them for granted, but why should we have them and other women not?"
She also noted her religious faith hasn't stopped her from doing what she believes is right: "Just because I'm Catholic doesn't mean I shouldn't speak out on what I believe in."
Gates has been a vocal advocate for women's reproductive rights for years. In 2012, she led a global summit in London focused on making contraceptive accessibility a core component of health and development aid projects in poor countries, as Reuters reported.
The Gates Foundation allocated $560 million of the $2.6 billion pledged toward the cause. The nonprofit aims to bring contraceptive information, services and supplies to an additional 120 million women and girls in the developing world by 2020.
When asked at the AOL Build event what issue particularly upsets her, Gates said the worldwide work gap between men and women is especially troubling.
A recent report released by the U.N.'s International Labor Organization found that just 50 percent of women globally work, compared to 77 percent of men.
In an article Gates wrote in Fortune on Monday, the philanthropist explained why hiring more women is not only the right thing to do, but also better for the bottom line.
"When you invest in women, you invest in the people who invest in everybody else," she wrote. "And if you gradually start to take action, it won't be long before you realize that investing in women is good for your mind, good for your soul and good for your business."
To take action on pressing health issues, check out the Global Citizen widget below.
<a href="https://www.facebook.com/HuffPostImp
act">
Like Us On Facebook

Follow Us On Twitter
Source: Huff Post